While the Doctor Dolittle books never caught on in quite the same way as other children's literature such as Winnie The Pooh, they were iconic enough to garner three different film adaptations. The latest, titled simply Dolittle and starring Robert Downey Jr., happens to coincide with the hundredth year anniversary of Hugh Lofting's first novel about the peculiar British doctor.
Whether the release date was purposely meant as an homage to Lofting and his body of work, there's no doubt that Dolittle pays its respects to the source material. After all, the film immediately introduces Tommy Stubbins, who played a large role in the novels and even acted as narrator in several of them.
Stubbins, played by young Harry Collett, isn't the only human child around sent to bring the grumpy doctor out of his tragic seclusion. He's joined by the lovely Lady Rose, a noble lady-in-waiting to the Queen brought to life by newcomer Carmel Laniado. In a recent interview promoting the film, they discussed how Downey took them under his wing and taught them more about the craft.
Robert Downey Jr. Makes Dolittle His Own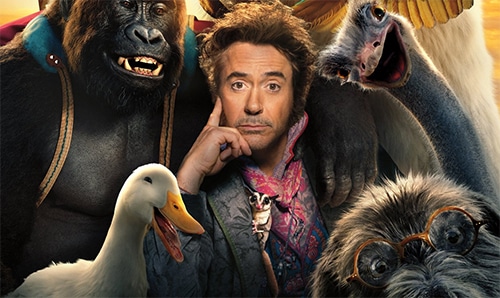 The majority of the film involved actors talking to green screen and other CG creations, with voiceover work being done separately. But the three human stars actually got to interact with each other on set, which led to a different kind of antics. When The Illuminerdi asked Laniado and Collett about their reactions to the megastar's off-the-cuff changes, they had some very intriguing insights. According to Laniado:
When we were filming on set, there was a lot of changes which kind of surprised me – but it surprised me for the better. Because Robert just came up with even better ideas, like better and better and better. And it just went uphill.
Dolittle may be the actress' first feature film, but she was able to rise to the challenge nevertheless.
It depended what scene we did, but quite a lot of Robert's lines were definitely improvised. But it was fine for me, because it was really close to the original script. And it gave me a chance to also be able to improvise and go different ways, which is really fun.
Collett, who worked with Downey Jr. in most of his scenes, recalled the warning he received from the casting directors the moment he stepped into his screen test:
Actually, they told me at the screen test that Robert likes to improvise a lot. And so I was like, "Okay, this is gonna be really different." And he actually didn't improvise then, but sometimes we would get on set in the morning and he'd be like, "Oh, that'd be a really cool idea. Let's just have some fun with it." We'd do it, and we would end up with something really funny, and they'd keep it in the movie.
He remembered a specific moment of improv which we won't share yet for fear of spoiling the sacred plot, but let it be known that it involved a very special animal "passing wind." According to Collett:
That was just me and Robert, having fun with that. And that wasn't in the script, which is great. It's nice to see that they've used that.
Does hearing about the fun Robert Downey Jr. had on set make you more excited for Dolittle, or are you still wary of live-action filming about talking animals? If you do go, be sure to keep your eyes peeled for Downey's improv – and his interactions with Tom Holland, even if the latter is never onscreen in the flesh.
Dolittle premieres in theaters nationwide on January 17th, so be on the lookout for The Illuminerdi's review of the film a few days before that.