---
FOR GAMERS + FAMILIES – SONIC THE HEDGEHOG
I think gamers can agree with me that we need a new quality Sonic game, ala the The Sonic Adventure series, more than we needed this big screen adaptation. But hey, Hollywood's gotta Hollywood. The film adaptation starring the mascot, for the now defunct SEGA gaming brand, was originally scheduled to be released last Fall, but was moved to this February due to massive backlash regarding Sonic's design.

Why are the eyes so small?

Where are the gloves?

Where are the chili dogs??!?

As expected, people are dismissing the human storyline, but have praised Ben Schwartz's voicework, and have applauded Jim Carrey's rendition of Dr. Robotnik. The plot sounds simple enough;
Sonic tries to navigate the complexities of life on Earth with his newfound best friend — a human named Tom Wachowski. They must soon join forces to prevent the evil Dr. Robotnik from capturing Sonic and using his powers for world domination.
It probably won't be as good as Detective Pikachu, but it can't be as bad as Rampage.

Sonic The Hedgehog is in theaters now.
---
FOR THE CAREER WOMAN – THE PHOTOGRAPH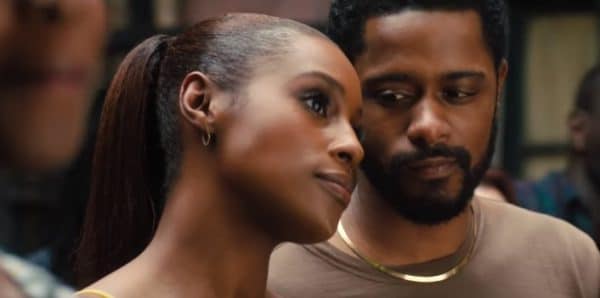 Ladies, can we have our cake and eat it too? This flick starring Atlanta's Lakeith Stanfield, and Insecure's Issa Rae, reads like your classic Lifetime film, but with major star power and a little more pizazz.
When famed photographer Christina Eames dies unexpectedly, she leaves her estranged daughter, Mae, hurt, angry and full of questions. When Mae finds a photograph tucked away in a safe-deposit box, she soon finds herself delving into her mother's early life — an investigation that leads to an unexpected romance with a rising journalist.
I would say a film like this would have stronger legs if it had gone straight to a streaming service, but it's rare to see young black love on the big screen. Especially one that doesn't have to be about race. The chemistry between Rae, and Stanfield is shaky at best, but the B-plot helps to carry the film along.

The Photograph is in theaters now.
---
FOR FANS OF LGBTQ FILMS – PORTRAIT OF A LADY ON FIRE
Portrait of a Lady on Fire was released on the film festival circuit last year and finally gets its U.S. theatrical release today. The film is a french historical drama and romance that focuses on queer love, classism, and nuanced moments.
France, 1770. Marianne, a painter, is commissioned to do the wedding portrait of Héloïse, a young woman who has just left the convent. Héloïse is a reluctant bride to be and Marianne must paint her without her knowing. She observes her by day, to paint her secretly.
Fair warning that the film is in French with english subtitles. So if you're a slow reader, or you feel that reading subtitles takes you out of the film. then you might want to take a pass.

Portrait of a Lady on Fire is in theaters now.
---
FOR GROUPS OF FRIENDS OR SINGLES – BIRDS OF PREY
The perfect Galentine's Day movie (still don't understand why WB didn't play up that angle). Birds of Prey (and the Fantabulous Emancipation of One Harley Quinn) is looking to hold on to first place at the box-office, after a disappointing debut last week. Given its R-rating it wouldn't be too surprising if Sonic The Hedgehog were to knock Harley down to the number 2 spot, but we feel the film isn't in real danger until next week's Invisible Man release.
Honestly, if your kid is a gamer, they are seeing much more violence and hearing much more language than this film has. Word on the Twitter streets is that this was the weekend that most people were waiting for to see Birds of Prey.

You can see Harley Quinn: Birds of Prey or as Fandango still shows; Birds of Prey (and the Fantabulous Emancipation of One Harley Quinn) today in theaters.
---
This of course doesn't cover everyone's taste. I was actually surprised to see how many female centered films, and shows were featured here. A sign of the times… Curious to see how this weekend's box office pans out with the three-day weekend. Happy Valentine's Day!
What are some of your Valentine's Day favorites? Let's discuss in the comment section or on social media!