Usaopoly (also known The Op) has signed a licensing agreement combining Critical Role, a media brand built around 8 voice actors playing a very story-driven game of Dungeons & Dragons, with Steve Jackson's popular card game Munchkin. Critical Role's Licensing Agent, Jason Kletzky, President of Collaborations Licensing negotiated the deal. 
The Op, AKA Usaopoly, has been a leading board game and puzzle publisher and manufacturer for over 25 years. Steve Jackson Games, which is based in Austin, Texas, has been publishing games, game books, and magazines since 1980. One of their most popular and enduring is Munchkin, a role-playing card game that acts like a dungeon-only version of D&D. 
Critical Role stars voice actors Matt Mercer, Marisha Ray, Ashley Johnson, Travis Willingham, Laura Bailey, Taliesin Jaffe, Sam Riegel, and Liam O'Brien with Mercer acting as the Dungeon Master and the others as the adventuring party.
The adventuring party of Campaign 2 is known as "The Mighty Nein", in which a group of misfits and screw ups attempting to save the world, though it way beyond their skill level. In Campaign 2, the party's adventures are set on the continent of "Wildemount" and with 97 episodes so far, there has been a lot of exploring and a number of Non-Player Characters introduced. Some of them will be included in the upcoming tabletop game.
RELATED: CRITICAL ROLE'S THE LEGEND OF VOX MACHINA ANNOUNCES WRITING TEAM
How Munchkin and Critical Role Come Together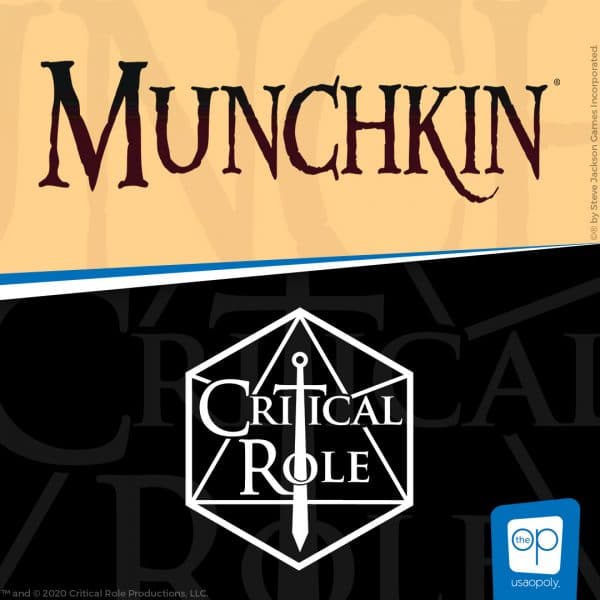 This latest product in The Op and Steve Jackson Games partnership, Munchkin: Critical Role, will combine the beloved tabletop card game with the second campaign of Critical Role. Allowing players to explore Wildemount and fight against villains such as the pirate Avantika and slaver Lorenzo who have both been featured in the campaign.
Critters will be able to play in the world that Critical Role has created allowing characters to search for treasure, defeat bad guys, and go on their own adventure to reach Level 10 and win.
"We're thrilled to see the world and characters of the Mighty Nein come to life in card game form with Munchkin, and we can't wait to share it with the Critters. We wouldn't be here today without them," said Ben Van Der Fluit, Vice President of Business Development for Critical Role.
Munchkin won the Origins Award for Best Traditional Card Game in 2001. Munchkin the card game is a spin-off of the gaming humor book The Munchkin's Guide to Powergaming which won an Origins Award in 2000
"We couldn't be more excited to release this game to fans of Critical Role and Munchkin and meet an ever-growing demand for both franchises," says Heather Campbell, Vice President of Sales at The Op. Munchkin: Critical Role will be available in North America, the UK, New Zealand, and Australia in specialty stores MSRP $24.99. Two 1,000 piece Critical Role puzzles will also be available this year MSRP $14.99 for each.  
Are you looking forward to this combination? Let us know in the comments below.