HOW DANIEL CHASE FITS INTO THE RED HOOD STORYLINE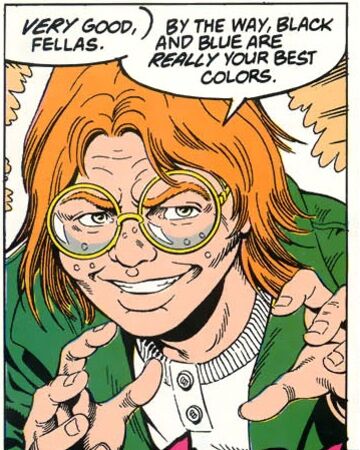 Here's the thing about Daniel Chase in the source material. He's irritating, his powerset (telepathy and a photographic memory) is uninspired, and the origin of those powers is bland (his grandfather worked on the Manhattan project). He's not fun and he doesn't add anything to the team dynamic outside of providing Beast Boy an enemy.
Honestly, Chase only did two things of note during his relatively short tenure on the team. He created the Phantasm identity and merged with the souls of the whole host of Azaroth and Raven's mom in an explosion, becoming an entirely new entity. I can't say I expect to see that absurd bit of story play out on this series, but his second claim to fame certainly might.
RELATED: 5 REASONS WHY THE MAN-WOLF MOVIE IS PERFECT FOR SONY'S MARVEL UNIVERSE
When Jason Todd died, Batman didn't give Dick Grayson a phone call. No, Dick comes across this heartbreaking news in issue #55 of the New Titans thanks to Danny, who breaks the news in the most heartless and uncouth way possible. Dick kicks Danny off the team in response, but truth be told, that was a long time coming. Their unfortunate and upsetting conversation was arguably Daniel Chase's biggest contribution to the tapestry of the Titans story, and it deserves to be reimagined in live action.
Judging by the casting call, it seems Danny Chase will undergo some radical changes in the development process, and believe you me, that is undoubtedly for the best. Instead of being an entitled, grating, and impudent child with a superiority complex, this version of Phantas, could be a well rounded and layered character who might actually resonate with fans.
CAN TITANS REDEEM THIS UNLOVED PIECE OF TEEN TITANS HISTORY?
His rivalry with Beast Boy could spring from a love triangle with Raven, as opposed to Chase's irritating nature. Perhaps, they could take the origin of his powers and the Phantasm identity and tie them more directly to Rachel Roth. He could become close compatriots with the Boy Wonder and even appear together for the first time! Despite never appearing together in a comic, it's revealed to the readers that Daniel and Jason were friends before his passing. If Titans built up a long-standing friendship on-screen between the two, instead of claiming that they were pals offscreen, it would make Jason's death that much more impactful.
When Jason Todd does inevitably begin his dark and painful journey towards becoming Red Hood, Chase should break the news to Dick Grayson in a heartfelt, serious, and emotional scene. Through this act, this version of the character could make up for the sins of his original incarnation and earn his place as a Titan. While dealing in hypotheticals can be entertaining and thought-provoking, ultimately we don't know what direction the Titans creative team will take Jason Todd and Daniel Chase. What we do know however is that their potential future together is rife with potential.
Do you want to see Jason Todd turn into Red Hood? Can Titans turn Daniel Chase into an interesting and likable character? Let us know in the comments below or on our social media!