Pedro Pascal's Surreal The Mandalorian Experience
As a lifelong fan of Star Wars himself, it would seem that Pedro Pascal thoroughly enjoyed getting the chance to work alongside Jon Favreau and Dave Filoni (and in all fairness, who wouldn't?) In the interview, he states that he felt confident working with the two visionaries because of their love for the saga and their dedication to telling the story. The dedication from the whole team behind the series shines through whilst watching the episodes.
So it was really beautiful to see two guys putting so much love into it. That more than anything is what it's exciting people and drawing them in, whether they're conscious of it or not.
As a child when the first films came out, Pedro Pascal was born in 1975, working on The Mandalorian came as a, what he calls, surreal experience. He describes first stepping onto set in costume as both a magical and a bizarre feeling which I am fairly sure we could all relate to if we were to ever find ourselves in his shoes!
So when Jon Favreau asked in our first meeting whether I was a fan of Star Wars, I asked "do I have a choice?" Not in relation to getting the job, but just in terms of how I grew up. They were the biggest movies of my childhood and, of course, with the movies came the merchandise. Those first three films dominated my childhood.
How Many People Does It Take To Make A Mandalorian?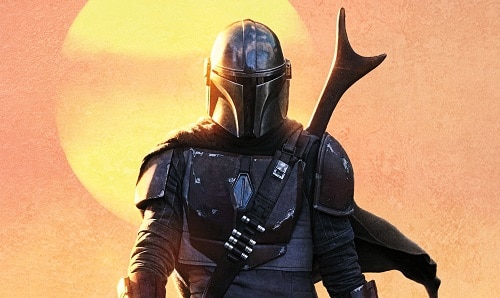 One of the most interesting things to come from the interview was that it took more then one actor to bring The Mandalorian's character to the big screen. Whilst Pedro Pascal was responsible for bringing the vocal energy to the role, stuntmen such as Lateef Crowder and Brendan Wayne were often responsible for a lot of the agility and movements we see from The Mandalorian. Hopefully we will get to experience more of the behind the scenes work when the documentary is released on May the Fourth.
There's like four of us. There are things that I can't do. There's a very improvisational way of shooting the show. You kind of discover what's safe and what's not on a daily basis. More than anything, I wanted to make sure that there's at least a basis of a physicality and a physical language that we're all in understanding with.
With news of The Mandalorian Season 3 beginning work, and merchandise (finally) due to be released in the coming weeks, we can rest assure that hype for the series is still going strong. So roll on Season 2 we say! On a scale of one to a Galaxy Far, Far Away, how excited are you for Season 2? What did you think about what Pedro Pascal had to say? Let us know in the comment section below and share our stories on your favorite social media!
KEEP READING: ORIGINAL OBI-WAN DISNEY PLUS STORYLINE REVEAL: EXCLUSIVE
Source: Yahoo! Movies