According to TheGWW, it looks like a Marvel's Secret Warriors project is in early development.
At this point, it isn't clear whether it will be another Disney+ series or a film headed for the theaters. Not much is known, but Kevin Feige is said to be set to produce. 
RELATED: IRONHEART SERIES FLYING INTO IN DEVELOPMENT FOR DISNEY+
Secret Warriors is an underground team of heroes that has gone through many incarnations. The first is brought together by Nick Fury and includes both Daisy Johnson (Quake) and Yo-Yo Rodriguez, all of whom are already a part of the MCU (or MCU-adjacent) world.
Nick Fury has obviously been a part of the MCU since his end credits scene in Iron Man, while Daisy Johnson and Yo-Yo have both been main characters on Marvel's Agents of Shield for years. Daisy Johnson, played by Chloe Bennet, has been a part of the series since the pilot and Yo-Yo, played by Natalia Cordova-Buckley, joined the series in the third season.
The Secret Origin Of The Secret Warriors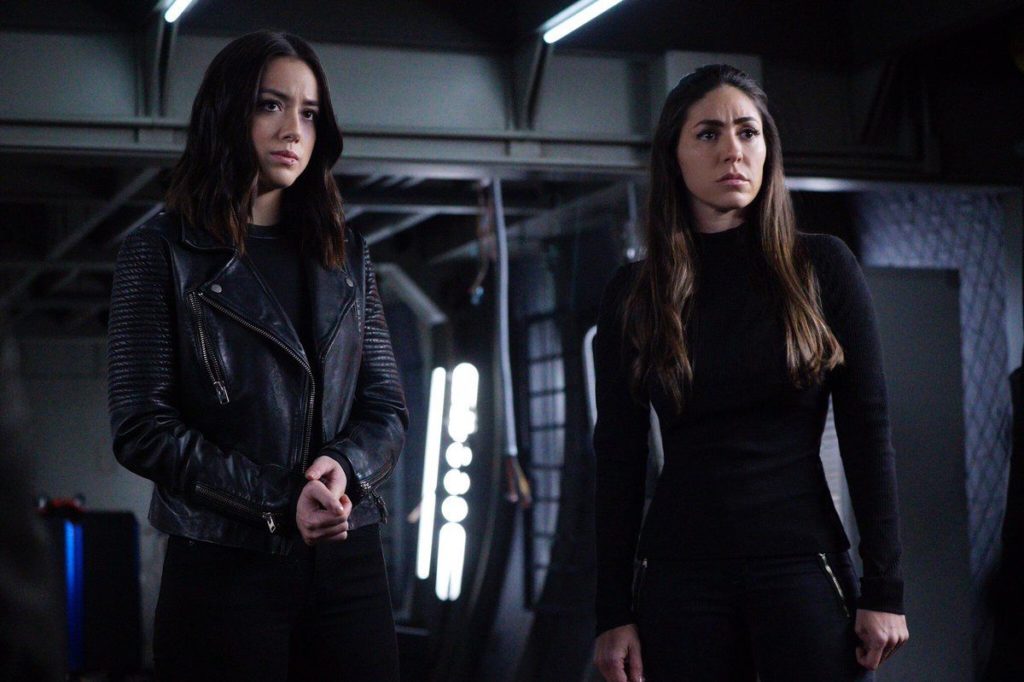 Marvel's Secret Warriors has had many iterations, including two separate comic book runs in 2009 and in 2017. The original team featured in the 2009 comic series was created by Brian Michael Bendis and Alex Maleev, with characters that were first introduced in Mighty Avengers #13 before the team was introduced in Secret Invasion #3.
Jonathan Hickman wrote the 2009 Secret Warriors series, which was co-plotted by Bendis. The original team was created by Nick Fury and included Quake (Daisy Johnson), Slingshot (Yo-Yo Rodriguez), Phobos (Alexander Aaron), Sebastian Druid, Hellfire (J.T. Slade), and Stonewall (Jerry Sledge).
In 2017, Marvel launched a new comic series with a different incarnation of the Secret Warriors team which featured Quake again, but otherwise included different characters such as Ms. Marvel (Kamala Khan), Lunella Lafayette, Devil Dinosaur, Inferno, and Karnak. This new series was cancelled the same year after 12 issues. 
The Agents of Shield Secret Warriors are not quite the same as their comic book counter parts as all of the characters are Inhumans. Quake and Yo-Yo are both a part of the team in the Agents of Shield episode "The Team", season 3 episode 17, and it also features two other Inhumans with superhuman abilities.
While Quake and Yo-Yo have been established on Agents of Shield for years it is much too early for any indications whether or not these characters would continue to be portrayed by Bennet and Cordova-Buckley or be recast entirely. Agents of Shield is heading into its seventh and final season later this month. 
Recently the most recognizable incarnation of the Secret Warriors team has been the 2018 made for TV animated film Marvel Rising: Secret Warriors that played on both Disney Channel and Disney XD. This was another version of the team with different characters. This team featured Ms. Marvel, Squirrel Girl, Patriot, America Chavez, Inferno, and Quake as the team leader. Captain Marvel is also a part of the team in a supervisory role.
The official synopsis for Marvel Rising: Secret Warriors is below: 
In Marvel Rising: Secret Warriors, powered teens Ms. Marvel, Squirrel Girl, Quake, Patriot, America Chavez, and Inferno join forces as an unlikely, but formidable crew of aspiring heroes. When a threat no one could have expected bears down on the Marvel Universe, this ragtag, untrained band of teens have no choice but to rise together and prove to the world that sometimes the difference between a "hero" and "misfit" is just in the name.
Secret Warriors has had many different versions of the team over the years and a future project could take influence from any of these or bring in some new entirely unexpected characters. Considering a Ms. Marvel series is in the works for Disney+ and Chloe Bennet has pretty well established herself as Quake, not only portraying her in Agents of Shield but also voicing her in Marvel Rising: Secret Warriors, there could be a base to start the project with a few already established MCU characters.
This project could work as either a Disney+ or a MCU theatrical film. A Disney+ series could introduce a number of characters and allow Marvel to find out who becomes most popular and expand upon those characters. As a MCU film it could work as an Avengers style movie with at least some of the characters being introduced in other MCU projects be it other films or Disney+ series. While not a lot is known about this project it could potentially be another way to introduce a number of young new heroes to the MCU.
Are you excited about a Secret Warriors project? Who would you want to be on the team? Do you think it should be a movie or a series? Leave your thoughts in the comments below or on our social media.
Source: TheGWW.com