When Arrow took its bow and hung it up permanently, it was the end of an era. The series finale gave us a small glimpse of what fans have been wanting, however, the moment that David Ramsey's character John Diggle stepped on the scene as a Green Lantern.
In the finale, Diggle is moving his family to Metropolis when he notices a meteor holding a case that shines green. Of course, there is no doubt in viewers' minds that the lantern ring for him. While audiences weren't able to see David Ramsey in a Green Lantern costume, in a recent interview with Comicbook.com he suggested that he is definitely game for it.
RELATED: STARGIRL TEASES THE ARRIVAL OF THESE CLASSIC DC HEROES
Below is some of what he had to say when speaking about the potential continuation.
David Ramsey Is Ready To Take On A New Hero Mantle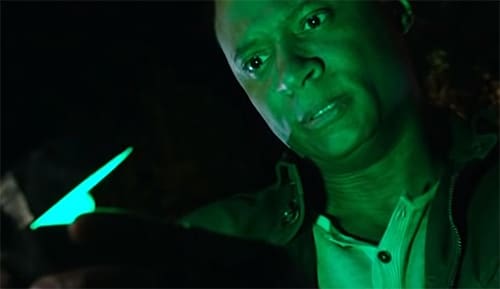 "The way John Diggle ended there's another beginning for him," Ramsey told ComicBook.com. "So I think for a character like this, and for the type of people that are writing around it, I think it can remain fresh for a long time."
Ramsey believes that his character could have many new adventures with this. This would be an interesting addition if Diggle did become the Green Lantern in Metropolis and began his adventures on Superman & Lois, perhaps in a team up with Clark (Tyler Hoechlin) himself.
This would not be the first time the big blue boy scout has teamed up with the Green Lantern onscreen. After all, in the Superman Animated Series, Superman met and helped new lantern Kyle Rayner when he first began his superhero gig. There was an interesting story arc in the Smallville Season 11 comics, as well, involving Superman becoming a Green Lantern for a time.
Ramsey has been practicing his version of the Green Lantern Oath, and he admits that many fans have paid to hear him say it out loud on his Cameo profile. Cameo is an app where fans are able to pay for video greetings from their favorite celebrities, which allows for a sense of connectedness in these trying times.
It seems even if the Green Lantern path never materializes, there will always be plenty of possible ways for him to return back to the shows in the Arrowverse, whether they be Supergirl, Superman & Lois, Batwoman, or The Flash. Here is some more of what he had to say on the subject.
"There's talk about me coming back," Ramsey admitted. "I mean, it may or may not be so quiet, but you know something else, the idea that you might not be working or things will be a lot different when work does come has made me kind of appreciate the idea of working in general….I'm kind of looking forward to getting to work and if that kind of involves the Arrowverse, I'm happy for it."
The opportunities are scarce during this pandemic, and with studios still waiting for the green light to return, this would be a opportunity that Ramsey could easily take on and that he would be excited to handle as well. A Green Lantern series is being made for the streaming service HBO Max, but so far it has no link to the CW's Arrowverse.
Of course, Green Lantern has taught us that anything is possible if you believe. That's especially true here, considering that the series will be produced by Greg Berlanti, who created Arrow and engineered the entire Arrowverse – which is sometimes lovingly called the Berlantiverse.
But if you are interested in more of what David Ramsey has to say, check him out during Creation Entertainment's Virtual Fan Experience, which it happening this weekend. Many guests include other Arrow actors such as Paul Blackthorne, Juliana Harkavy, and Katherine McNamara.
Do you want to see Ramsey return to the Arrowverse as the Green Lantern named John Stewart Diggle? Let us know in the comments below, and make sure you keep to date with The Illuminerdi for more DC news and features.