[Warning: this contains major spoilers for Season 4 episode 5 of Wynonna Earp, "Holy War Part One"]
Wynonna Earp opens with the Wayahught wedding we've all been hoping for…almost, but not quite the one we've been wanting to see. Wynonna and Doc are searching for Peacemaker the demon slaying gun or sword, which lead them first to the charmingly powerful demon Amon (owner of Glory Hole) and on a heist to steal a mysterious painting. Wynonna was then sent to find the woman from the painting by some very ominous nuns.
Meanwhile Nicole struggles with a terrible deal she made to bring Waverly, Wynonna, and Doc back from the garden, but every time she tries to share the secret she pukes frogs. Rachel, in a spectacularly stupid move snoops around the Clanton's ranch, without telling anyone, looking for Billy who is now a Reaper. And the episode ends with some major cliffhangers, the return of Rosita from season 2 and Nicole Haught drowned to try and rid herself of the hex.
RELATED: WYNONNA EARP SEASON 4 EPISODE 1 REVIEW: ON THE ROAD AGAIN
Wynonna Earp has finally found herself and her purpose, the demon hunter has come a long way from the woman in the pilot trying to run away from her destiny. Wynonna will fight to keep her family and Purgatory safe. She is raring to go after the Clantons even without Peacemaker, and throughout the episode Wynonna is secure in her mission. She has not only accepted her place as the heir, she is good at it. Even if the job may have technically ended after the curse. As she says when trying to find Peacemaker.
"When the monsters keep coming and coming how am I supposed to live a normal life? Why the fuck would I want to?"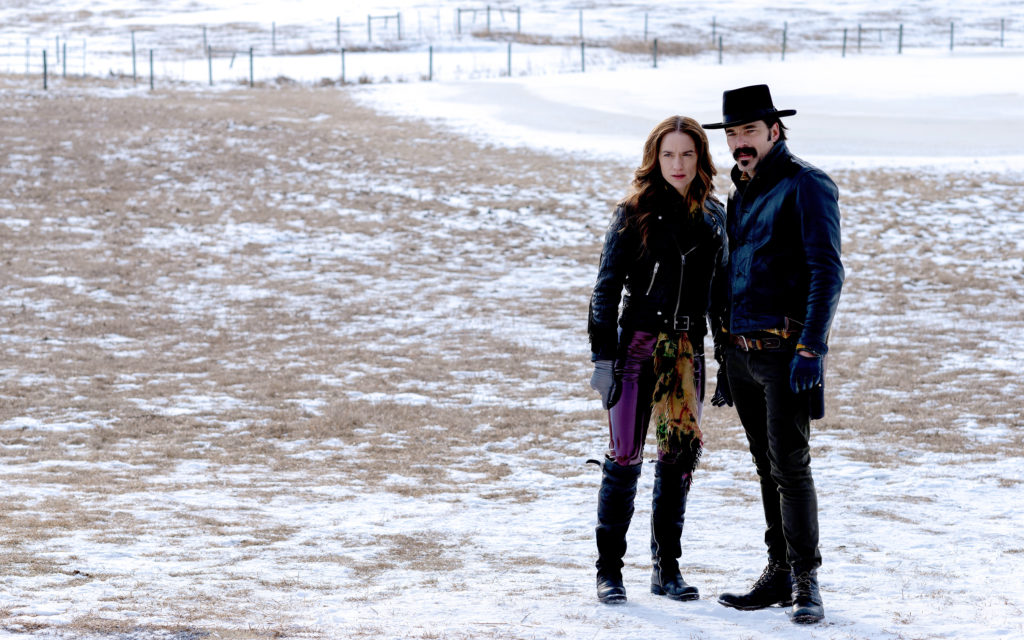 Wynonna Earp knows who she is, she has her team back together, and a clear enemy to fight. Doc on the other hand, spends most of the episode struggling with his legacy as the "fastest gunslinger in the West." After watching a video of his best friend Wyatt Earp, talking about their past and speaking somewhat disparagingly about him, Doc loses a bit of himself.
Doc has always seen Wyatt Earp as an honorable man and his truest friend. However after Doc failed, to hear Wyatt talking about the OK Corral and Doc himself the way he does, shows a bit of the shine has rubbed off. Doc begins questioning his bloody history, especially because he's now a vampire there isn't a true end in sight. Doc will have to forever live with his legacy, one which for most of his life he was proud of, but now he wants to change.
RELATED: WYNONNA EARP SEASON 4 EPISODE 2 REVIEW: FRIENDS IN LOW PLACES
Doc begins looking for ways to end the conflict peacefully without further bloodshed. It makes sense given the central conflicts of Wynonna Earp, first the curse and now the Clantons are all tied to Wyatt Earp and actions he took that his heirs have had to live with. Doc has an interesting parallel with Holt Clanton who himself seems more tired of the blood feud than anything else. While Holt doesn't seem to want to go against Ma'am, he also just wants to be done with the Clantons' need for vengeance.
Amon is an interesting character who is refreshingly upfront about his motives. He's helping out Wynonna in finding her demon slaying weapon simply because the Clantons have too much power. Amon is a survivor who likes being in control and at the moment Wynonna and Doc are useful. I have no doubt that if the situation changes he would turn against them without batting an eye, but even so I am loving his interactions with Doc and now Wynonna. The fact that Doc is offended when Amon points out their similarities is interesting, especially since Doc would likely have simply agreed with the demon as recently as season three of Wynonna Earp.