Battlestar Galactica depicts a lone colony of humans on the run from a mechanical race of beings known as Cylons, in search of their last bastion of hope; Earth. The series garnered critical acclaim during its 5-year run from 2004 through to 2009, especially for its depiction and exploration of numerous political and socio-cultural themes and messages.
Since the series' conclusion, both a film and television series have been in development. Recently however, thanks to an exclusive from The Hollywood Reporter, it has been revealed that Simon Kinberg has been slated to write and produce the film adaptation of the series for Universal Pictures.
Battlestar Galactica Prepares for Takeoff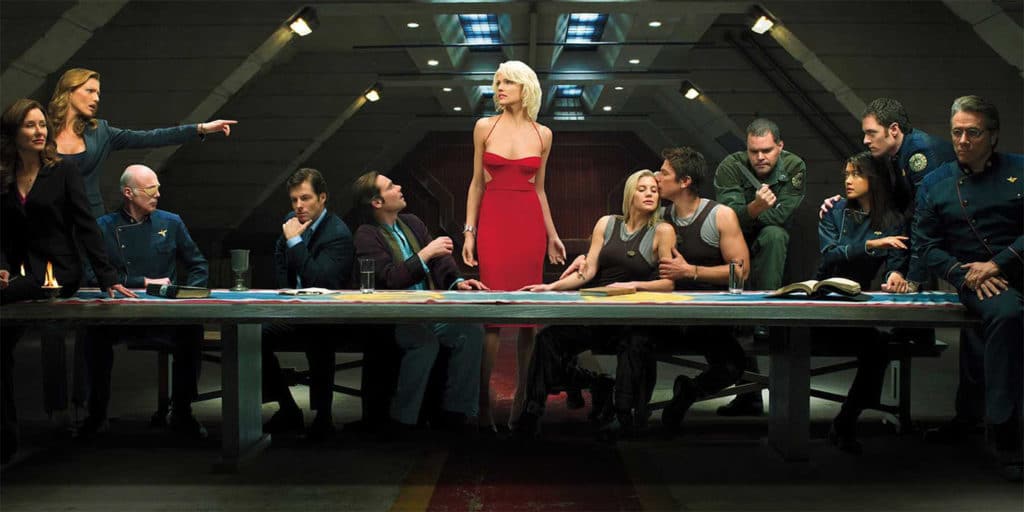 Simon Kinberg, most known for his contributions to the Fox-owned X-Men films, most notably his directorial position for Dark Phoenix, has been revealed to be in line to write and produce the feature film adaptation. Said to be creating the film's story "from the ground up", Kinberg will be tackling the long-acclaimed series alongside producer Dylan Clark, who has been attached to the project before Kinberg's involvement.
RELATED: WANDAVISION STAR ELIZABETH OLSEN EXPLAINS THAT MENTAL HEALTH ISSUES TO BE FOCAL POINT IN NEW SHOW
In a statement, Kinberg declared Battlestar Galactica as "one of the holy grails [of] science fiction", and notes that he "couldn't be more excited to bring something new to the franchise, while honouring what's made it so iconic and enduring."
In addition to Kinberg's film project, however, a television reboot is also in production. With Mr Robot creator Esmail in the executive producer position, the show is sure to continue its long-running legacy of political and social allegory. No further details on either project have been revealed at this moment.
Currently there is no planned release date for the film either. However, Simon Kinberg is currently preoccupied as he prepares to release his latest film, The 355. The female-lead spy thriller releases on January 13, 2021 starring Jessica Chastain, Lupita Nyong'o, Penelope Cruz and more.
For more news on Battlestar Galactica and the numerous worlds of film and sci-fi, stay tuned to The Illuminerdi!
KEEP READING: SCARLETT JOHANSSON SET TO STAR IN UNEXPECTED BRIDE OF FRANKENSTEIN REIMAGINING FOR APPLE TV