There are plenty of January movies that are coming to theatres, streaming platforms, and video on demand this month that we should not miss. This month offers loads of movies belonging to a wide plethora of genres but mostly R-rated. That includes action flicks, dramas, comedies, adventure, sci-fi, and thrillers.
After what has felt like an eternity, the year 2020 is finally behind us. This year all major tentpole movies are waiting for their turn to be released in theatres. In addition to all of the hope that 2021 is set to deliver, it's bringing along quite a bit of new streaming content as well.
Netflix is known for releasing a lot of content each month and January offers a great line-up of films. Some of them include Netflix original movies, such as: Pieces of a Woman a drama; Outside the Wire a sci-fi action thriller; The Dig a drama, and also a few other new movies.
In a shocking move to the entire industry, last month Warner Bros. announced that its entire 2021 film slate would be debuting on HBO Max on the same day that the films are released in theaters. Whether if it will be the case for all their movies is still up for debate. Meanwhile, the filmmakers and studios affected by this move will be working out the kinks for quite a while. The first film in that slate, The Little Things is arriving this month.
RELATED: HBO MAX: WB ANNOUNCES SHOCKING 2021 RELEASE STRATEGY
HBO Max original, The Little Things a crime psychological thriller; Hulu's The Ultimate Playlist of Noise a musical drama; Amazon's Herself a drama and One Night in Miami a drama; Apple TV+ original, Palmer a drama are also coming this month.
Many films have been released digitally for the audience to view on-demand last year. The most intriguing VOD releases in January are Batman: Soul of the Dragon DC's animated film, Our Friend a comedy-drama. Most of the on-demand releases are also opening in select theatres before, or simultaneously, launching on digital platforms.
In the last few months, many theatres across various countries are reopened and new movies are getting released wherever theatres are available instead of waiting for other theatres to come back in full form. Some movies are having a release in select theatres before they head to streaming but some movies are having a wide release possible. Those films are Shadow in the Cloud an action horror, The Marksman an action thriller, Breaking News in Yuba County a comedy-drama.
Check out the synopses and release dates for each of these movies below.
January Movies To Watch Out For
Shadow in the Cloud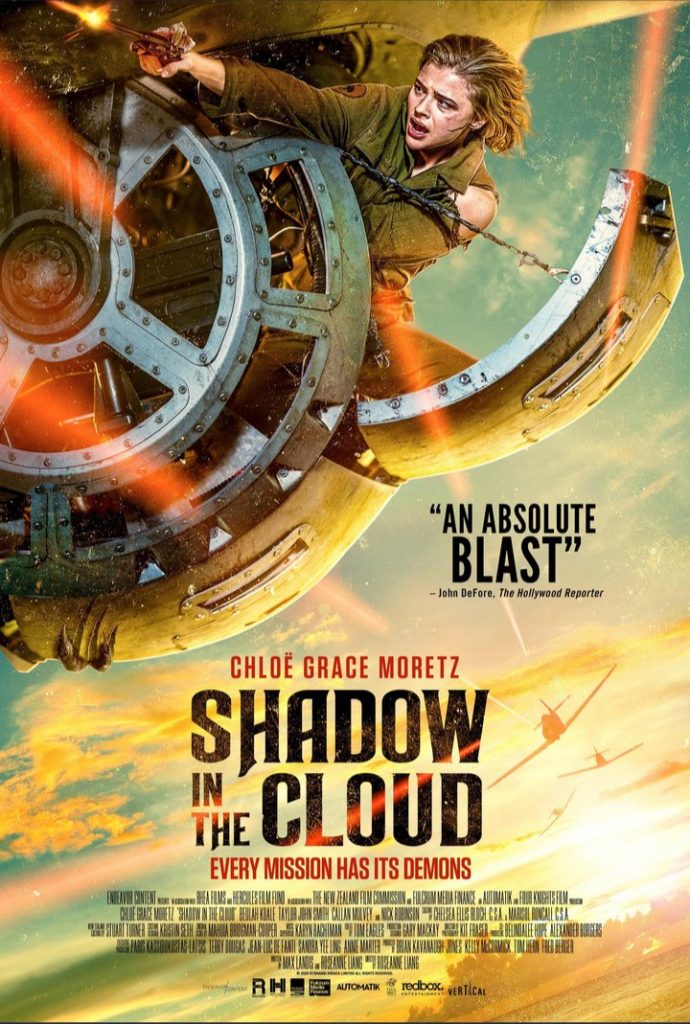 Shadow in the Cloud is an action horror film directed by Roseanne Liang (My Wedding and Other Secrets), from a screenplay by Liang and Max Landis. It stars Chloë Grace Moretz (Kick-ass, Suspiria), Beulah Koale (The Last Saint), Taylor John Smith (Sharp Objects), Callan Mulvey (Captain America: The Winter Soldier), Benedict Wall (Operation Buffalo), and Nick Robinson (Jurassic World and Love, Victor).
In the throes of World War II, Captain Maude Garrett (Moretz) joins the all-male crew of a B-17 bomber with a top-secret package. Caught off guard by the presence of a woman on a military flight, the crew tests Maude's every move. Just as her quick wit is winning them over, strange happenings and holes in her backstory incite paranoia surrounding her true mission.
But this crew has more to fear… lurking in the shadows, something sinister is tearing at the heart of the plane. Trapped between an oncoming air ambush and an evil lurking within, Maude must push beyond her limits to save the hapless crew and protect her mysterious cargo.
It had its world premiere on September 12, 2020, at the Toronto International Film Festival, where it won the People's Choice Award for Midnight Madness. The R-rated film holds a 79% RT score based on 66 reviews. The film received generally positive reviews, with Moretz's performance receiving praise.
Read our Shadow in the Cloud review below.
RELATED: SHADOW IN THE CLOUD REVIEW: ELEVATING GREMLIN STORYTELLING TO NEW HEIGHTS
Shadow in the Cloud release date: January 1, 2021
Pieces of a Woman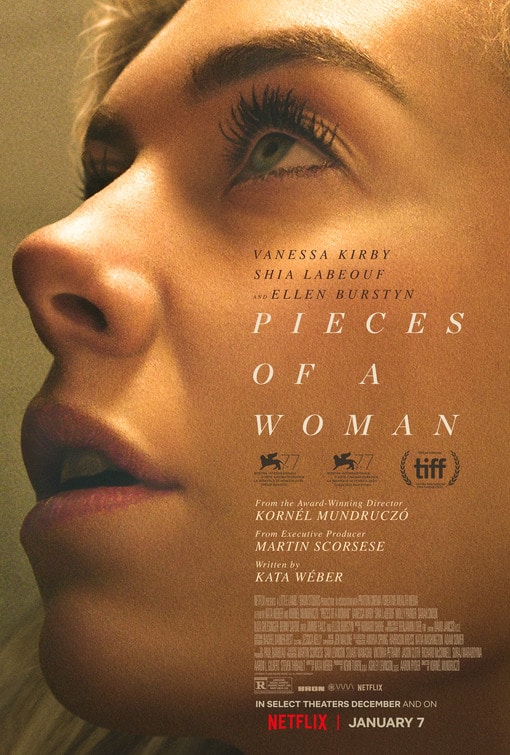 Pieces of a Woman is Netflix's original drama directed by Kornél Mundruczó (White God, Jupiter's Moon), from a screenplay by Kata Wéber. Martin Scorsese serves as an executive producer. The film is directly related to Mundruczó and Wéber's 2018 stageplay of the same name, performed by the artistic ensemble of TR Warszawa.
It stars Vanessa Kirby (Mission: Impossible – Fallout, The Crown), Shia LaBeouf (Fury, Honey Boy, Transformers), Molly Parker (Lost in Space), Sarah Snook (Succession), Iliza Shlesinger (Spenser Confidential), Benny Safdie (Uncut Gems), Jimmie Fails (The Last Black Man in San Francisco), and Ellen Burstyn (The Exorcist).
The film had its world premiere on September 4, 2020, at the 77th Venice International Film Festival, where Kirby won the Volpi Cup for Best Actress. She will definitely be nominated for more awards. It was released in select theaters on December 30, 2020, before it streams on Netflix.
The film received generally positive reviews, with praise for the performances of Kirby, Labeouf, and Burstyn. The R-rated film holds a 76% RT score based on 71 reviews and it is a must-watch just for the performances.
Pieces of a Woman Netflix release date: January 7, 2021
Herself
Herself is an Amazon original drama directed by Phyllida Lloyd (Mamma Mia!), from a screenplay by Malcolm Campbell and Clare Dunne (Nice Night for It). It is a film about a woman's journey filled with empathy and grace starring Dunne, Harriet Walter (Killing Eve), Cathy Belton (Red Rock), Rebecca O'Mara (Line of Duty), Ian Lloyd Anderson (Vikings), Molly McCann (Vivarium), Ruby Rose O'Hara, and Conleth Hill (Game of Thrones).
Single mother Sandra (Dunne) has been struggling to get by with her two young daughters. After the housing system refuses to give her a new home, Sandra decides to build her own while the help of a friendly community and a handful of new friends. With this new purpose, Sandra rediscovers herself: that is until her abusive ex-husband sues her for custody of the children. And as bureaucrats fight back against her independent spirit, will Sandra be able to rebuild her life from the ground up?
Herself had its world premiere at the Sundance Film Festival on 24 January 2020 and was released in the US in a limited release on 30 December 2020, before being released digitally on Prime Video. The R-rated film holds a 91% RT score based on 46 reviews making it a must-watch.
Herself Amazon release date: January 8, 2021
Batman: Soul of the Dragon
Batman: Soul of the Dragon is an animated direct-to-video film produced by Warner Bros. Animation and DC Entertainment. It is the 40th film in the DC Universe Animated Original Movies line. The film is directed by DC vet Sam Liu (Batman: Year One, The Death of Superman, Superman: Red Son) and executive produced by Bruce Timm featuring an original story by Jeremy Adams and not based on any comic.
Sam Liu is the director of a bunch of DC animated titles, he directed more than 15 films. It stars David Giuntoli as Bruce Wayne / Batman, Mark Dacascos as Richard Dragon, Kelly Hu as Lady Shiva, Michael Jai White as Ben Turner / Bronze Tiger, James Hong as O-Sensei, and Josh Keaton as Jeffrey Burr.
In this R-rated movie, Bruce Wayne faces a deadly menace from his past, with the help of three former classmates: world-renowned martial artists Richard Dragon, Ben Turner, and Lady Shiva. It is scheduled to be released on Digital platforms first and then on DVD on January 26.
Batman: Soul of the Dragon VOD release date: January 12, 2021
One Night in Miami
One Night in Miami is an Amazon original drama about a fictionalized meeting of Malcolm X, Muhammad Ali, Jim Brown, and Sam Cooke in a Miami hotel room in February 1964, celebrating Ali's surprise title win over Sonny Liston and they discuss the responsibility of being successful black men during the civil rights movement.
It is the first feature directed by Regina King (Watchmen, If Beale Street Could Talk), from a screenplay by Kemp Powers based on his stage play of the same name, and stars Kingsley Ben-Adir (Peaky Blinders) as Malcolm X, Eli Goree (Riverdale) as Muhammad Ali, Aldis Hodge (The Invisible Man, Hidden Figures) as Jim Brown, and Leslie Odom Jr (Hamilton) as Sam Cooke.
Also, Starring is Lance Reddick (John Wick), Nicolette Robinson (The Affair), Joaquina Kalukango (Lovecraft Country), Christian Magby (Legacies), Michael Imperioli (The Sopranos), Lawrence Gilliard Jr. (Walk of Shame), and Jeremy Pope (Hollywood).
The film premiered at the Venice Film Festival on September 7, 2020, a first for an African-American woman director. It began a limited theatrical release on December 25, 2020, before being released digitally on Prime Video. Reviews were overwhelmingly positive, with critics praising King's direction, the performances, and the screenplay. The R-rated film holds a 97% RT score based on 143 reviews making this a must-watch.
One Night in Miami Amazon release date: January 15, 2021
Outside the Wire
Outside the Wire is Netflix's original sci-fi action film directed by Mikael Håfström (Bloodline). It stars Anthony Mackie (Captain America: The Winter Soldier, Altered Carbon), Damson Idris (Snowfall), Emily Beecham (Daphne), Michael Kelly (Dawn of the Dead), Pilou Asbæk (Ghost in the Shell), Kristina Tonteri-Young (Warrior Nun), Enzo Cilenti (Free Fire), and Bobby Lockwood (Eurovision Song Contest).
Set in the near future, a drone pilot (Idris) sent into a war zone finds himself paired with a top-secret android officer (Mackie) on a mission to stop a nuclear attack. The R-rated film is produced by Mackie. It is scheduled to be released on Netflix.
Outside the Wire Netflix release date: January 15, 2021
Check out the next page for more January 2021 movies: