It was announced Monday WWE Champion Drew McIntyre has tested positive for COVID-19.
McIntyre was scheduled to face Randy Orton in the main event of RAW. However, the COVID test changed some plans for RAW. This is why Triple H stepped in and wrestled Orton last minute. They had to do the Alexa Bliss angle to set-up Fiend against Orton at Royal Rumble.
RELATED: 2 WWE NXT STARS RUMORED FOR SURPRISING MAIN ROSTER CALL-UPS
WWE also needed Drew McIntyre to accept or refuse Goldberg's challenge after being called out last week. Luckily we live in 2021 and McIntyre can just cut a promo virtually. Drew McIntyre let us know that Goldberg is indeed next.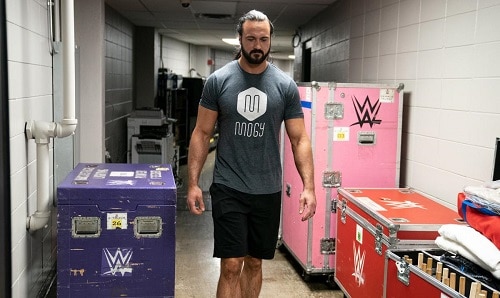 Royal Rumble Match Still A Possibility But Barely
When I first saw the news of Drew McIntyre testing positive for COVID it seemed like the Royal Rumble match was off the table. However, we have two things working in our favor. The first is McIntyre is positive, but has zero symptoms. At least that's what he said on RAW. The second is that Royal Rumble is literally the farthest day in January, as it's happening on the 31st.
RELATED: HULK HOGAN BELIEVES WWE HAS A NEW "NEXT BIG THING"
Drew McIntyre has to enter quarantine for 20 days and have a negative test before he can return to WWE. If McIntyre started his quarantine on Monday the 11th when his test results went public, then he could return in time. His 20 days would be on the 30th with a one day buffer. I think because he doesn't have symptoms it shouldn't take the full 20 days to get a negative test, but I'm not a doctor so who knows.
WWE Needs To Have Plan B Ready
If WWE was smart they would have a backup guy to wrestle. Maybe Triple H again. If it gets close to the Royal Rumble and it's unclear if he could make it they should push Goldberg vs a mystery opponent. This would give them the leeway to use McIntyre or someone else if they have to.
Drew McIntyre Is One Of Many Wrestlers Affected By COVID-19
This is far from the first time positive COVID test recently. Lance Archer tested positive for COVID last year and was out for 21 days before he was able to take on Jon Moxley for the AEW World Championship.
Nick Jackson of the Young Bucks tested positive last year and was bedridden for almost three weeks before he was able to return. However, his brother had to do most of the work in-ring because COVID scars the lungs and it affected Nick's cardio so badly he couldn't take on as much in-ring work as before. 
RELATED: UNKNOWN NXT TALENT MOVING UP TO SMACKDOWN TO FEUD WITH REIGNS
We will see if Drew McIntyre loses a step when he returns to in-ring action. I hope because he has no symptoms he won't have the ill effects most people get.
If Goldberg has to wrestle someone else, who would you want to see him wrestle? Who do you think could carry Goldberg through a good match? Two names I'd like to throw out there who could help Goldberg look good are AJ Styles (duh) and John Morrison. 
Morrison can put on a great match, lose and not lose any momentum. Styles losing would hurt him a bit because let's face it, if Goldberg wrestles anyone but Drew McIntyre he'll win. Is there a hall of famer or retired wrestler you'd like to see take on Goldberg? Perhaps Booker T or Edge? Jackhammer those comments below or over on Twitter and let us know what you think. 
KEEP READING: CODY RHODES GIVES AEW AN "A" RATING FOR THE YEAR
Source: ProWrestling