Jason Jordan is working on making an in-ring return according to his former tag partner, Chad Gable.
Gable was recently a guest on WWE's The Bump where he spoke about his former tag partner and good friend Jason Jordan.
"It's unfortunate what happened to him with his injury. But you never say never. He's working on it, he's trying to get back and who knows? A reunion is always something that I would never be against," Gable said.
A Minor Surgery Became A Major Setback For Jason Jordan
In January 2018, Jason Jordan was tagging with Seth Rollins and hit a ring post hard.  He became groggy and appeared to be concussed.   Rollins tagged himself in and gave Jordan a chance to recover.  The next night on RAW Jordan was supposed to wrestle, but was pulled off the card.  It was announced shortly after Jordan had undergone a minimally invasive neck surgery to decompress a nerve.
RELATED: A SURPRISE DEBUT FOR OMOS IS TEASED BY AJ STYLES AT ROYAL RUMBLE
It isn't clear if the neck surgery was already planned down the line, or if hitting the turnbuckle exacerbated the neck issue so much it became an emergency surgery. It's also possible it caused an unknown injury into a major one.
At one point Jason Jordan was having trouble gripping objects. We are coming up on three years since the surgery so obviously Jordan isn't healing like he had hoped.
Gable reflected on his time tagging with Jordan in NXT and WWE. Gable also talked about how much he owes Jason Jordan for helping him achieve all his success.   
"Jason [Jordan] was such a big part of my journey to being successful in WWE. Who's to say if I would've even gotten a start in NXT or the main roster if it wasn't for Jason? I just feel so fortunate that we meshed together so well. He's another one of those guys like Otis that, our mentalities are just so similar and we just resonate on the same levels when it comes to everything and I think it bled through in our tag team," Gable said.
American Alpha Became An Alpha Level Threat To Tag Titles
The pair formed the team American Alpha and won tag championships on NXT and SmackDown. Jason Jordan also won the RAW Tag Championship with Rollins.
RELATED: JAY WHITE'S FUTURE UNCERTAIN AND MAY BE LEAVING NJPW
Right before Jordan was injured he was part of major storylines and seemed to be about to break through. He was tagging with Rollins and was said to be Kurt Angle's long-lost son. Jordan was getting a lot on TV time and had fans starting to take notice of him and a singles run was right around the corner. Jordan has been working backstage as a producer.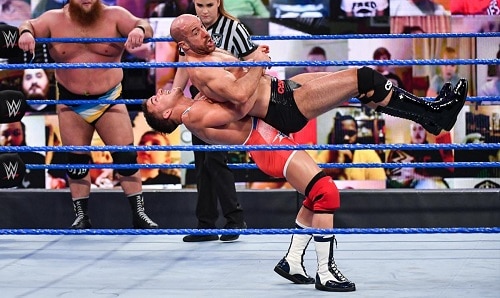 Gable's Rocky Post American Alpha Career
Since Jason Jordan left with an injury, Gable's career has really floundered. He was given the terrible character and even worse name of Shorty G. However, recently Gable has reacquired his name and has opened up the "Alpha Academy" training Otis. People love Otis for some reason so maybe this could be his chance to eventually get tag team gold yet again.
Jason Jordan truly seemed like someone who could be a solid mid-card guy. He was just missing that certain something to bring him up to the next level. Once he found it I think he would have owned the mid-card or maybe even dip into the top tier.
Would you like to see Jason Jordan return to in-ring competition? Do you think he's been gone too long to return. Is there someone you would want to see him wrestle on the main card or NXT? Belly-to-belly suplex a few comments below or on our social media and let us know what you think.
KEEP READING: TAYA VALKYRIE LEAVING IMPACT TO WRESTLE IN PARTS UNKNOWN
Sources: WrestleZone, BleacherReport