Woman In Motion tells the incredible true story of how Nichelle Nichols not only changed the game as Lieutenant Uhura, but changed history when she worked with NASA to recruit astronauts. It's a story that is not nearly as well-known as it should be, considering the following that Star Trek has. The documentary explores Nichelle Nichols' personal history including when she got her start as a singer for Duke Ellington, being discovered by Gene Roddenberry and becoming the unforgettable Uhura, and how she used her sci-fi fame to help recruit women and minorities into NASA's astronaut program.
Woman In Motion is an easy to follow and engaging documentary told in linear order with interviews, archival footage and photos. The story is compelling and includes interviews from not only Nichelle Nichols, but other artists as well as scientists and astronauts that were directly affected by Nichelle either as Uhura or when she was recruiting for NASA. Woman In Motion manages to feel like Nichelle Nichols is sharing her story with the audience with not only the interview for the documentary itself, but past interviews as well.
The documentary includes the famous story of how Martin Luther King Jr. convinced Nichols to continue as Lieutenant Uhura on Star Trek when she was thinking about leaving. We even get new details about the Civil Rights activist from Martin Luther King III in the film. Details about Nichols time on Star Trek are revealed, including the lesser known facts like that Nichols' helped name her character and the fact that many Uhura focused stories were watered down before being cut entirely from the scripts.
RELATED: WOMAN IN MOTION DIRECTOR DISCUSSES THE PROCESS OF MAKING THE INSPIRING DOCUMENTARY
But the meat of the documentary comes not from Nichelle's Star Trek fame, but what she did with it after the end of the original 1960s series. Nichols used her fame as Lieutenant Uhura to recruit women and minorities into NASA's astronaut program after she saw that the space agency was predominantly filled with white men and the astronaut class was only white men. Nichols campaigned for NASA recruitment for four months, even going so far as to film herself doing some of the required astronaut training.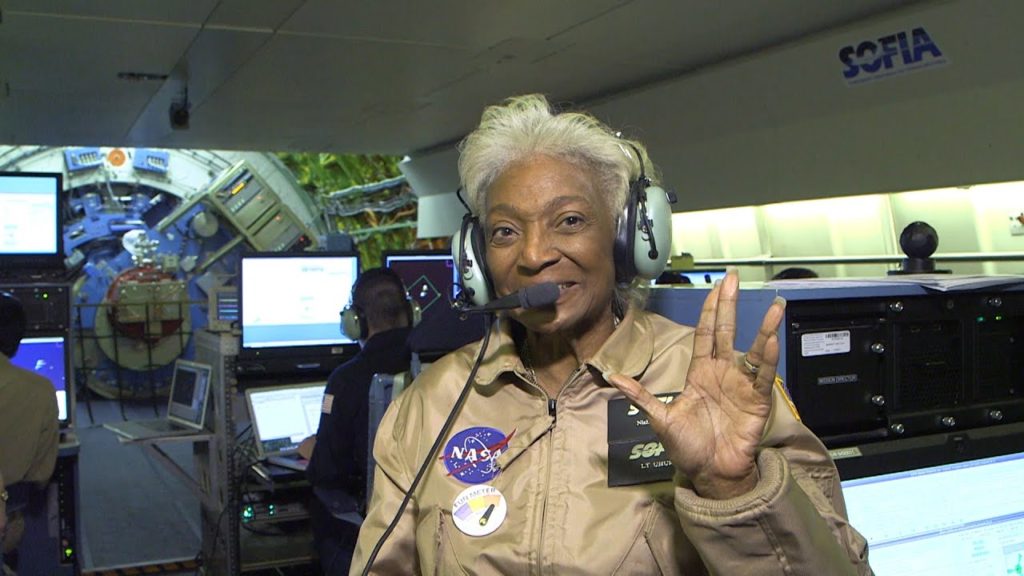 Nichelle Nichols managed to recruit numerous people, so many that the astronaut class needed to be expanded. Woman In Motion covers the highs of Nichols' career and work with NASA, as well as the heart shattering low of the 1986 Challenger disaster. In the explosion three of the astronauts who were killed, Ellison Onizuka, Ronald McNair, and Judith Resnik, were recruited by Nichols herself. The heartbreak is clear with Nichols unable to speak about the loss of these astronauts, especially Judith Resnick who became a close friend of the actress.
RELATED: WOMAN IN MOTION DIRECTOR SWOONS OVER STAR TREK'S NICHELLE NICHOLS' UNWORDLY ACHIEVEMENTS AND "REGAL" PRESENCE
Nichols' contribution cannot be overstated, she not only changed the landscape of representation on television as Uhura on Star Trek, she has had a lasting impact on NASA as well. Inspiring not only artists, but countless people interested in the STEM fields. Woman In Motion is definitely worth a watch for not only Star Trek and Nichelle Nichols fans, but people interested in the space program, history, and STEM. Nichols took the Star Trek ideology Infinite Diversity in Infinite Combinations and brought it from the future into NASA in the 1970s through today and hopefully into the future.
WOMAN IN MOTION TRAILER AND SYNOPSIS
The inspiring true story of how renowned Star Trek actress Nichelle Nichols pioneered the NASA recruiting program to hire people of color and the first female astronauts for the space agency in the late 1970s and 1980s, Woman in Motion: Nichelle Nichols, Star Trek and the Remaking of NASA will come to home theaters on digital and on demand everywhere on February 16, 2021. Fans who preorder from Apple will also have access to exclusive bonus features, including an extended "The Story Behind the Story" featurette, deleted scenes, teasers and trailers.

Directed by Todd Thompson (The Highwaymen, PRE FAB!), the film chronicles how Nichols transformed her sci-fi television stardom into a real-life science career when, in 1977, she embarked on a campaign to bring diversity to NASA. Nichols formed the company Women In Motion, Inc. and recruited more than 8,000 African American, Asian and Latino women and men for the agency.

Nichelle and her program continue to influence the younger generation of astronauts as well, including Mae Jemison, the first female African American astronaut in space. Despite an uphill battle against a bureaucracy that was hesitant to let her get involved, Nichols persevered and is credited by NASA for turning it into one of the most diverse independent agencies in the United States Federal Government.

In addition to Nichols, Woman In Motion features notable celebrities, activists, scientists and astronauts including Neil deGrasse Tyson, George Takei, Pharrell Williams, Martin Luther King III, Al Sharpton, Vivica A. Fox, Walter Koenig, Rod Roddenberry, Michael Dorn, Guy Bluford, Charles Bolden, Ivor Dawson, Frederik Gregory and Benjamin Crump.
Woman In Motion is available on Video On Demand now. Are you going to watch Woman In Motion? Are you a Star Trek or Nichelle Nichols fan? Did you know she worked with NASA? Leave your thoughts in the comments below or on our social media.
KEEP READING: WOMAN IN MOTION DIRECTOR SHARES WHAT HE LOVES ABOUT STAR TREK AND WHY IT HAS SURVIVED SO LONG