Jumbo
Jumbo is a drama film written and directed by Zoé Wittock in her feature directorial debut. An international co-production of France, Belgium, and Luxembourg, the film stars Noémie Merlant (Portrait of a Lady on Fire), Emmanuelle Bercot (My King), Bastien Bouillon (The End of Love), and Sam Louwyck (Brimstone).
The film follows Jeanne, a shy young woman who works at night in an amusement park. Fascinated with carousels, she still lives with her mother, the extrovert Margarette. Whereas no man is able to find their place among the rocky and unusual duo, Jeanne starts to develop strange romantic feelings for Jumbo, the park's new flagship attraction. Soon, it appears that Jumbo, a striking and colorful merry-go-round, starts communicating with her.
It had its world premiere at the Sundance Film Festival on 24 January 2020. The film had a limited theatrical release in the US on Feb 19, 2021, and now it will be released on-demand. The film holds a 72% RT score based on 46 reviews.
Jumbo VOD release date: March 16, 2021
SAS: Red Notice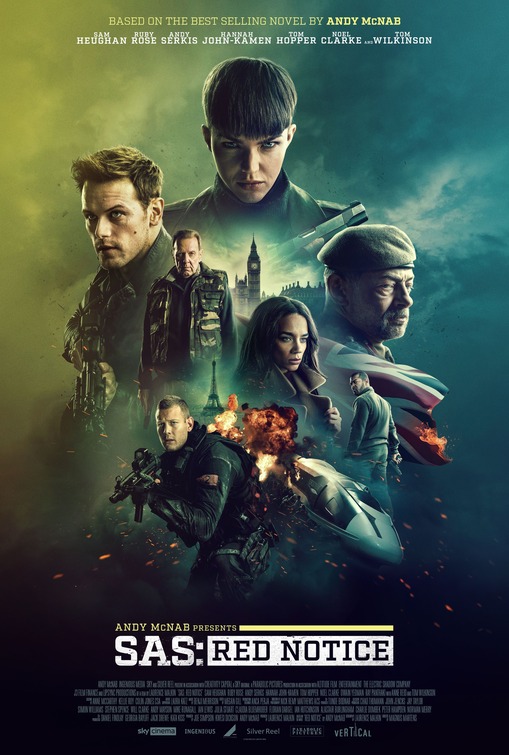 SAS: Red Notice is an action thriller film directed by Magnus Martens (The Walking Dead: World Beyond) and written by Laurence Malkin based on the best-selling novel of the same name by former SAS operator Andy McNab. It stars Sam Heughan (Outlander, Bloodshot), Ruby Rose (Batwoman, John Wick: Chapter 2), Andy Serkis (Black Panther, Planet of the Apes trilogy), Tom Wilkinson (Michael Clayton), Hannah John-Kamen (Ant-man and the Wasp, Ready Player One), Tom Hopper (The Umbrella Academy, Game of Thrones), and Noel Clarke (Doctor Who).
The R-rated film follows Tom Buckingham (Heughan), a suspended special forces operator, who is taking Dr. Sophie Hart (John-Kamen) from London to Paris to propose. When their train is deep inside the Channel Tunnel, heavily armed mercenaries, led by Grace Lewis (Rose), seize control of it and hold hundreds of passengers hostage. Grace threatens to blow up the Channel Tunnel if her ransom demands are not met and declare economic war on the British government that has its fair share of dark secrets to keep.
Unarmed and cut off from his counter-terror team, Tom is the only hope that Sophie and the other passengers have to make it out alive. SAS: Red Notice is set to be released in the UK on 12 March 2021, by Sky Cinema. Vertical Entertainment will release the film in the US on March 16.
SAS: Red Notice VOD release date: March 16, 2021
Zack Snyder's Justice League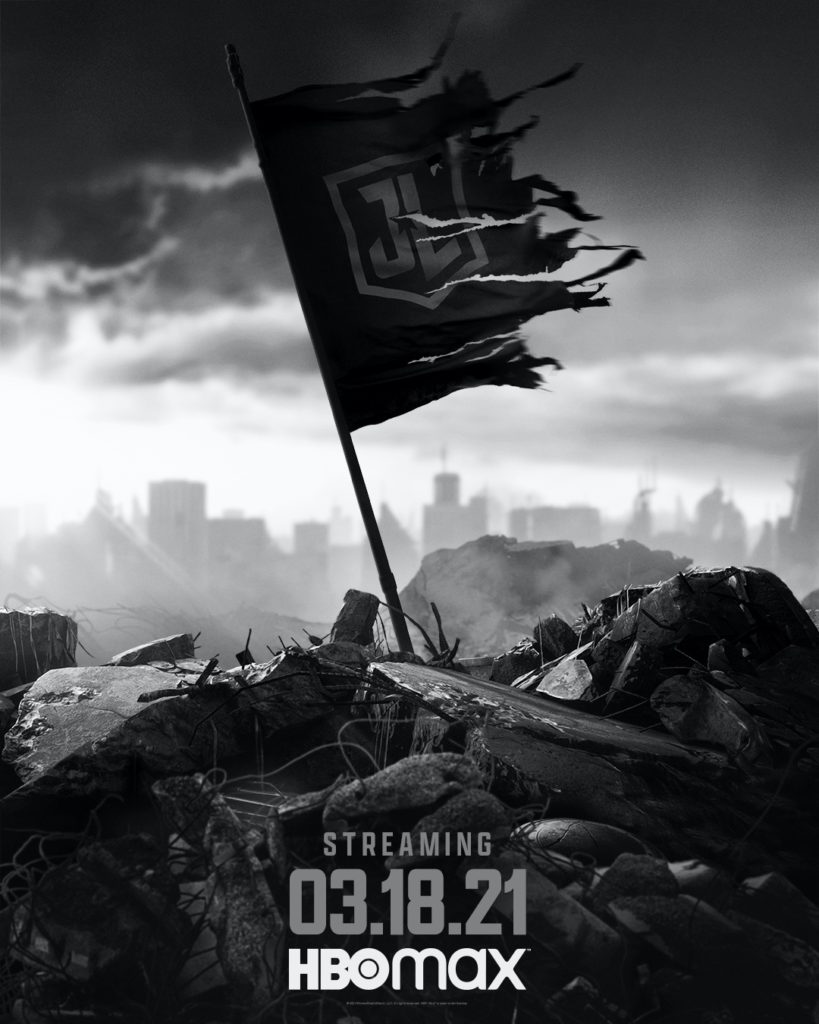 Zack Snyder's Justice League aka the 'Snyder Cut' is finally on the verge. Warner Bros. Pictures is releasing director Zack Snyder's (300, Watchmen, Dawn of the Dead) true vision of his Justice League as a full-length HBO Max original feature film instead of a four-part miniseries. The film's screenplay is by Chris Terrio, story by Terrio, Zack Snyder & Will Beall, and produced by Charles Roven & Deborah Snyder. The DCEU's Snyder trilogy which began with Snyder's Man of Steel then continued in Batman v Superman: Dawn of Justice will now be concluded with this film.
The film stars Ben Affleck (Argo, The Way Back), Henry Cavill (The Witcher, Enola Holmes), Gal Gadot (Fast & Furious), Ray Fisher (True Detective), Jason Momoa (Game of Thrones), Ezra Miller (Fantastic Beasts 1&2), Amy Adams (Sharp Objects, Vice, Arrival), Willem Dafoe (The Lighthouse, Spider-Man), Jesse Eisenberg (The Social Network, Zombieland), Jeremy Irons (Watchmen), Diane Lane (Let Him Go, House of Cards), Connie Nielsen (I Am the Night, Gladiator), J. K. Simmons (Whiplash, Palm Springs, Spider-Man), Joe Morton (Speed), Joe Manganiello (True Blood), Amber Heard (The Stand, Aquaman), Harry Lennix (The Blacklist, The Matrix), Kiersey Clemons (Antebellum), and Jared Leto (Dallas Buyers Club, The Little Things).
Affleck, Miller, Fisher, Manganiello, Heard, Lennix, and Leto participated in the filming of new footage for the film but the rest of the cast's appearances are taken from pre-existing footage shot during Snyder's original production.
The film follows the Justice League—Batman (Affleck), Superman (Cavill), Wonder Woman (Gadot), Cyborg (Fisher), Aquaman (Momoa), and The Flash (Miller)—as they attempt to save the world from the catastrophic threat of Steppenwolf (Ciarán Hinds) and his army of Parademons, who seek the three Mother Boxes. The Snyder cut is rated R.
Synopsis: Determined to ensure Superman's ultimate sacrifice (in BvS) was not in vain, Bruce Wayne aligns forces with Diana Prince with plans to recruit a team of metahumans to protect the world from an approaching threat of catastrophic proportions. The task proves more difficult than Bruce imagined, as each of the recruits must face the demons of their own pasts to transcend that which has held them back, allowing them to come together, finally forming an unprecedented league of heroes. Now united, Batman, Wonder Woman, Aquaman, Cyborg, and The Flash may be too late to save the planet from Steppenwolf (Hinds), DeSaad (Peter Guinness), and Darkseid (Ray Porter) and their dreadful intentions.
RELAYED: ZACK SNYDER'S JUSTICE LEAGUE: WATCH THE OFFICIAL EPIC TRAILER FOR THE NEW DIRECTOR'S CUT
While the film will debut on HBO Max in the US, WarnerMedia and HBO Max are working on other distribution plans for the cut in international markets where HBO Max is not available. The film will be available on Crave in Canada, exclusively on HBO services in select European countries as well as on the HBO Go service in select Asian countries. In Latin America, the title will premiere exclusively on HBO Max when the service launches in the region later in 2021. Details on additional international release dates and plans will be announced soon. All the Snyder Cut fans will be having a blast when it debuts.
Zack Snyder's Justice League HBO Max release date: March 18, 2021
The Courier
The Courier is Lionsgate's historical drama-thriller directed by Dominic Cooke (The Hollow Crown) and written by Tom O'Connor (The Hitman's Bodyguard). The film stars Benedict Cumberbatch (Doctor Strange, The Imitation Game, Sherlock), Rachel Brosnahan (The Marvelous Mrs. Maisel, I'm Your Woman, House of Cards), Jessie Buckley (I'm Thinking of Ending Things, Misbehaviour, Chernobyl), Merab Ninidze (McMafia), Angus Wright (Flowers), and Kirill Pirogov (Piter FM).
The Courier is a true-life spy thriller, the story of an unassuming British businessman Greville Wynne (Cumberbatch) recruited into one of the greatest international conflicts in history. At the behest of the UK's MI-6 and a CIA operative (Brosnahan), he forms a covert, dangerous partnership with Soviet officer Oleg Penkovsky (Ninidze)- codenamed Ironbark, during the Cold War, in an effort to provide crucial intelligence needed to prevent a nuclear confrontation and defuse the Cuban Missile Crisis.
The Courier had its world premiere at the Sundance Film Festival on 24 January 2020, and now it is scheduled to be released in the US and UK. The film so far holds an 82% RT score based on 17 reviews with a lot of praise for the performances. The premise itself is so intriguing and on top of that, it features an incredible cast which makes this a must-watch.
The Courier release date: March 19, 2021
Happily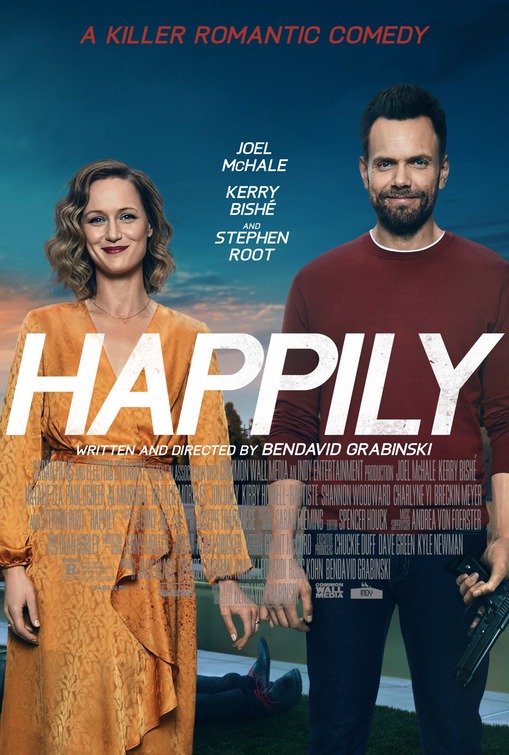 Happily is Saban Films' dark romantic comedy thriller written and directed by BenDavid Grabinski (Are You Afraid of the Dark?, Skiptrace), in his directorial debut. Joel McHale (Community, Ted, Becky) and Kerry Bishé (Penny Dreadful: City of Angels, Argo) star in the lead roles of this dark comedy with an intriguing premise.
The R-rated film also stars Stephen Root (Barry, Perry Mason), Natalie Morales (Dead to Me, Stuber, Parks and Recreation), Paul Scheer (The Good Place), Shannon Woodward (Westworld), Charlyne Yi (Jexi, Lucifer), Breckin Meyer (Designated Survivor), Brea Grant (Dexter), and Natalie Zea (The Unicorn, Justified).
Synopsis: After 14 years of marriage, Tom (McHale) and Janet (Bishé) still can't keep their hands off each other. When they discover their friends are resentful of their constant public displays of affection, the couple starts to question the loyalty of everyone around them. Then, a visit from a mysterious stranger thrusts them into an existential crisis, leading to a dead body, a lot of questions, and a very tense couples' trip with friends who may not actually be friends at all.
Happily release date: March 19, 2021
The Vault
The Vault is a crime action thriller directed by Jaume Balagueró (REC franchise). It stars Freddie Highmore (The Good Doctor, Charlie and the Chocolate Factory), Famke Janssen (X-Men franchise), Astrid Berges-Frisbey (Pirates of the Caribbean: On Stranger Tides), Sam Riley (Maleficent, Radioactive), and Liam Cunningham (Game of Thrones). The R-rated film is scheduled to be released simultaneously in select theatres and through VOD.
Synopsis: When an engineer named Thom (Highmore), learns of a mysterious, impenetrable fortress hidden under The Bank of Spain, he joins forces with charismatic art dealer Walter (Cunningham) and a crew of master thieves and plan to steal the legendary lost treasure locked inside while the whole country is distracted by Spain's World Cup Final. With thousands of soccer fans cheering in the streets, and security forces closing in, the crew has just 90 minutes to pull off the score of a lifetime.
The Vault VOD release date: March 26, 2021
Bad Trip
Bad Trip is Orion Pictures' hidden camera comedy film directed by Kitao Sakurai (Aardvark) and written by Dan Curry, Kitao Sakurai, and Eric André. It features André (Rough Night, Man Seeking Woman), Lil Rel Howery (Get Out, Clouds, Insecure), Michaela Conlin (Bones, Yellowstone), and Tiffany Haddish (Girls Trip, The Kitchen). Sakurai is a writer and director on Andre's 'The Eric Andre Show'.
RELATED: BAD TRIP: ERIC ANDRE'S HIDDEN CAMERA COMEDY DROPPING ON NETFLIX ON MARCH 26
The R-rated comedy follows two best friends as they go on a cross-country road trip full of hilarious, inventive pranks, pulling its real-life audience into the mayhem. This film was delayed multiple times but it is finally arriving. Bad Trip is scheduled to be released on Netflix.
Bad Trip Netflix release date: March 26, 2021
Six Minutes to Midnight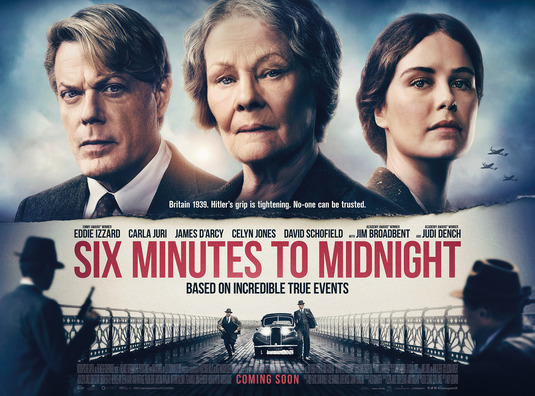 Synopsis: In the summer of 1939, influential families in Nazi Germany have sent their daughters to a finishing school in an English seaside town to learn the language and be ambassadors for a future-looking National Socialist. A teacher there sees what is coming and is trying to raise the alarm. But the authorities believe he is the problem. It was released in the UK on 25 September 2020. Now IFC Films is releasing the film in limited theatres along with VOD in the US.
Six Minutes to Midnight is a war-drama directed by Andy Goddard (Set Fire to the Stars, Downton Abbey, The Punisher) from a screenplay by Goddard, Celyn Jones, and Eddie Izzard. It stars Izzard (Hannibal, Ocean's Thirteen), Judi Dench (Skyfall, Shakespeare in Love), Carla Juri (Blade Runner 2049, Wetlands, Brimstone), James D'Arcy (Dunkirk, Agent Carter), and Jim Broadbent (Harry Potter, Paddington 2).
Six Minutes to Midnight VOD release date: March 26, 2021
Godzilla vs. Kong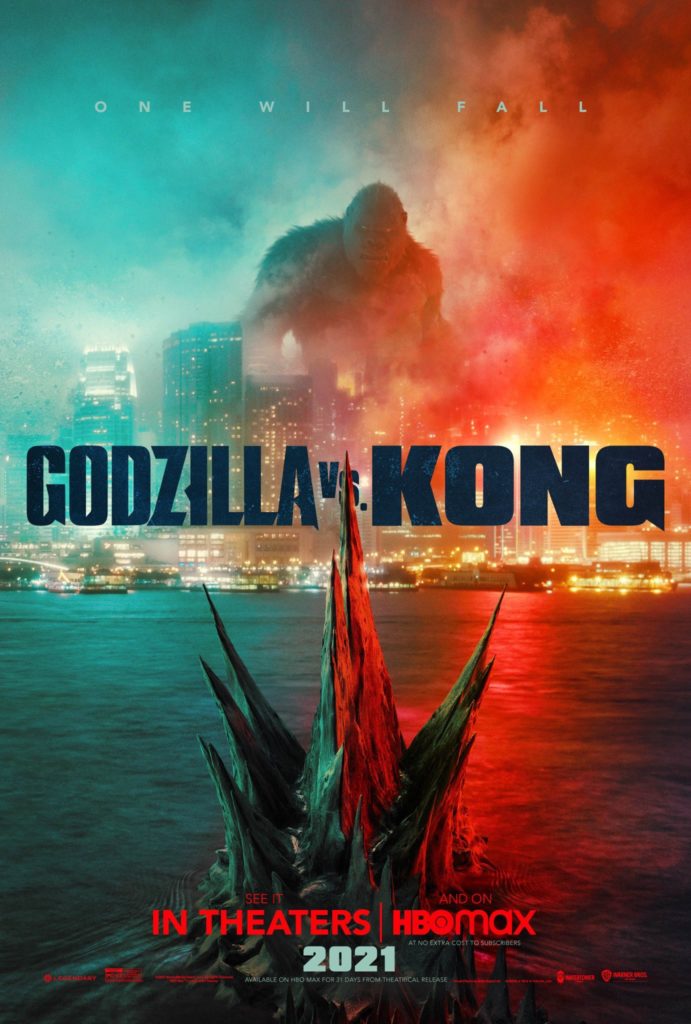 Godzilla vs. Kong is Warner Bros. epic kaiju action film directed by Adam Wingard (The Guest, You're Next, Blair Witch), screenplay by Eric Pearson, and Max Borenstein from a story by Terry Rossio, Michael Dougherty, and Zach Shields. It is the sequel to Godzilla: King of the Monsters and Kong: Skull Island, it is the fourth and final film to Legendary's cinematic MonsterVerse which began with 2014's reboot, Godzilla. The face-off between the two kings is a fight fans have been eager to witness.
RELATED: GODZILLA VS. KONG: HERE IS WHY KING KONG IS SO HUGE IN THE MOVIE
Synopsis: Legends collide in "Godzilla vs. Kong" as these mythic adversaries meet in a spectacular battle for the ages, with the fate of the world hanging in the balance. Kong and his protectors undertake a perilous journey to find his true home, and with them is Jia, a young orphaned girl with whom he has formed a unique and powerful bond. But they unexpectedly find themselves in the path of an enraged Godzilla, cutting a swath of destruction across the globe. The epic clash between the two titans—instigated by unseen forces—is only the beginning of the mystery that lies deep within the core of the Earth.
The film stars Alexander Skarsgård (Big Little Lies, The Legend of Tarzan), Millie Bobby Brown (Stranger Things, Enola Holmes), Rebecca Hall (Iron Man 3, The Town), Brian Tyree Henry (Spider-Man: Into the Spider-Verse), Eiza González (Baby Driver, Bloodshot), Zhang Ziyi (Rush Hour 2), Lance Reddick (John Wick), Shun Oguri (Weathering with You), Julian Dennison (Deadpool 2), Demián Bichir (The Hateful Eight), Kaylee Hottle, and Kyle Chandler (King Kong, Super 8). Brown, Ziyi, and Chandler appeared before in previous installments.
Godzilla vs. Kong is scheduled to be theatrically released internationally on March 26, 2021, and in the US the film will debut on March 31, where it will be released simultaneously in theatres and on HBO Max. This movie shouldn't be missed because it will be an epic spectacle.
RELATED: WATCH THE GODZILLA VS KONG TRAILER GO ON A RAMPAGE RIGHT NOW!
Godzilla vs. Kong HBO Max release date: March 31, 2021
Which March movies are you most excited about? Which movies will you be seeing during the month of March? Let us know in the comments below or on our social media and be sure to come back to The Illuminerdi for more movie news!