Actor/comedian Lil Rel Howery sits down with The Illuminerdi for his new movie Bad Trip and reveals his brush with the Marvel universe for the first time.
This month Netflix will release the new scripted hidden-camera comedy, Bad Trip, that stars funnyman Eric Andre (The Lion King), Lil Rel Howery (Get Out), Tiffany Haddish (Girls Trip), and Michaela Conlin (For All Mankind). The film follows Chris and Bud as they embark on an epic road trip to find Chris' crush, while evading Bud's loose cannon sister who is tracking the two down. The film's unique blend of authentic reactions from unknowing onlookers makes this film a must-view on Netflix this month.
Bad Trip Trailer
We got the chance to sit down with Lil Rel Howery, who burst onto the scene in 2017's Get Out and has been on fire ever since. Howery spoke with The Illuminerdi's Braxter Timberlake about his new comedy, Bad Trip, and a variety of topics that pertain to his career.
Lil Rel Howery Reveals His Connection To Gambit
Lil Rel Howery has appeared in horror films, family films, raunchy comedies, dramatic biopics, and many other genres. However, Howery has yet to make the leap into genre tentpole filmmaking. While talking to us about Bad Trip, our conversation veered off into the potential future of Lil Rel Howery's career, which ultimately revealed something new about his past.
The Illuminerdi: I was watching WandaVision and seeing the agents… you would make a great agent in the Marvel Universe! You know what I mean? Have you ever thought about that before?

Lil Rel Howery: Yeah, so… Naw, I guess I can't talk about that… So there was a movie that I was attached to with Channing Tatum that we were going to do and whatever happened happened, it was in that world so…I was like 'Damn man.'

The Illuminerdi: It wasn't Gambit was it?

Lil Rel Howery: Yeah… I ain't never told anybody that. Yeah it was Gambit.
Lil Rel Howery being attached to Gambit is one of the only known casting developments from the now defunct film. Despite Gambit going under the radar following the Disney acquisition of Fox Studios, little has leaked about the project that has been trapped in developmental Hell for years.
Gambit's pre-production struggles have become legendary among comic book movie fans. The film was delayed multiple times, while swapping out a series of high-profile directors ranging from Gore Verbinksi to Doug Liman. The only known constant during the development of the film was that Channing Tatum was set for the lead role of Remy Lebeau, aka Gambit. Fox was so confident in the Tatum led project that they paraded him on stage during 2015's San Diego Comic Con, with the rest of their X-Men universe of actors.
The Bad Trip star also shared some other cinematic universes that he would like to play in if given the opportunity:
"It's funny there are two shows I'm interested in maybe participating in…well three! Cobra Kai world (laughs). I don't know where I fit into that, but I want to be on Cobra Kai. Also, The Mandalorian world…Star Wars,,, I've been trying to set meetings, 'Give me a meeting with somebody over there.' And Free Guy has that energy too!"
All three franchises seem like a natural fit for the comedian turned actor, who has proven the ability to either be the star of the show, or blend into his given environment. Cobra Kai's unique brand of comedy and nostalgic fun would indeed be a great fit for the entertainer's talents.
Jon Favreau, Dave Filoni, and the crew who put together The Mandalorian have already shown a tendency to cast talented comedians in their show. The Mandalorian has featured comedic actors such as Horatio Sanz, Amy Sedaris, and Bill Burr, who all had prominent roles in the series' first two seasons. Lil Rel Howery even mentioned that he has tried to set up meetings for the show and it makes sense, he would be an ideal fit for the hit series.
RELATED: THE MANDALORIAN IS THE MOST PIRATED SERIES OF 2020
The future is definitely bright for Howery and we at The Illuminerdi can't wait to see where his career goes next. In the meantime, if you need a good belly laugh, check him out when Bad Trip debuts next week on Netflix.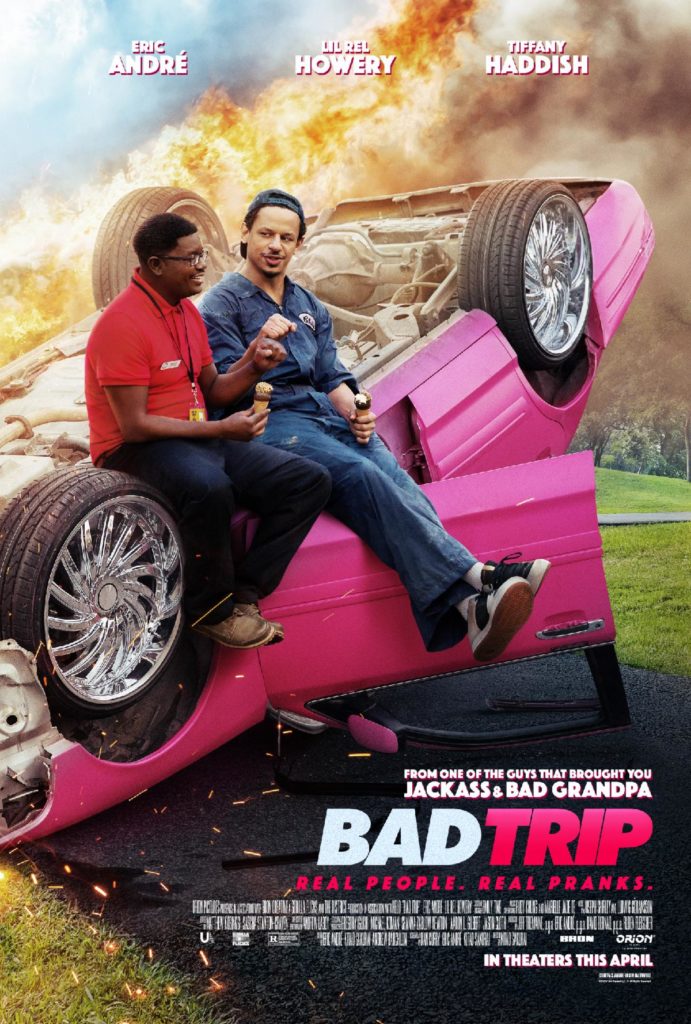 BAD TRIP OFFICIAL SYNOPSIS
This hidden camera comedy follows two best friends as they go on a cross-country road trip full of hilarious, inventive pranks, pulling its real-life audience into the mayhem. Bad Trip stars Eric Andre, Lil Rel Howery, Tiffany Haddish, and Michaela Conlin. The film is directed by Kitao Sakurai from the minds of Dan Curry, Kitao Sakurai, and Andre – and produced by Andre, Jeff Tremaine, David Bernad, and Ruben Fleischer.
Bad Trip debuts on Netflix on March 26, 2021. What do you think of Lil Rel Howery's Gambit reveal? Who do you think he was attached to play? Let's hear all of your Marvelous theories in the comment section below or on our social media!
KEEP READING: BAD TRIP: ERIC ANDRE'S HIDDEN CAMERA COMEDY DROPPING ON NETFLIX ON MARCH 26