Invincible fans are excited for the highly anticipated Amazon animated comic book adaptation. Robert Kirkman (The Walking Dead) is creating and executive producing the animated Amazon series adapting the comic book series he co-created with Cory Walker, that ran from 2003-2018 for 144 issues.
Invincible Trailer
The Illuminerdi's Caitlin Tyrrell participated in a roundtable interview with Robert Kirkman where he talked about why this is the right time for Invincible to be adapted into a series and how closely the show will follow the original comic. When asked why it took so long to adapt the comic into an animated series, Robert Kirkman explained that this is actually the ideal time for Invincible to premiere.
"Well, I think that you have to find the right partner, you have to find the right studio that's interested in making this and that took a little bit of time. But I think that while it did take much longer to adapt this then it did The Walking Dead I think that it's happening at the exact right time. I think that superhero movies and TV shows have grown to the point where there is just a vernacular that the audience is really well versed in that is going to allow us to subvert those tropes in Invincible the animated series the way that we were able to in the comics.

I think that to have an audience that is really well versed in superheroes makes you experience the Invincible story in a heightened way. If this had happened 10-15 years ago there wouldn't have been enough movies and television shows to hit that critical mass to where the audience is primed for something like Invincible that gives you everything that you get from cool superhero stories, but adds somethings a little different to the mix and tries to break some new ground along the way here and there. So, I think that we're in the exact right place and I'm glad we made it."
RELATED: INVINCIBLE TRAILER: WATCH AMAZON DELIVER A BLOODY AND ACTION-PACKED NEW SUPERHERO SERIES
With superheroes being a part of main stream pop culture, series like Invincible that don't follow traditional tropes offer an even more exciting and unique opportunity. Fans of the comic are excited to see some of Invincible's most famous moments on screen and during the roundtable interview Robert Kirkman was asked how closely the animated series will stick to the original events of the comic series, especially given the comic ran for 144 issues.
"Well, I mean right now very closely but as I sit here we've still got a lot of seasons ahead of us so that may change as we move along. I think that there's certainly some things that I would like to expand upon, some things I'd like to change, but I think largely the main chunks of things that exist in the comic book will get adapted very closely. I think anyone who's read the comic book series is very excited to get to the Conquest storyline and that's something that I'm very much looking forward to as well and something like that I think is probably not going to change very much at all.

There are different stories that I think could be improved upon or just kind of tightened up a little bit to make sure that they don't meander. So, there might be some things like that that change but in a perfect world after a number of seasons you'll have a very similar version to the story that was told over 144 issues of the comic and whether we reach the same end point or not is to be determined but maybe we'll do that. I mean who knows, but the idea is to adapt the Invincible story and so we'll be doing that."
This is great news for fans of the original 144 issue comic especially those looking forward to the "Conquest" storyline that Robert Kirkman mentioned. Invincible includes a number of twists and turns that gained attention from fans and it seems like this will be an exciting ride for not only newcomers, but fans of the source material.
With 8 episodes, it is anyone's guess what Kirkman will cover from the original 144 issue run. Hopefully many more seasons will follow and allow Robert Kirkman to explore the story that he told for over a decade.
INVINCIBLE OFFICIAL SYNOPSIS
From The Walking Dead creator Robert Kirkman, and based on the Skybound/Image comic of the same name by Kirkman, Cory Walker, and Ryan Ottley, Invincible is an hour-long, adult animated superhero show that revolves around seventeen-year-old Mark Grayson (Steven Yeun), who's just like every other guy his age — except that his father is the most powerful superhero on the planet, Omni-Man (J.K. Simmons). But as Mark develops powers of his own, he discovers that his father's legacy may not be as heroic as it seems.

Invincible will also star Sandra Oh (Killing Eve), Seth Rogen (This is the End), Gillian Jacobs (Community), Andrew Rannells (Black Monday, Girls), Zazie Beetz (Deadpool 2), Mark Hamill (Star Wars: The Last Jedi), Walton Goggins (Justified), Jason Mantzoukas (Brooklyn Nine-Nine), Zachary Quinto (Star Trek), Mahershala Ali (Moonlight), Melise (The Flash), Kevin Michael Richardson (The Simpsons), Grey Griffin (Avengers Assemble), Khary Payton (The Walking Dead) and more.

Invincible is produced by Skybound and executive produced by Kirkman, Simon Racioppa, David Alpert (The Walking Dead, Fear the Walking Dead), Catherine Winder (The Angry Birds Movie, Star Wars: The Clone Wars) with Supervising Director Jeff Allen (Avengers Assemble, Ultimate Spider-Man), and Linda Lamontagne serving as casting director. Invincible, Kirkman's second-longest comic-book series, concluded in February 2018 after a 15-year run.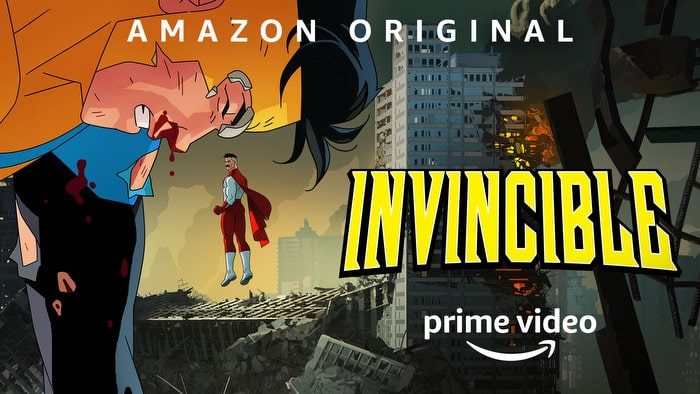 The first three episodes of Invincible premiere on Amazon Prime March 26, 2021 with subsequent episodes debuting every Friday. Are you excited to watch Invincible? Leave your thoughts in the comments below or on our social media.
KEEP READING: THE FALCON AND THE WINTER SOLDIER CREDITS TEASE 2 MAJOR MARVEL CHARACTERS