Actress Emily VanCamp talks about Sharon Carter's darker path when we meet her again in The Falcon And The Winter Soldier.
The Falcon And The Winter Soldier released the third episode marking the series halfway point and in the action packed episode fans not only saw the return of the villainous Helmut Zemo, but Sharon Carter as well.
Sharon Carter was last seen in Captain America: Civil War when she stole Captain America's shield and Falcon's wings for the two Avengers as they went on the run breaking the Sokovia Accords, that neither hero had signed. Sharon is also the niece of one of the founders of S.H.I.E.L.D., Peggy Carter, who Steve returned to in order to live out his life with his love.
While the Avengers, including Bucky, seem to have been pardoned following their final epic battle with Thanos not all of their allies were so lucky. Sharon Carter became an enemy of the state when she stole Steve and Sam's equipment from the CIA and has been on the run ever since. Sharon returned when Bucky, Sam, and Zemo were investigating in Madripoor saving the trio, but clearly with a chip on her shoulder about the whole concept of "heroes" due to her many years on the run.
In an interview with Variety Sharon Carter actress, Emily VanCamp spoke about her character's disillusionment after the events of Captain America: Civil War.
"What we do know is she sacrificed a tremendous amount for the cause. When she's on the run, we don't know where she's been, but certainly you can imagine there would be some sort of, you know, I mean — how do I put it? There's quite a bit more edge to Sharon than we've ever seen.

She's not that wide-eyed young agent anymore. She's a little rough around the edges. Do we find out exactly what she's had to do in order to be where she is now and survive? No. But we get a sense that it hasn't always been easy, and that the sacrifices she's made weren't always worth it in her mind. That was kind of cool to see that chip on her shoulder that we never really did see before."
RELATED: NEW LOKI DISNEY+ TRAILER TEASES ABSOLUTE INSANITY FOR THE MCU
This edginess is a new aspect to the Sharon Carter character that many were not expecting to see given her comic book counter part. Although, the anger and resentment she has is understandable given the fact that she seems to have needed to move to the lawless Madripoor and turn to a life of crime. Sharon Carter makes a point of mentioning to Sam that she is no longer able to speak to her family. Emily VanCamp spoke a bit about the difference between the Sharon Carter from the films and where she is now.
"You get this fundamental idea of who the character is, and I tried to implement into films who Sharon was — that deep respect, and sense of integrity and loyalty that she has. Then to strip away that after being in her mind quite wronged — to put that on its head was just a really fun idea to me. There's still a few more episodes to see where we go with that, but it was just fascinating that we would take a different route completely with her."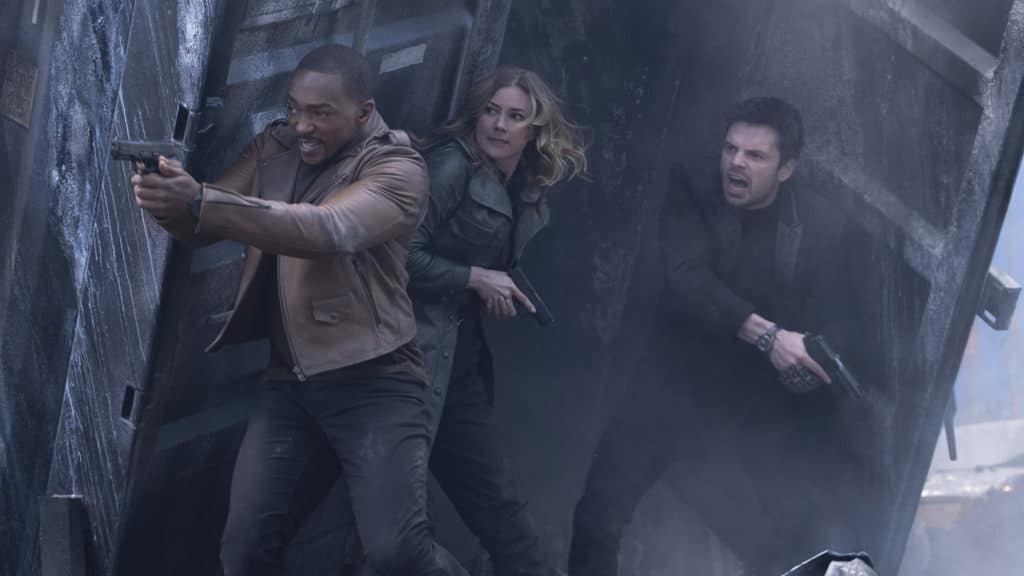 RELATED: HOW THE FALCON AND THE WINTER SOLDIER'S ISAIAH BRADLEY'S CONNECTION TO THE SUPER SOLDIER SERUM IGNITES THE MCU
Sharon's aunt is the famed Peggy Carter who worked with Steve Rogers, Captain America himself, as well as Howard Stark. She and Stark started S.H.I.E.L.D. and based on Sharon Carter's decision to join S.H.I.E.L.D. Peggy seemed to have quite the effect on her niece. Based on the funeral scene in Captain America: Civil War Peggy instilled a sense of right and wrong deeply into Sharon, but given the years of being on the run and turning to criminality in Madripoor it seems she may have lost that.
SHARON CARTER'S MAIN GOAL IN THE FALCON AND THE WINTER SOLDIER
Emily VanCamp talked about Sharon Carter's main goal in The Falcon And The Winter Soldier during her interview with Variety.
"I think for Sharon, the biggest goal — as you see in Episode 3 and we'll continue to see — is she wants to be pardoned. She's been on the run. Enough is enough. She's sacrificed enough. And — if I'm talking about reading the scripts in sequence — that's her main goal, and rightfully so. She comes from this bloodline of agents and has this tremendous love for her life that she had, and now she's stuck in this sort of pirate land, and doing things that she's probably not really wanted to do.

So I think that's her main goal, to get back to some semblance of the life that she had, if that's even possible. I mean, that was my biggest take. This is her ticket. She sees [Sam and Bucky], and as much as in her mind there are many reasons that she would just want to lash out and ruin their lives, they're also a ticket for her to get her life back. So that's an interesting dynamic to see as well."
Sharon Carter likely heard stories about Steve Rogers and his heroism not only as Captain America, but even before becoming the star-spangled hero. Given the life she sacrificed to help him it is no surprise that she wants to find a way to get back to her family once more. Sam swore to her that he would work to get Sharon Carter pardoned so hopefully that promise comes to fruition.
New episodes of The Falcon And The Winter Soldier premiere on Disney Plus Fridays. Are you excited to see Sharon Carter back in The Falcon And The Winter Soldier? Do you think Sam will get Sharon pardoned? Leave your thoughts in the comment below or on our social media.
KEEP READING: SHANG-CHI FUNKO POP REVEAL INDICATES EXCITING NEW CHARACTERS BEING INTRODUCED TO THE MCU IN 2021
Source: Variety