Take Out Girl is a new film available On Digital and On Demand May 18, 2021. The film follows a 20 year old Asian girl, Tera Wong, who uses her skills delivering Chinese food from her family's restaurant to create a profitable drug side hustle to try and save her family's business and get them a better life.
In a recent interview with The Illuminerdi's Caitlin Tyrrell, director and co-writer Hisonni Johnson explained how the main character of Take Out Girl actually reminds him of comic book characters, complete with a dual identity and a "superpower".
"Tera's a beautiful character, but in a weird way I look at this film and I look at Tera as a comic book character, a superhero. Her Clark Kent is Tera. Her Superman is Take Out Girl. And her superpower is code switching. She moves throughout the world and she can talk to anybody and earn respect from everybody because of her ability to speak on their level, because of where she grew up, is just impeccable."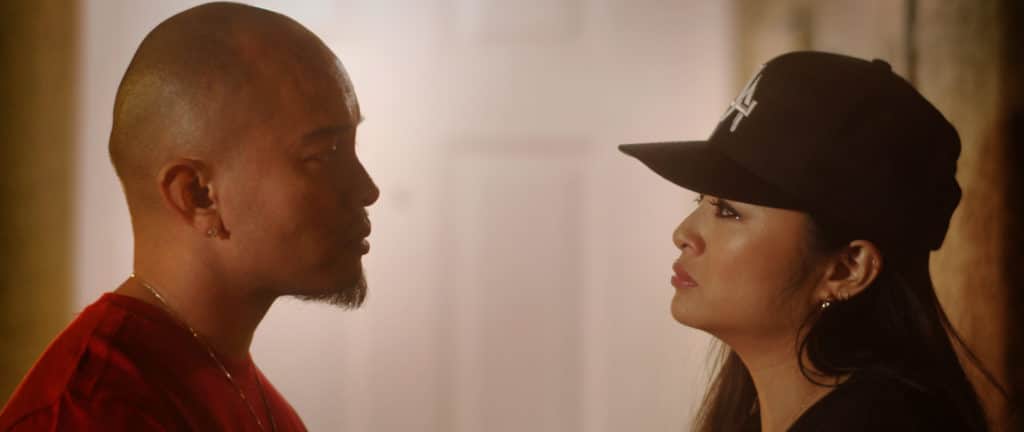 One of the stand out scenes in Take Out Girl is an emotionally heated argument between Tera and her brother Saren. Hisonni Johnson explained not only the importance of how he filmed the scene, but the ties it has to this concept of the main character's dual identities, Take Out Girl and Tera.
RELATED: HIGH GROUND DIRECTOR STEPHEN MAXWELL JOHNSON DISCUSSES THE TRUE HISTORY BEHIND THE STORY AND FILMING ON LOCATION
"I think there's a couple things about that scene that are really, really important to me. The way its shot, it really signifies a situation that's spinning out of control. And the way the dialogue overlaps before people even get a chance to open their mouth is symbolic of how sometimes we don't filter what we're saying, it's a glimmer of a thought in our head and then boom it's out of our mouths and we sometimes regret it.

I think Tera is a duel character. There's Tera and then there's Take Out Girl and when she's pushed you get a little bit more of Take Out Girl, and I love that scene because it's the first time her brother has ever really met Take Out Girl. And she can cut deep when she wants. She can stand toe to toe with anybody on the streets and he just got a real taste of that. Once he pushed her to that point she was going to stand up for herself even if it meant tearing him completely down."
And it's clear that Hisonni Johnson has thought of Take Out Girl as a "superhero" film for a while. The Illuminerdi was also able to speak with the co-writer and star of Take Out Girl, Hedy Wong. Hedy revealed why her character wears her baseball cap for the majority of the film and how Hisonni Johnson was a large part of that decision.
RELATED: HIGH GROUND DIRECTOR STEPHEN MAXWELL JOHNSON REVEALS HOW INTENSE RESEARCH LED TO A MULTIGENERATIONAL STORY
"So I used to wear a hat a lot, I still do, I still do. And for some reason Hisonni thought that was great and wonderful. And I'm like, 'Really, are you sure? I mean what kind of movie, where an actress wears her hat all the time?' And he was like, 'No, it's good, cause that's kind of like your superhero cape. When you put on the hat you're in business mode. You are Take Out Girl. When you take off the hat with your family that's Tera. That's the daughter. That's family.' And I'm like, 'Yeah, well shoot you're right.'"
Take Out Girl isn't a comic book movie about a superhero fighting against supervillains with amazing powers. Instead it is grounded in a reality that many Americans live with. But the parallels that Hisonni Johnson makes between Take Out Girl and the tropes of superhero films are an interesting and eye-opening thought. Take Out Girl is a compelling film about people in a tough situation who are hoping to create a better life using only the skills they have. And although Tera isn't a superhero, she is motivated to make the decisions she makes to try and help her family.
TAKE OUT GIRL TRAILER AND SYNOPSIS
To give her family a chance at a better life and save her family's failing restaurant, Tera Wong, a desperate 20-year-old Asian girl, parlays her Chinese food delivery expertise into a profitable drug hustle.
Take Out Girl is co-written by star Hedy Wong and director Hisonni Johnson. Take Out Girl stars Hedy Wong, Ski Carr, Lynna Yee, J. Teddy Garces, Lorin Ly, Dijon Talton, Mier Chasen, Lizette Hunter, Joe Rudy Guerrero Jr.
Take Out Girl is available On Digital and On Demand May 18, 2021. Are you going to watch Take Out Girl? Leave your thoughts in the comments below or on our social media.
KEEP READING: How Shuma Gorath and America Chavez Fit Into Doctor Strange In The Multiverse of Madness: Exclusive