Brock Lesnar just may be on his way back to a WWE ring and reminding the WWE roster what it's like to step in the ring with the Beast Incarnate.
According to Fightful Select, Brock Lesnar is in talks to return to the WWE ring. WWE is looking for Lesnar to make his return right away once the details are ironed out and have big plans for him.  
RELATED: SCOTT HALL TALKS HOF IDEA AND SHAWN MICHAELS THROWING TRIPLE H UNDER THE BUS
Brock Lesnar has been out of action for over a year. The last time WWE fans saw Lesnar was after Drew McIntyre beat him for the WWE Championship at WrestleMania 36 way back in 2020. Lesnar isn't known for working for a full-time schedule, but this is the longest he has been absent from the ring since 2012.
Deal taking Longer Than Expected
Just to give this rumor a bit more credibility, WWE has recently changed Brock Lesnar's status from alumni to the active roster. As of right now Lesnar is listed on the RAW roster. Current WWE Champion Bobby Lashley has expressed a lot of interest in wrestling Brock Lesnar and said now is as good of a time as any for a match between them.
According to a tweet by Andrew Zarian of the Mat Men Podcast, WWE originally wanted to use Brock Lesnar for SummerSlam, but couldn't make it happen in time. This led WWE to shift over to John Cena to pick up the spot. Zarian also added that Brock Lesnar could be expected back "very soon."
RELATED: SAMOA JOE IS BACK IN WWE AND WILL WORK WITHIN NXT
A possible sticking point for this Brock Lesnar deal could be how many appearances Lesnar will have and how much he will be paid. In his previous deal, Lesnar only had a set number and got paid very well for them. It will be interesting to see what this new deal will look like.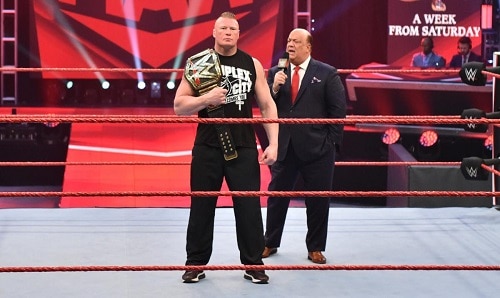 Heyman May Have To Choose Between Lesnar and Reigns
Something which will be interesting to see what WWE does is what they will do with Paul Heyman. Heyman was Lesnar's advocate and functioned as his mouthpiece and manager. However, Heyman is doing the same for Roman Reigns currently. Just to complicate things is that Reigns is on SmackDown and Lesnar looks like he will be on RAW. However, this is assuming Heyman would be representing both of them. They could be moved onto the same show, but they will be going after the same championship unless Reigns starts going after the Intercontinental or US Championship. They could also form a tag team and go after the tag championships, but I don't think that would be likely.
It would be cool if Heyman starts managing them both and adds more to his group like Bobby Heenan did with his Heenan Family back in the day. Heyman does seem to move his guys up to the next level when he manages them.  
I can't wait to see what happens with this Lesnar rumor because he will definitely add a little excitement to the WWE and they need a new powerhouse now that Braun Strowman is gone.
Would you like to see Lesnar come back to the WWE? Who should be his first feud back? Would you like to see a Heyman family faction? Who should be included in the faction? Drop a few comments below and let us know what you think.
KEEP READING: ADAM PEARCE HINTS AT AN UNEXPECTED KING OF THE RING RETURN
Sources: WrestleZone, Mat Men Podcast, Fightful Select