THE VACATION FRIENDS CAST HAD INSTANT CHEMISTRY AND IT SHOWS ON SCREEN
Talking about the fun of the cast, Orji described their last night filming in Puerto Rico just before COVID hit. She said the best performances come "when you're not in your head, [so by] just being present and enjoying the ride" and enjoy the ride they did. Like one unknowing "last hurrah" before the pandemic shut down production, the Vacation Friends cast filmed a wild, rambunctious bar-hopping montage that night, complete with lots of yelling and Meredith Hagner even being carried out of a bar.
"It was just it was mayhem but in the best way possible. I think that was just so much fun. We also didn't know that the world was shutting down on the other side of the ocean, so we were in our little bubble, so that was fun."
Throughout the film, Bachelor's Gabe has a couple of altercations with Howery's Marcus. Since Bachelor and Howery already knew each other in real life, Bachelor jokingly said that made it "easier to be mean to him"
"It's like when you're working with your friends. It's easier to be mean to them, you know? It was really fun, it was no problem at all."
RELATED: SHANG-CHI DIRECTOR REVEALS WHAT DREW HIM TO THIS FILM AND WHAT HELPFUL ADVICE BLACK PANTHER DIRECTOR RYAN COOGLER GAVE HIM
Marcus also gets into a scuffle with Cena's Ron, who is a large imposing man. Cena confessed that the comedy was natural for him because his physical stereotype was contrasted with how "wound up" Howery played Marcus.
"A lot of this was leaning in[to the physical stereotype] because this guy is, on his resume, he's such a badass, but in life he's really such an emotional person and I love the contrast of that. Because Rel is so wound-up, it really gave great balance. You see this wound-up dude with all this energy trying to take it out on this large hulking man who just really wants to give him a hug, and I think that's a lot of the hilarity between Rel and I."
But ever so humble, Cena said the job was "quite easy" because of how "wonderful" the entire cast was, even listing them and their specialties.
"The cast is very gifted in their own disciplines. King Bach [Bachelor's online username] has been making comedic content on the internet for so long and become so successful like that, but Meredith has such a presence on screen and her comedic personality. Yvonne and Rel are both established stand-ups, so I think I let everybody do what they do…Meredith absolutely shines in this movie…She would be looking around like 'Are we good? Should I go again?' and we'd be dying laughing. I think a lot of her moments come from her humility. She doesn't know she's as funny as she is, and she's tremendously, tremendously funny…So literally I just have to sit there and let them be themselves."
Cena closed out the call with absolute positivity about the magic connection between the actors and how, unbelievably, COVID may have even made their chemistry more powerful. From the start of filming, they all had "a really cool connection" the "beautiful vistas and landscapes" of Puerto Rico," before having to shut down for COVID in spring 2020.
RELATED: EXCLUSIVE INTERVIEW: SWEET GIRL DIRECTOR ON HOW VILLAINS LIKE ANTON AND HEATH LEDGER'S JOKER INSPIRED THE FILM'S BIG BAD
But, miraculously, after Vacation Friends was one of the first productions to restart after the shutdown, they had "those bonding moments of like 'Yo, what have you been doing for the last how many months?'" For everyone on the team, the cast and crew were some of the first people they'd seen in months. In the words of Cena, that gave them all "genuine time to connect as people and learn about each other and learn each other's stories off camera. I think that helped the chemistry on camera."
COULD A VACATION FRIENDS SEQUEL ALREADY BE IN THE WORKS?
Lastly, in their own bit of clownery, the director and cast soft-confirmed that a follow-up film may already be on its way.
When asked if there could be a sequel, Tarver not-so-subtly hinted "Uh, I have a good feeling about it!" to which John Cena opened his mouth in hilarious fake surprise. Given the magnetism of the cast and the richness of the original script, Clay Tarver's Vacation Friends is primed to be an ongoing series, making a sequel a no-brainer if it performs well enough on streaming.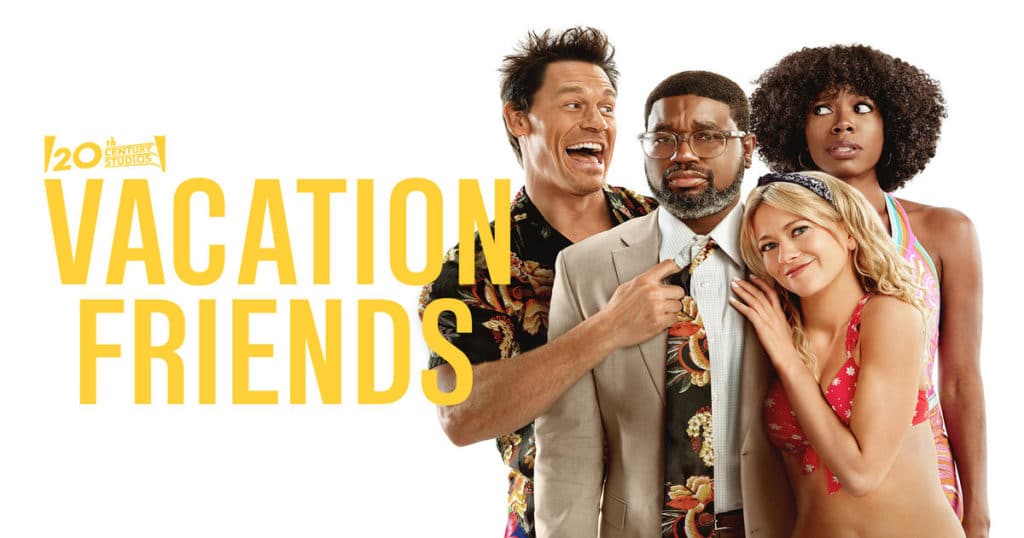 A good film can rely on a great script, but a great film needs a great cast too, and Vacation Friends delivers on that. A refreshing get-away, feel-good comedy, Vacation Friends premieres on August 27th in the US on Hulu and Star on Disney+ internationally.
Are you excited for Vacation Friends? Let us know on Twittter or down below in the comments!
READ MORE: VACATION FRIENDS IS A UNIVERSAL FEEL-GOOD COMEDY