Just like when someone says "Black lives matter" and it is diminished by the opposing call of "all lives matter". In some ways Candyman's name was a battle cry for the protector. As his role was revealed throughout the film as a protector. Protecting Blacks from the gentrification and police brutality that they are experiencing on a massive level. But he is also protecting the validity of Black trauma. If his name were to fade into obscurity so would the trauma that created him, in many ways he acts as a precautionary tale.
What was great about the film was the characters and how genuine they all felt. Seeing affluent Black people that aren't the Cosby's is a great thing. It is the metaphorical mirror that Blacks need. We see our own reflection and it reminds us that we are seen, heard, and valued. This is something that Monkeypaw never fails to present, but yet continues to build upon, because much like Black people, our narrative is multi-faceted, kaleidoscopic, and bold. Some will say due to that and the message, that it's a simple rehash of Get Out or Us, but I beg to differ and provide this as an opposing view.
Each of those films had different directors, casting, writers, set designs and themes. This film is no different. In fact, the film is so different that it was more of a genre switch, by being a thrilling mystery more than a horror movie entirely. The dialog coupled with the acting was sharp, didactic, and relative in every way. Nothing seemed inorganic or as if it didn't belong. From the high-society ethical debates to the "sopfista-rachet" code-switching, it all felt so real and never out of place. By doing so never spoke down to the audience, but invited them to be lost in the web of intrigue designed by an unreliable narrator.
RELATED: TODD MCFARLANE'S SPAWN REBOOT ROPES IN BROKEN CITY SCRIBE BRIAN TUCKER
While discussing this I have to speak on the direction of the film. Nia DaCosta put the world on notice. Whether it was the seamless transitions, the use of light, silence, and the environment to evoke tension. It was masterful, and let us not forget the ingenious use of shadow puppets to illustrate exposition. Taking us back to Africa and the Akan folklore of Anansi.
The Candyman mythology and dark legacy are at first simply source material for Anthony (Yahya Abdul-Mateen II) to exploit. As the film continues to tell us of Anthony's purpose for conjuring the legend of Candyman and bringing it into a gentrified spotlight. So does the use of the source material, and in a way begins to critique the very artists that make the film and question the purpose of telling stories of Black trauma in the first place.
RELATED: CANDYMAN: 2 NEW VIDEOS TAKE FANS BEHIND THE SCENES AND HIGHLIGHT THE ART AND IMPACT OF BLACK HORROR
Which is why it was important for Nia DaCosta to direct this film. It has a perspective that I feel wouldn't have been achieved if it wasn't viewed through the lens of the Black American experience. It is what previous versions of the film lacked, both narratively and visually. In many ways the film acts as some level of course correction by reclaiming who gets to tell the story of Blackness in American cinema.
The film brings the mythology of Candyman into a modern era with intention of assimilating it into the pop-culture zeitgeist of film and pays close attention to keep its purpose intact. The film has a messenger narrative that is blatant, not overbearing but rather informative, all while being packed with thrills, mystery, and entertainment.
RELATED: OLD'S TWIST ENDING EXPLAINED AND HOW IT TIES TO REAL WORLD HORROR STORIES (SPOILERS)
I can't sing the praises of this film and not only suggest you see it, but I implore you to throw on a mask, grab your proof of vaccination and go see this film. It beats saying his name five times in a mirror. I think I've said it more than that while writing this, not to mention that my laptop screen is indeed reflective. So if you don't hear from me again you know why.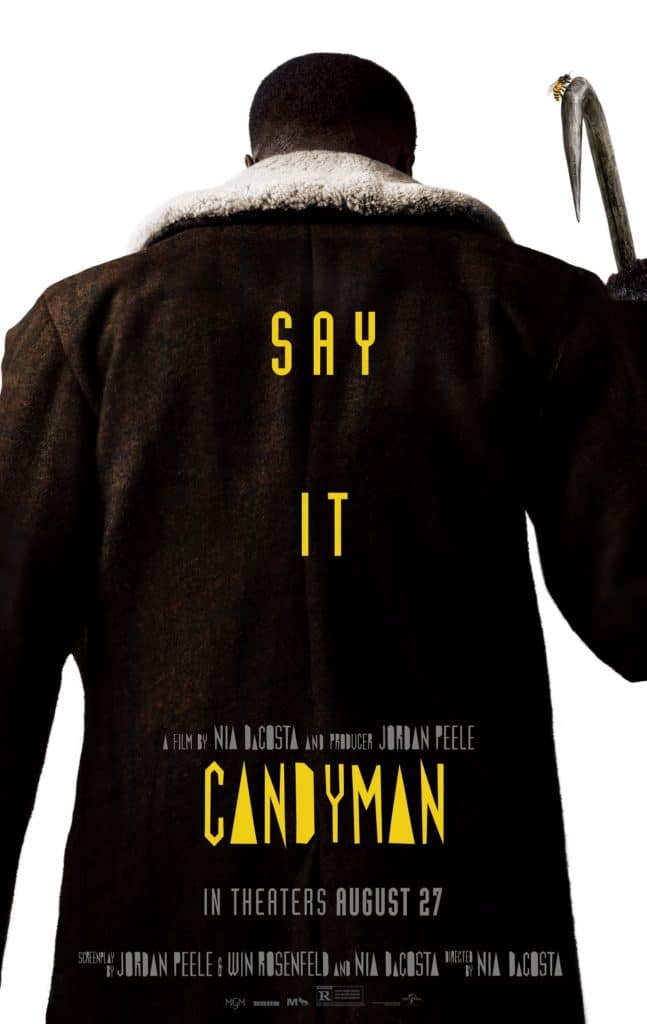 Candyman is in theaters now. What did you think of the movie's themes and subtext? Let us know in the comment section below or over on our social media!
KEEP READING: CANDYMAN OPENING WEEKEND BOX OFFICE EXCEEDS EXPECTATIONS WITH $22M