There are plenty of September 2021 movies that are coming to theaters, streaming platforms, and video on demand that we should not miss, belonging to a wide plethora of genres. That includes action flicks, romance, dramas, comedies, adventure, fantasy, sci-fi, horror, and thrillers. Last three months, more major theatrical releases have begun to roll and that continues this month. This will be another exciting month.
In September, streaming services are stacked with an exciting line-up of films. They are Netflix's Afterlife of the Party a comedy-drama; Worth a drama; Kate an action thriller; Nightbooks a family horror flick; The Starling a comedy-drama and a few other new movies.
And on Amazon Prime, Cinderella a romantic musical comedy; The Voyeurs a romantic mystery drama; Everybody's Talking About Jamie a musical comedy-drama; and on Peacock, My Son a mystery drama is releasing. The intriguing VOD releases of this month are Prisoners of the Ghostland an action comedy thriller; Best Sellers a comedy-drama; The Nowhere Inn a psychological thriller-comedy.
At this point, many theaters across various countries have reopened and new movies are getting released wherever theaters are available. Looks like the movie-going audience is increasing every month and there is a sign at last for theaters to return to full form soon.
The release of major movies has increased in the last five months. The recent tentpole movie, Marvel's Black Widow set a new box-office opening record during the pandemic surpassing the June record of Fast 9 which previously surpassed the May record of A Quiet Place Part II which surpassed the March record of Godzilla vs. Kong, this has further emboldened studios.
In August, the Free Guy movie had the most consistent box office collection since the pandemic by having very low second and third-weekend drops in the box office. Looks like each month as a new blockbuster arrives the audience rate in theatres is going up.
Films that are releasing exclusively in theaters are- Marvel's Shang-Chi and the Legend of the Ten Rings a comic book film; The Card Counter a crime drama thriller; Queenpins a crime comedy; Small Engine Repair a dark comedy-drama; Language Lessons a comedy-drama; The Eyes of Tammy Faye a biopic; Blue Bayou a drama; Copshop an action thriller; and Dear Evan Hansen a musical drama.
In Warner Bros' HBO Max release strategy of their 2021 film slate, eleven films have already been released. This month two films are arriving from that slate, Malignant a horror mystery, and Cry Macho a western drama.
One of the highly anticipated blockbusters of the year is Marvel's Shang-Chi and the Legend of the Ten Rings a fantasy action-adventure superhero film. The film will have a 45-day exclusive theatrical release, rather than being released simultaneously in theaters and on Disney+ with Premier Access like Black Widow. Being an MCU film, Shang-Chi will likely be dominating the box office.
Check out the synopses and release dates for each of these movies below.
SEPTEMBER 2021 MOVIES TO WATCH OUT FOR
Afterlife of the Party
Afterlife of the Party is Netflix's original fantasy comedy-drama directed by Stephen Herek and written by Carrie Freedle. The film stars Victoria Justice, Midori Francis, Robyn Scott, Adam Garcia, Timothy Renouf, Spencer Sutherland, and Gloria Garcia.
Synopsis: Cassie lives to party… until she dies in a freak accident during her birthday week. Now, this social butterfly needs to right her wrongs on Earth if she wants to earn her wings. The film so far holds a 50% Rotten Tomatoes score based on 12 reviews but the audience score is 77%.
Afterlife of the Party Netflix release date: September 2, 2021
Shang-Chi and the Legend of the Ten Rings
Shang-Chi and the Legend of the Ten Rings is Marvel Studios' latest comic book film, it is the 25th installment in Marvel Cinematic Universe. The fantasy martial arts action-adventure superhero movie is directed by Destin Daniel Cretton (Short Term 12, Just Mercy, The Glass Castle) from a screenplay he wrote with Dave Callaham and Andrew Lanham, from a story by Cretton and Callaham. This is the second film in phase four of the MCU.
The film introduces a new hero to the MCU based on the Marvel Comics character Shang-Chi first introduced in 1973 by Steve Englehart and Jim Starlin. Marvel wanted to develop a project based on this comic book character for a very long time but it finally came to fruition making this Marvel's first film with an Asian lead. This is also the first MCU film with an Asian director and a predominantly Asian cast.
RELATED: MARVEL HEAD KEVIN FEIGE DROPS HUGE TEASE ABOUT SHANG-CHI'S POST-CREDIT SCENE AND FUTURE IN THE MCU
The film stars Simu Liu as Shang-Chi (Kim's Convenience), Awkwafina (The Farewell, Crazy Rich Asians, Ocean's 8) as Katy, Tony Leung (Infernal Affairs, The Grandmaster) as Wenwu, Michelle Yeoh (Star Trek: Discovery, Tomorrow Never Dies, Crazy Rich Asians) as Jiang Nan, Meng'er Zhang as Xu Xialing, Fala Chen (The Undoing) as Ying Li, Florian Munteanu (Creed II) as Razor Fist, Andy Le (The Paper Tigers) as Death Dealer, Ronny Chieng (Crazy Rich Asians), Ben Kingsley as Trevor Slattery (from Iron Man 3), Tsai Chin (Casino Royale), Yuen Wah (Kung Fu Hustle), Jayden Zhang, Arnold Sun, and Benedict Wong as Wong.
Synopsis: In the film, Shang-Chi is forced to confront the past he thought he left behind when he is drawn into the web of his father's Ten Rings organization.
The Ten Rings organization has appeared throughout the MCU since its introduction in Iron Man but its leader the Mandarin is finally being introduced with Leung in the role. Yeoh appeared before in the MCU as the character Aleta Ogord in Guardians of the Galaxy Vol. 2 but she is portraying a different role in Shang-Chi.
The film will have a 45-day exclusive theatrical release, rather than being released simultaneously in theaters and on Disney+ with Premier Access like Black Widow. Shang-Chi and the Legend of the Ten Rings is set to debut on Disney+ immediately following its 45-day exclusive theatrical release.
The origin film currently holds a 92% RT score based on 244 reviews with much praise for its rich story, the choreography of the action scenes, exploration and representation of Asian culture, comedy and emotion Marvel is known for, and the performances of the entire cast. It also currently has a rare 98% RT audience rating. Suggesting this wildly entertaining and satisfying film as yet another win for MCU. Like any MCU flick, this is a must-watch for all audiences.
Read our review for Shang-Chi and the Legend of the Ten Rings below!
RELATED: SHANG-CHI AND THE LEGEND OF THE TEN RINGS REVIEW: A FANTASTIC ORIGIN STORY FOR MARVEL'S NEWEST HERO
Shang-Chi and the Legend of the Ten Rings release date: September 3, 2021
Worth
Worth is Netflix's biographical drama film directed by Sara Colangelo, from a screenplay by Max Borenstein. It stars Michael Keaton, Amy Ryan, Stanley Tucci, Tate Donovan, Shunori Ramanathan, Talia Balsam, and Laura Benanti.
Synopsis: Following the horrific 2001 attacks on the World Trade Center and Pentagon, Congress appoints attorney and renowned mediator Kenneth Feinberg (Keaton) to lead the September 11th Victim Compensation Fund. Assigned with allocating financial resources to the victims of the tragedy, Feinberg and his firm's head of operations, Camille Biros (Ryan), face the impossible task of determining the worth of a life to help the families who had suffered incalculable losses. When Feinberg locks horns with Charles Wolf (Tucci), a community organizer mourning the death of his wife, his initial cynicism turns to compassion as he begins to learn the true human costs of the tragedy.
It had its world premiere at the Sundance Film Festival on January 24, 2020. The film so far holds a 78% RT score based on 73 reviews with much praise for its performances. The film is scheduled to be released in a limited release and on Netflix simultaneously.
Worth Netflix release date: September 3, 2021
Cinderella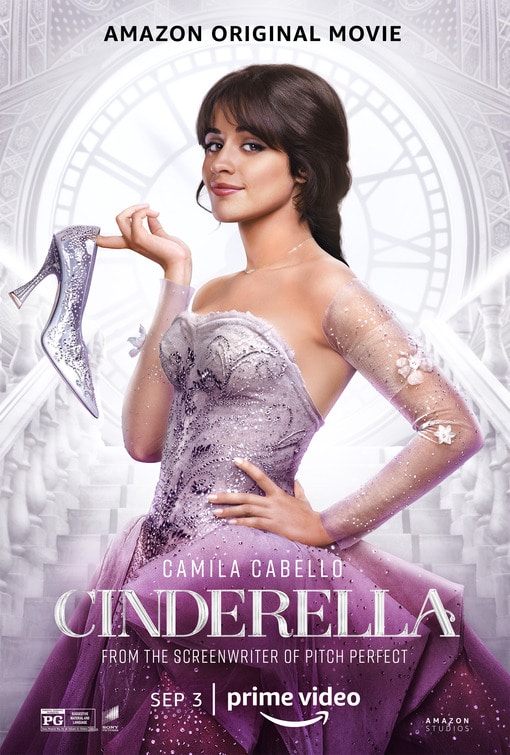 Cinderella is Sony Pictures' fantasy romantic musical comedy film based on the universally well-known fairy tale of the same name by Charles Perrault. Written and directed by Kay Cannon. James Corden serves as a producer. Sony canceled the film's theatrical release and the film had been bought by Amazon Studios.
It stars pop singer Camila Cabello as the title character in her acting debut, alongside Idina Menzel, Minnie Driver, Nicholas Galitzine, Billy Porter, and Pierce Brosnan. It is a jukebox musical, featuring pop and rock hits, in addition to several original songs.
Synopsis: Cinderella is a musically driven bold new take on the traditional story you grew up with. Our heroine (Cabello) is an ambitious young woman, whose dreams are bigger than the world will allow, but with the help of her Fab G (Porter), she is able to persevere and make her dreams come true.
Cinderella was released in select theaters and digitally on Amazon Prime Video simultaneously. Even though the film received mixed reviews from critics it certainly got some love from the audience. So this film is worth watching for musical fans and family audiences.
Cinderella Amazon Prime release date: September 3, 2021
Kate
Kate is Netflix's original action thriller directed by Cedric Nicolas-Troyan and written by Umair Aleem. The film stars Mary Elizabeth Winstead, Miku Martineau, Woody Harrelson, Michiel Huisman, Miyavi, and Tadanobu Asano. It follows a story of a burned assassin's furious pursuit of one last self-appointed job. This R-rated action flick is a must-watch for action lovers only.
Synopsis: Meticulous and preternaturally skilled, Kate is the perfect specimen of a finely tuned assassin at the height of her game. But when she uncharacteristically blows an assignment targeting a member of the yakuza in Tokyo, she quickly discovers she's been poisoned, a brutally slow execution that gives her less than 24 hours to exact revenge on her killers. As her body swiftly deteriorates she goes on a manhunt through the streets of Tokyo and forms an unlikely bond with the teenage daughter of one of her past victims.
Kate Netflix release date: September 10, 2021
Malignant
Malignant is Warner Bros. horror mystery thriller directed by James Wan (The Conjuring 1 &2, Insidious, Aquaman, Furious 7) from a screenplay by Akela Cooper, based on an original story by Wan, Ingrid Bisu, and Cooper. Wan is known for his horror and thriller films.
It stars Annabelle Wallis, Maddie Hasson, George Young, Jacqueline McKenzie, Jake Abel, Ingrid Bisu, Mckenna Grace, Paula Marshall, Marina Mazepa, and Michole Briana White.
Synopsis: Madison (Wallis) is paralyzed by fear from shocking visions of grisly murders, and her torment worsens as she discovers that these waking dreams are in fact terrifying realities.
This is one of the WB films of this year that is following the HBO Max release strategy. The R-rated horror is scheduled to be released in theaters worldwide and also have a month-long simultaneous release on the HBO Max streaming service. This is a must-watch for horror fans and James Wan fans.
Malignant (HBO Max & theatrical) release date: September 10, 2021
The Voyeurs
The Voyeurs is Amazon's original romantic mystery thriller drama written and directed by Michael Mohan. The R-rated film stars Sydney Sweeney, Justice Smith, Natasha Liu Bordizzo, and Ben Hardy in the lead roles. Breathing new life into the forgotten genre of erotic thriller, The Voyeurs asks the question, "Is it okay to watch?"
Synopsis: After moving into a beautiful loft apartment in Downtown Montreal, a young couple (Sweeney and Smith), find themselves becoming increasingly interested in the sex life of their eccentric neighbors across the street (Hardy and Bordizzo). What starts out as an innocent curiosity slowly turns into an unhealthy obsession, after they discover that one of these neighbors is cheating on the other. Temptation and desire cause their lives to become tangled together in unexpected ways, leading to deadly consequences.
The Voyeurs Amazon Prime release date: September 10, 2021.
The Card Counter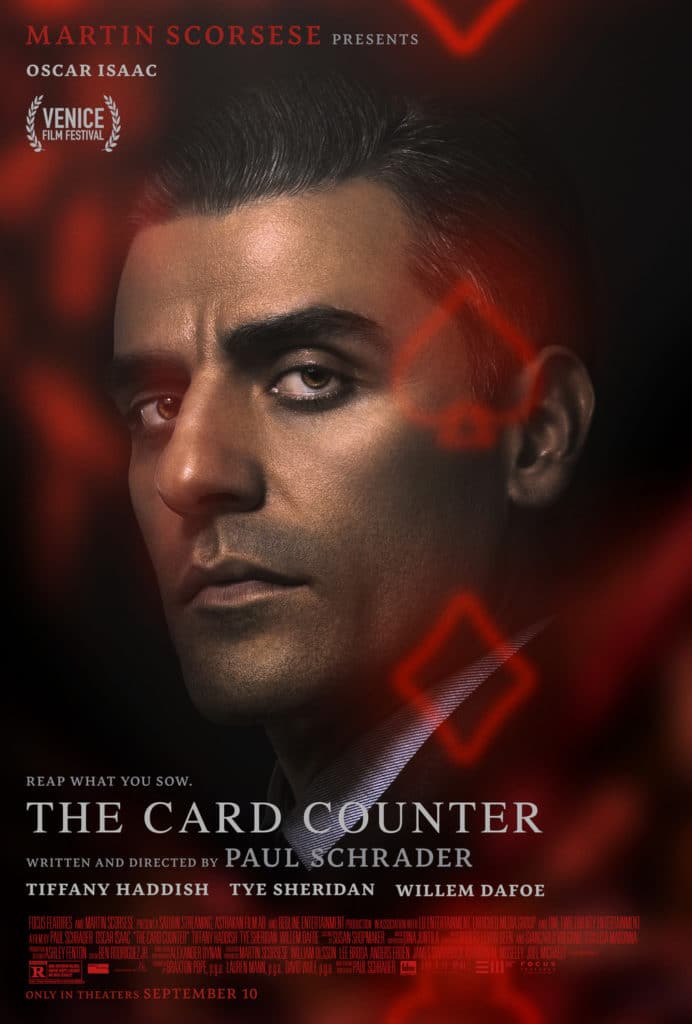 The Card Counter is Focus Features' crime action drama thriller film written and directed by acclaimed writer-director Paul Schrader. It stars Oscar Isaac, Tiffany Haddish, Tye Sheridan, Ekaterina Baker, Amye Gousset, Joel Michaely, and Willem Dafoe. Martin Scorsese serves as an executive producer.
Synopsis: Told with Schrader's trademark cinematic intensity, the revenge thriller tells the story of an ex-military interrogator turned gambler haunted by the ghosts of his past decisions.
It had its world premiere at the 78th Venice International Film Festival on September 2, 2021. The R-rated film so far holds a 97% RT score based on 30 reviews with much praise for its riveting performances. This can be an awards contender movie. This is a must-watch film and it is scheduled to be released in theatres.
The Card Counter release date: September 10, 2021.
Queenpins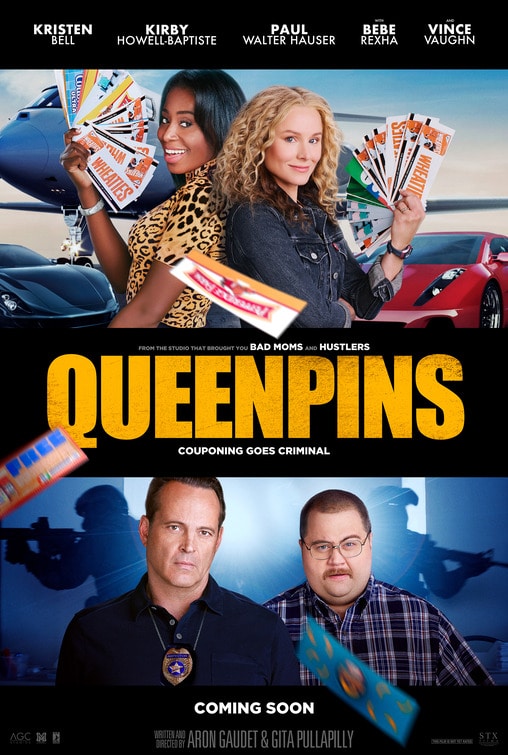 Queenpins is STXfilms' crime comedy film written and directed by Aron Gaudet and Gita Pullapilly based on a true story. It stars Kristen Bell, Kirby Howell-Baptiste, Vince Vaughn, Paul Walter Hauser, Bebe Rexha, Marc Evan Jackson, Joel McHale, and Stephen Root. Ben Stiller serves as an executive producer. The R-rated comedy is scheduled for a theatrical release.
Synopsis: Bored and frustrated suburban homemaker Connie (Bell) and her best pal JoJo (Baptiste), a vlogger with dreams, turn a hobby into a multi-million-dollar counterfeit coupon caper. After firing off a letter to the conglomerate behind a box of cereal gone stale, and receiving an apology along with dozens of freebies, the duo hatch an illegal coupon club scheme that scams millions from mega-corporations and delivers deals to legions of fellow coupon clippers. On the trail to total coupon dominance, a hapless Loss Prevention Officer (Hauser) from the local supermarket chain joins forces with a determined U.S. Postal Inspector (Vaughn) in hot pursuit of these newly-minted "Queenpins" of pink collar crime.
Queenpins release date: September 10, 2021
Small Engine Repair
Small Engine Repair is Vertical Entertainment's dark comedy-drama written and directed by John Pollono based on Pollono's award-winning play of the same name. It is a pitch-black comedic drama with a wicked twist and a powerful exploration of brotherhood, class struggle, and toxic masculinity. The R-rated film is scheduled for a limited theatrical release.
It stars Jon Bernthal, John Pollono, Shea Whigham, Jordana Spiro, Ciara Bravo, Ashlie Atkinson, Josh Helman, John Rothman, Michael Redfield, Jenna Lamia, Joshua Bitton, Spencer House, Sophie Pollono, Jennifer Pollono, Hunter Jones, and Shannon Esper. Pollono and Bernthal reprise their roles from the original production and Redfield and Helman, who both starred in the original production, are in the film as new characters. Bernthal serves as a producer.
Synopsis: Frankie (Pollono), Swaino (Bernthal), and Packie (Wigham) are lifelong friends who share a love of the Red Sox, rowdy bars, and Frankie's teenaged daughter Crystal (Bravo), who they helped raise. But when Frankie invites his pals to a whiskey-fueled evening in Frank's out-of-the-way repair shop under cloudy circumstances that only Frank seems to have a handle on. He asks them to do a favor on behalf of the brash young woman they all adore, events spin wildly out of control.
Small Engine Repair release date: September 10, 2021
Language Lessons
Language Lessons is Shout! Studios' comedy-drama directed and co-written by Natalie Morales in her feature directorial debut. Morales serves as executive producer along with Mark Duplass who also co-wrote the script. The film stars Morales, Duplass, and Desean Terry.
Synopsis: When Adam's (Duplass) husband surprises him with weekly Spanish lessons, he's unsure about where or how this new element will fit into his already structured life. But when tragedy strikes, his Spanish teacher, Cariño (Morales), becomes a lifeline he didn't know he needed. Adam develops an unexpected and complicated emotional bond with Cariño–but do you really know someone just because you've experienced a traumatic moment with them? Bittersweet, honest, and at times darkly funny, this is a disarmingly moving exploration of platonic love.
The film had its worldwide premiere at the 71st Berlin International Film Festival on March 1, 2021. It is scheduled for a limited theatrical release. The film so far holds a 95% RT score based on 44 reviews with much praise for its simple and effective story and its lead stars, making this a must-watch film.
Language Lessons release date: September 10, 2021.
More movies can be found on the next page: