A top WWE Superstar, former Universal and NXT champion has hinted at joining AEW and teaming up with Adam Cole and the Young Bucks.
After the debut of Cole, Bryan Danielson and Ruby Soho everyone is talking about what they can do in AEW, matches and teams which are possible now. Kevin Owens added to the discussion with a tweet.
RELATED: BRYAN DANIELSON AND FELLOW EX-WWE WRESTLERS HAVE JUST JOINED AEW IN AMAZING DEBUT
Owens tweeted out a set of coordinates which has now been deleted. The tweet had no context and was very mysterious. However, fans did some digging and found the coordinates are for Mt. Rushmore. This doesn't seem like a big deal, but upon further digging we find the significance of Mt. Rushmore and Owens.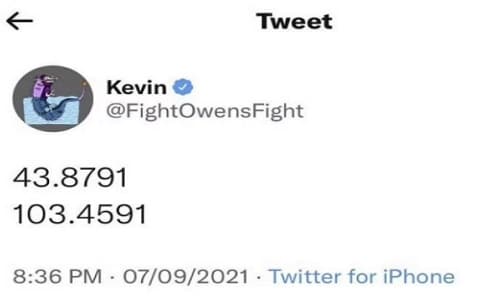 So What? Owens Loves A National Monument
Before signing with WWE Owens, Cole and the Young Bucks had a faction called Mt. Rushmore. This now seems like a nod to his old faction and possibly hinting at it reforming. Owens has also changed his location to "almost there" which would also imply him going to AEW or at least a different promotion.
The reformation gains a bit of steam when we find out Owens doesn't have much time left on his WWE contract. According to Sean Ross Sapp of Fightful Select via Sportskeeda Owens' contract expires January 2022. His contract was originally set to expire in 2023, but before the pandemic WWE restructured the contract of several Superstars with Owens being one of them.
Why Owens? Why Him?
We don't know why they did this for some of the Superstars. Maybe they were toying with the idea of doing severe budget cuts back then and it made those cuts easier. It also isn't clear why they chose Owens as one of those Superstars. He has been one of their top guys since joining NXT. You would think they would want to keep someone as good as Owens for as long as possible. However, we've also seen they don't have a problem getting rid of top talent.
RELATED: JEFF HARDY TRENDING AFTER BEING INVOLVED IN 24/7 CHAMPIONSHIP MATCH
I am a huge fan of Owens and I think there's still a lot I would like to see him do in WWE. WWE really likes to have Owens take on Sami Zayn, but I can only see that match so many times.
Should Owens Fight In AEW?
Owens has done pretty much everything there's to do in WWE aside from winning the WWE World Championship. However, he may want to take on a new promotion and share his talents with them. AEW has a lot of young wrestlers which he may have never wrestled or hasn't wrestled in a long time. If WWE isn't willing to put the WWE World Championship or the Universal Championship on him then maybe he should go.
The internet seems to want Cole vs Owens. It would be good and they only wrestled each other once in WWE, but it was in a WarGames match so it doesn't totally count. However, the match I would really want and I've said it before is Owens vs CM Punk. I just think the promos would be so good.
Who would you like to see Owens face in AEW? Do you think Punk vs Owens is as good of a match as I envision? Do you think Owens would do better in IMPACT or a different promotion? Should Owens leave WWE at all? Drop a comment below and let us know if you think Mt. Rushmore should reform in AEW.
KEEP READING: MICK FOLEY FEELS THE WWE HAS FAILED ITS FANS
Sources: Sportskeeda, Sean Ross Sapp of Fightful Select, Sportskeeda