The MCU's first foray into animation has been an ambitious concept and quite the success. What If…? not only explores variations on major MCU events and characters, but each episode manages to tell these stories through different genres.
What If…? has a unique animation style that lends itself to anything from a heist with a roguish Star Lord T'Challa to a tragic love story with a dark corrupted Doctor Strange. The animation does an impressive job of bringing characters and locations from live-action and adapting them to fit animation while still being easily recognizable.
The Illuminerdi had the opportunity to sit down with What If…? animation supervisor Stephan Franck who excitedly explained that What If…? is an opportunity to "finally get to tell certain types of story in animation that so far we really didn't have a chance to do."
RELATED: WHAT IF…? EDITORS ON COMPLETE CREATIVE FREEDOM TO SURPRISE AUDIENCES BY REDEEMING THANOS AND DEATH OF HULK: EXCLUSIVE INTERVIEW
With What If…? being the MCU's first animated series and exploring the multiverse like never before, it makes sense that the animation style would need to be something that audiences have never really seen before. Franck explained, "We really wanted to make sure that it was as new on the outside as it was on the inside. And that the presentation of the show, and the visual approach, it was as fresh and exciting."
THE THREE COMPONENTS OF THE UNIQUE ANIMATION STYLE OF WHAT IF…?
And when figuring out what the animation would look like to fit the bold new storytelling Franck explained that they found three components that were integral in the style. Franck broke down the three components of the What If…? animation style and how they lend themselves to each episode as well as the series overall.
"So, there's basically three main visual components to the show. One is of course the comics where it's the DNA of the piece and obviously there's, like, all this boundless imagination and the power of it. You know, your Kirby, all that stuff, all the classic comic stuff.

But also, there's cinema, cause we're equally, on the show our team, we're as hugely into comics as we are into movies. And so, there's a passion for filmmaking and cinema and its different genres and tones and points of views. And the different flavors of film language which we get to visit through the different episodes because they are so different. And so, we put those two things together and it gets very exciting, but we really needed, like, a third element to really sort of bring it to a new place.

And that's the kind of illustrative influence of classic illustrators like J. C. Leyendecker, for instance. Where it's stuff that feels elevated, it feels sophisticated, it feels like there's great taste to it. And yet it's bold, it's expressive, it's appealing, it's got potential to be very powerful. So, we kind of collided those three approaches and then it gives you something that gives you such a range that you can go from moments that are your physical action that you really kind of feel in your bones when you're watching it to emotional moments that you kind of feel in your heart when you're watching it. So, it's those elements that come together to create this."
RELATED: WHAT IF…? EXCLUSIVE INTERVIEW: PRODUCTION DESIGNER WANTS TO EXPLORE WAKANDA BATTLE FROM INFINITY WAR AND DETAILS THE COLLECTOR'S MUSEUM DESIGN IN EPISODE 2
The comic influence is obvious given that this is a Marvel series and that it is based on an actual Marvel comics anthology series. The illustrator influence is a huge part of why the style is so distinctive. And the film influence, beyond the MCU, has shined through with the variety of genres that What If…? explores and the tropes that are used throughout each episode.
Franck explained how the genre impacts the animation in each episode:
"For instance, let's take the first episode which is a take on First Avenger so it's taking place during WWII. And so, you have characters that are of a certain era, so of course the actors are going to perform it slightly differently and of course the animators are going to have to animate it also slightly differently. Because Peggy from 1940 is not Black Widow from 2020. And so, first, they're completely, vastly different personalities, but still there's also this contextual kind of subtlety and specificity.

So, whether it's the film making itself by tipping our hat to different little bits of film language…And then, you have stuff like episode 2 for instance, who is Nebula, where it's a heist noir kind of thing. And then so she's a femme fatal and it's so fun to activate these different sides of these characters. And again, we only do it if it reveals more about the character."
Nebula taking on the femme fatal character in the Star Lord T'Challa episode was brilliant and worked fantastically. By approaching Nebula from this new and unexpected angle it brought out a completely new and unanticipated side of the character. Similarly, in the Doctor Strange episode where he is attempting to save the love of his life in vain and how this turned him monstrous, fits the genre of tragic love story. What If…? also seemed to dabble in horror with this dark Doctor Strange with his corrupted mystic arts leading him to look like a villain in character design even before he morphed into a literal monster.
RELATED: WHAT IF…? EXCLUSIVE INTERVIEW: EDITORS DIG INTO THE POWERFUL DOCTOR STRANGE EPISODE AND TEASE A "ZANY" NEW EPISODE
What If…? is traversing the multiverse like never before done in the MCU. By introducing the Variants, diving into a vast array of genres, and setting the tone for the MCU's multiverse the animation style needed to be something that would grab people's attention immediately. The animation needed to work for epic tragedy like Doctor Strange destroying his universe, action heavy fight sequences with Captain Carter, and cosmic Marvel with Star Lord T'Challa. Knowing not only how much thought was put into figuring out the style, but why each element was chosen gives an inside look into the passion that makes What If…? so special.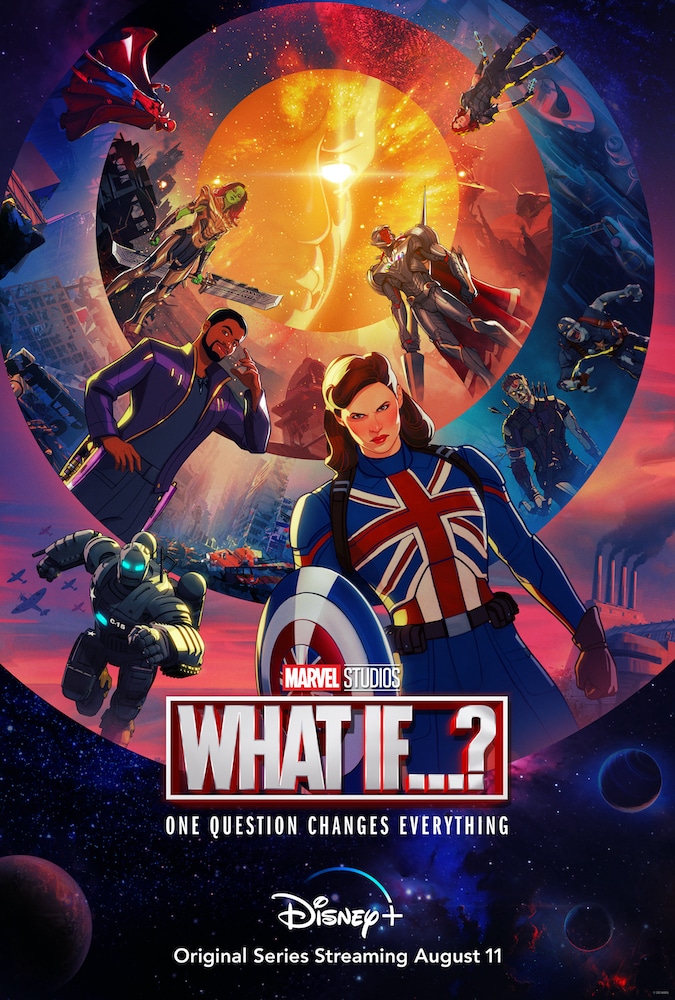 What do you think about the What If…? animation style? Do you like how the genre is impacting the characters and animation in each What If…? episode? Leave your thoughts in the comments below or on our social media and check back with The Illuminerdi for more MCU and What If…?
KEEP READING: WHAT IF…?: VISIONARY COMPOSER REVEALS AVENGERS: ENDGAME, GUARDIANS, AND BLACK PANTHER INSPIRATION ON SCORE: EXCLUSIVE INTERVIEW