Greetings! FAN EXPO Dallas is finally here! From an impressive list of guests to awesome cosplay events, anime events, photo-ops, and much more, the event shows that Texas is supportive of these types of gathering even in the middle of a pandemic. But don't forget, masks are mandatory!
Here is the full press release:
September 8, 2021, DALLAS — FAN EXPO Dallas 2021 is fast approaching and the organizers behind the mega-hit weekend have released the programming schedule that brings hundreds of unique experiences, contests, family-friendly activities, and on-site activations to the largest comic, sci-fi, horror, anime and gaming event in Texas. 
HQ Vice President, Andrew Moyes says, "Whether it's arriving in your favorite costume to show off to the crowds, getting the inside scoop about your favorite movies and TV shows, or learning more about the voices behind your favorite VTubers and anime, this event celebrates all things fandom. Our guests can watch professional comic artists battle it out in our popular Sketch Duels, learn from our 'How To' workshops, take photos with their favorite costumed characters or buy a unique gift at the huge show floor for shopping!"
RELATED: DAREDEVIL'S VINCENT D'ONOFRIO FUELS RUMORED RETURN IN HAWKEYE AS FANS ANALYZE SOCIAL MEDIA
The full programming schedule has been released here and general information about the event is available at www.fanexpodallas.com. Health and safety information is available here. The FAN EXPO Dallas app is available for Android and Apple devices. Fans can download it in advance for the latest updates and to start planning their visit.
FAN EXPO DALLAS EVENT HIGHLIGHTS:
Cosplay! Cosplay! Cosplay!
Known for a feast on the eyes, the cosplay experience is evident all weekend long when like-minded fans meet up and families cosplay together! From the Cosplay Red Carpet where guests can get their photo taken by the official Cosplay Red Carpet to the Cosplay Craftsmanship Cup, where guests gear up and show off their craftsmanship skills, cosplay glory is all around at the celebratory event. 
Nothing's the same at Artist Alley
Indie meets pro in this special area where you will find all your favorite pencillers, inkers and writers. This is a "must experience area" for anyone interested in meeting the rising stars and the people who work the front lines of the industry. Here you'll find it all – comics, graphic novels, limited edition prints, and best of all, original art and sketches.
Hololive VTuber Tour, NEW for 2021! 
FAN EXPO and Hololive have joined forces to bring some of the biggest English-speaking VTubers in the world to Dallas! There will be a special pair of virtual panels across the weekend as they stream directly into the show with fun-filled and interactive anime performances. Exclusive 2021 VTuber Tour merchandise including lanyards, t-shirts and buttons will be available on-site featuring all the Hololive EN VTubers.
Iconic Guests
From science fiction fantasy to Gen X icons, from superheroes to comedy geniuses, we have gathered the widest variety of guests from all genres of pop culture. From legendary voices and celebrities to the largest gathering of My Hero Academia voice actor stars to date, to comic creators including artists illustrators and writers, even the most hardcore fan is bound to find an abundance of activity and interaction to satisfy their pop-culture fixation.
FINDERS KEEPERS: The Community Zone
From Whovians to Jedis, a cosplayer or crafter, the Community Zone is where people find their people…the ones who share and discover fandom together! Fans can out about local clubs, get up close to movie props, test their trivia, and snap photos galore with other fans who are just as excited to #fanexpodallas.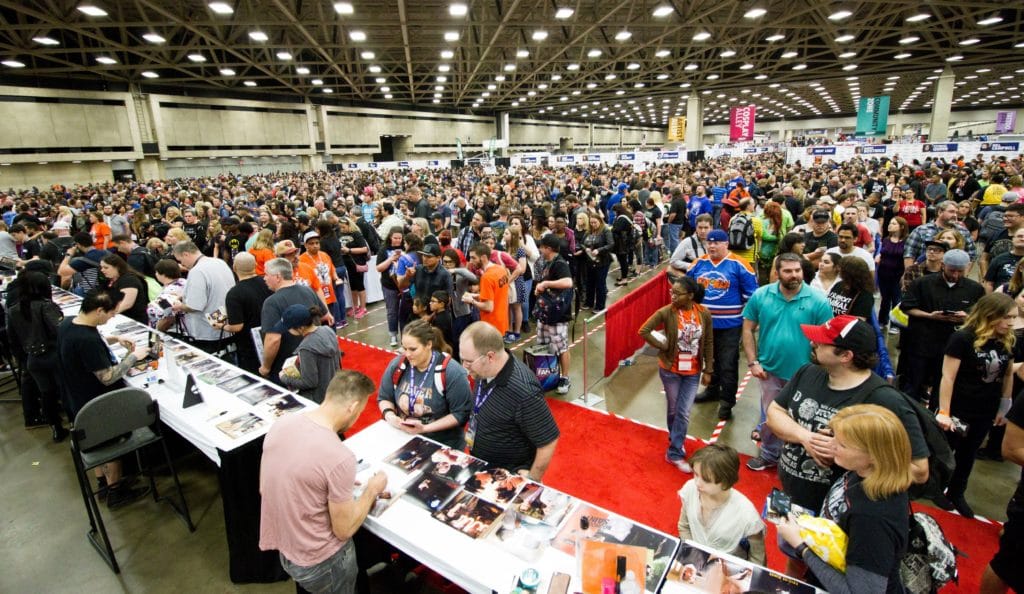 This Event Puts Fans First
"We have the most dedicated and passionate fans in the convention world, and we will continue to bring the best of pop culture to them," says Moyes. "The Kay Bailey Hutchison Convention Center is a wonderful partner and host venue and we're collaborating to ensure a safe experience for all attendees," Moyes explains.  "This means our exhibitors, guests, sponsors, and fans can safely enjoy the full experience with confidence."
FAN EXPO HQ is the largest comic con producer in the world. Collectively it hosts nearly 1 million fans annually at FAN EXPO Canada™, MEGACON Orlando, FAN EXPO Dallas™, FAN EXPO Boston™, FAN EXPO Denver, FAN EXPO San Francisco, Calgary Comics & Entertainment Expo, FAN EXPO Vancouver™, Toronto Comicon, Dallas FAN FESTIVAL and Edmonton Comics & Entertainment Expo. In 2022, FAN EXPO HQ will present six new shows previously organized by Wizard World: FAN EXPO Chicago, FAN EXPO Philadelphia, FAN EXPO St. Louis, FAN EXPO Portland, FAN EXPO New Orleans, and FAN EXPO Cleveland.
I will personally be at this event covering the panels and other types of Q&As. Can't wait to see all of the talented cosplayers there as well. If you happen to be at the event, don't be shy and tweet at me https://twitter.com/PeteDHeat and tag our Twitter as well https://twitter.com/The_Illuminerdi.
What a fun weekend ahead! Remember, if you're not feeling well – don't go. There will be other times! Safety above all.
KEEP READING: FUNIMATION WANTS YOU TO SING A BIT OF HARMONY