Right. I see behind you one of the bones, it looks like it could have been influential on The Forever Purge.
Leah Butler: I just realized that before I turned on my computer. It's probably the only thing like that in my house, just so you know; it's not a scary place.
Innocence Lost Is A Major Influence In The Costume Design For The Forever Purge
One of my favorite costumes we touched on earlier, were the bunnies; I absolutely love the bunnies. During the course of the film, we actually see a lot of animal imagery throughout the film. Can you talk to me about the animal influence in The Forever Purge and in the costume design?
Leah Butler: We definitely had this sort of animal theme to it, but like I said, there were these innocence and then just more of the bones and things like that, that you see in the skeletons. It was something actually, that I think Everardo came up with in the very beginning; it was one of his ideas to sort of come forward and come full circle with, but then we combined some unusual…

I remember having this discussion with him too, about the bunny costume. It's sort of a butcher kind of an apron on him, and I was actually going to put some, some fur bits and things like that. He was like," Nope, nope, no. We're just going to keep it like this, with a fun mask on it." Together, I was like, "Wow, that really works." So much of this was really taking the masks, working with different elements in the costumes, and just creating that thing that comes together finally for us.
RELATED: THE HORROR OF CANDYMAN: A JOURNEY INTO THE REALISM OF BLACK TRAUMA
It's crazy that when I saw that bunny, it was almost like something in my nightmares. That the bunny is terrifying to me.
Actor Will Patton Felt His Character In The Forever Purge Costume Test
Another one I want to talk about is The Forever Purge bandits that we see on the ranch. Can you talk to me about their design? Especially their face paint, because it's very reminiscent of Day of the Dead, Dios de Los Muertos, in Mexico. Can you talk about that a little bit?
RELATED: SALEM'S LOT: STEPHEN KING ADAPTATION FINDS ITS LEAD IN LEWIS PULLMAN
Leah Butler: That whole group, whose leader was Will Patton, he's an amazing actor. We really wanted to come with these dark elements to make them sort of this band of people that rise up against. We worked with the costumes of what they actually would wear as a rancher, but yet had these sort of dusters, and different things and different coats. I have a fun story about Will because we were in his fitting and I was trying on all these various coats for him to sort of start feeling…

So much of the character comes to the actor through the fittings, as you know. He was like, "Yeah, I'm not really feeling that." I was like, "You know what? I don't think we have it here. Let's go and look in the costume house." I don't normally do this with an actor, but he was so into his character, he was so into the look and the feel of how he should be. We took him down into the costume house, and walked some of the aisles and came across some coats that we really liked.

All of a sudden he was like, "No, this is it, I love it. This is it." It was really fun for me to work with that sort of feel for him. The masks came along around the same time, then they wanted to also have the makeup be a reflection of what the whole persona was. Everardo worked with the makeup team to come up with those looks
The Impressive Masks In The Forever Purge Proved To Be The Most Challenging
What was one of the more, technically difficult or challenging costumes that you had to design for The Forever Purge?
Leah Butler: That's a good question. Let me think, here. I do think that the bunny was difficult because it took a little bit more time. You wouldn't believe what our prep area looked like. It was so many different racks of clothes, and things that we would take and tear and add things to.

We had these blue-collar ideas, and all different kinds of ideas to come together to have this be a complete look. It was really the quantity because we had a lot of background, we had a lot of things that needed to work together. I had a talented team of people adding bits and pieces, and working with it; it was a lot of fun. Let's see.

I think some of those masks that you see towards the end, those were some of the more difficult ones, I feel like, on the native Americans. We had the idea of it, and then we had to make it so it fits; and then there are stunts, and they're running around and they're doing all this stuff, so it has to be comfortable on them too. To have a minimal amount of time just to make it fit, and be comfortable, and something they can wear, that's always a challenge in our department.
Leah Butler's The Forever Purge costume designs are beautifully twisted and fit perfectly in the world of The Purge.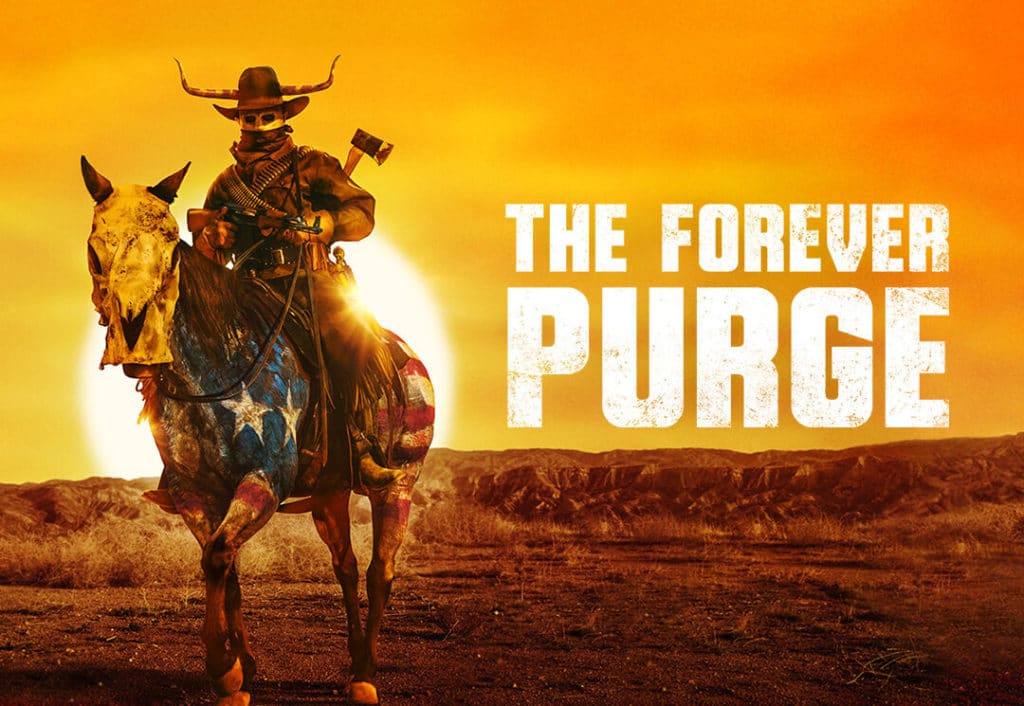 The Forever Purge is available on Digital September 14th and 4K, Blu-ray, and DVD September 28th. Will you be picking up The Forever Purge during this Halloween season? Let us know on Twitter!
KEEP READING: MARVEL ZOMBIES: NEW LIVE-ACTION PROJECT MAY BE IN DEVELOPMENT