Marvel's next Disney Plus series Hawkeye caused quite a bit of excitement with their first trailer which also included a shot of Alaqua Cox as Echo. Cox must have made quite an impression on Marvel as Echo in Hawkeye given the fact that a spin-off series was quickly put into development. And now some interesting new rumors surrounding the spin-off series have recently come to light.
Daniel Richtman reported that Echo will feature a number of main cast members from the cancelled Netflix series, Daredevil, and will have a big role in the Disney Plus series. Apparently, these additions mean that Echo could feel a bit like a fourth season of Daredevil. That being said, Richtman did make it clear that Echo is very much Echo's story. In other exciting Daredevil news, Richtman also indicated that a Daredevil solo project is being planned.
Everything We Know About Echo – MCU Phase 4 & 5
Part of the rumor that major cast members from Daredevil will be reprising their roles also indicates that these Daredevil characters will be softly rebooted for the MCU. This would make sense especially when using the same cast. Changing the characters to a degree would help differentiate these characters from their roles in the Netflix series, if this is the goal.
RELATED: ECHO: NETFLIX'S DAREDEVIL CAST RUMORED TO JOIN THE MCU IN NEW DISNEY PLUS SERIES
Vincent D'Onofrio is rumored to be reprising his Kingpin role in Hawkeye, but a bit more beefed up, possibly closer to his look in the comics. Charlie Cox is rumored to appear in Spider-Man: No Way Home and She-Hulk. One possibility of a soft reboot for Daredevil could be a change of costume which could mean that Murdock will be suiting up in yellow instead of red in the MCU.
ECHO'S TIES TO DAREDEVIL AND KINGPIN
It isn't a huge surprise that Daredevil and Kingpin could be making an appearance in Echo given their ties to her character in the comics. In the comics Echo, Maya Lopes, is adopted by Wilson Fisk. Fisk murdered Maya's father and his dying wish was for Fisk to take Maya and raise her as his own. Fisk grew to love Maya and sent her to the very best schools where she thrived as a gifted student.
Years later Fisk sent Maya, an Olympic level athlete and martial artist with photographic reflexes, to hunt down his nemesis, Daredevil, whom he told Maya was responsible for her father's death. While she was after the Devil of Hell's Kitchen she and his alter ego, Matt Murdock, fell in love. Echo is able to defeat Daredevil, due to her photographic reflexes similar to Marvel Comic's Taskmaster, but discovers that Matt is in fact Daredevil and had no part in her father's death. Maya confronts Fisk about his lies before shooting him in the face, blinding him. Fisk partially regains his sight after surgery and even after this still loves Maya like a daughter.
RELATED: MARVEL STUDIOS CASTING ECHO FOR HAWKEYE ON DISNEY+
Maya Lopez, aka Echo, as a character is intrinsically tied to Daredevil and Kingpin so building out her world with these characters makes sense. However, many fans became concerned about the rumor that Echo will feel like a fourth season of Daredevil because of the rumored prominence of the returning actors' roles. This could be an issue if they overshadow Maya, but there is also a way that this could work without detracting from Echo's story.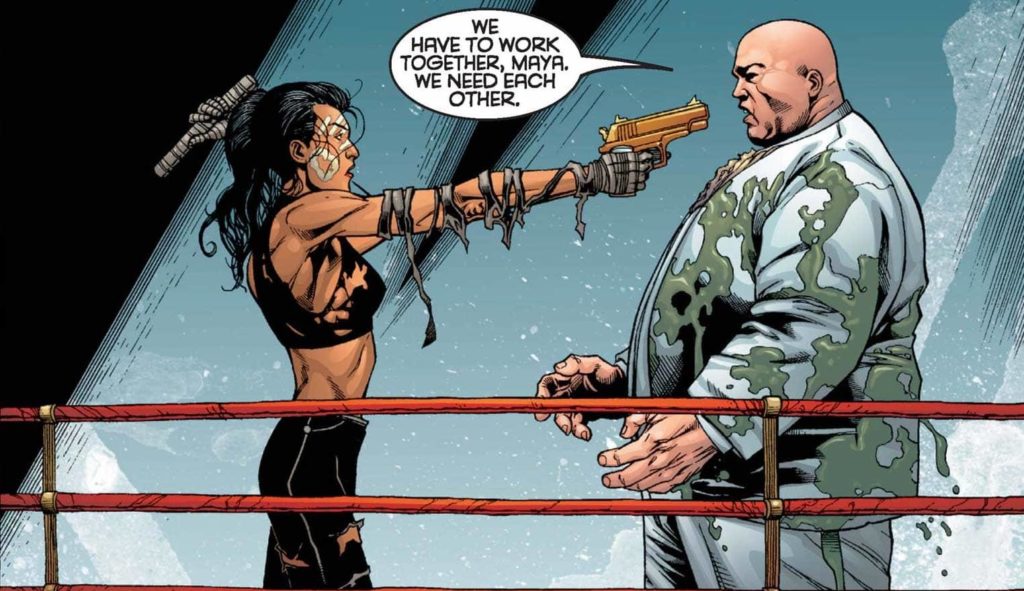 If the series follows the comics, then she could be after Daredevil on orders from Kingpin and in falling for Matt also bonds with his friends. If the rumors of Kingpin serving as a major villain in Echo are true this betrayal, like in the comics, could be devastating for Maya especially if Fisk and Maya have the paternal relationship they do in the comics. There is also the possibility of Echo running into legal trouble and needing help from Matt Murdock and Foggy Nelson's legal practice. Another avenue they could explore, assuming the rumors of Kingpin making his MCU debut in Hawkeye are true, could lead to an interesting change from Echo's comic book history.
[Click on Page 2 below for even more insight into the future of Echo.]