Hit-Monkey, the upcoming adult animated Marvel series starring Jason Sudeikis, Olivia Munn and Fred Tatasciore released its first full length trailer yesterday.
The animated TV series is the final offering from the Jeph Loeb era of Marvel Television, an era that delivered fantastic programs such as Agents Of Shield, Daredevil, The Punisher and the animated series, M.O.D.O.K., just to name a few.

The official Hulu trailer currently has less than one million views, which isn't shocking considering it was released on the same day as the Eternals world premiere. It's almost as if Marvel Studios is trying to bury the series through a stark lack of marketing, or at the very least, very poorly timed promotion.
HIT-MONKEY: "YOU ARE GOING TO HAVE TO KILL SOME EVIL PEOPLE, WHO TOTALLY DESERVE TO DIE. CAUSE IT'S YOUR DESTINY."
Jason Sudeikis plays Bryce, an alcoholic hitman who is killed in a Japanese mountain range. Bryce becomes a ghost, mysteriously bonded to the title character, who is helping him as he learns to become the "killer of killers". Bryce serves as the audience's lens into Hit-Monkey's world and mind, which helps because the Japanese Macaque does not speak English. 
Fred Tatasciore plays "Monkey", or "Hit-Monkey", as the underworld of Tokyo calls him. He learns the art of killing men after his tribe of snow monkeys end up butchered by the same assassins that took out Bryce. He is a far more conflicted killer than his ghostly compatriot, emotionally troubled by the violent penance he brutally dishes out.  
In the trailer, Bryce's devil-may-care attitude and metaphysical connection to Hit-Monkey are put on full display. He describes their tie as a "ghost leash", as an unseen force prevents Bryce from moving more than a few meters away from the deadly primate. Unlike some ghosts, this undying apparition is apparently unable to interact with the physical world.
HIT-MONKEY: OFFICIAL TRAILER: PAYBACK IS A BEAST
Lady Bullseye then makes a brief appearance, but not much is shown. Lady Bullseye and the Marvel Comics character "Fat Cobra" are expected to fill the antagonistic role in Hit-Monkey. Silver Samurai will also reportedly make an appearance.
"We get it, you're the conflicted killer" says Bryce, trying to turn Hit-Monkey into the same uncaring, cold-blooded killer he was in life. Speaking of the Monkey's code of only killing killers, Bryce asks him if he really wants to fight with one hand tied behind his back. To Bryce's dismay, Hit-Monkey cleverly points out that he can fight with his feet too.
The tone of the trailer is very reminiscent of the Deadpool film franchise. Hit-Monkey and Deadpool have some ties in the source material, and while an appearance by the Merc With A Mouth is quite unlikely, no other upcoming Marvel project would fit Wade Wilson better.
On top of that, M.O.D.O.K, a series which was originally supposed to cross-over with Hit-Monkey, featured both Iron Man and mutant characters. Since Hit-Monkey was produced at a point in time when Marvel had access to characters formerly owned by Fox, who knows what surprise appearances might lay in store!
HIT-MONKEY: OFFICIAL MARVEL TV SHOW SYNOPSIS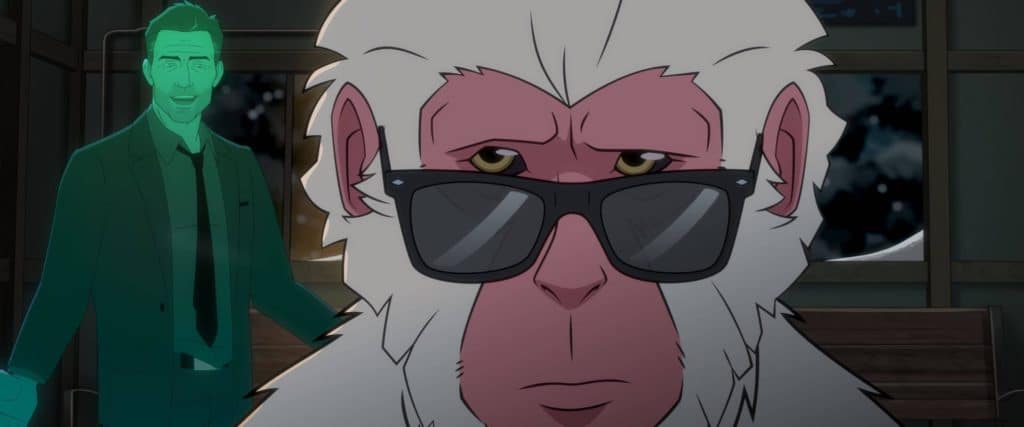 Premiering exclusively on Hulu this November, dive into Tokyo's underworld with HIt-Monkey. The show follows a Japanese snow monkey, aided by the ghost of an American assassin, who goes on a revenge quest and becomes the famous "killer of killers."
Hit-Monkey was created by Will speck and Josh Gordon, and stars Jason Sudeikis, Fred Tatasciore, Olivia Munn, George Takei, Ally Maki, and Nobi Nakanishi. The Hulu original series premieres in it's entirety on November 17th, 2021.
Let us know what you thought of the trailer in the comments below or on our social media!