Yesterday saw the latest round of Lightning Collection reveals at Hasbro Pulse Con 2021, which introduced both Wild Force and Dino Fury into the line with the first members of each team to get figures.
In addition to this, there was the new Deluxe Figure assortment which will allow for more Monsters, Vehicles, and Armors to get releases.
RELATED: HASBRO REVEALS NEW LIGHTNING COLLECTION FIGURES AND ZORDS AT PULSE CON EVENT
Today I'm here to break down the Top 5 Lightning Collection figures I want to see Hasbro add to the line. This list won't include any already leaked figures that are coming down the pipeline and will take into account the teams that have already been started.
#5) S.P.D. RED RANGER BATTLIZER (DELUXE FIGURE)
Ever since the very first Wave S.P.D. has been a big player in the figure line. Almost the entire core team is finished and the entire A-Squad team has been released. A perfect entry for their new Deluxe assortment could be the Battlizer for S.P.D. Red.
RELATED: AN UNRELEASED SPD FIRE SQUAD CONCEPT WAS REVEALED BY JASON BISCHOFF, FORMER GLOBAL FRANCHISE DIRECTOR FOR POWER RANGERS
Not only would this be an armored figure that justifies the Deluxe treatment but he could come with swappable armor pieces to create both his Cyber and Sonic modes seen in the show. This armor is one of the few form changing Battlizers seen in Power Rangers and is also the first one to be brought over to the Sentai series after the US was done with it when it appeared in Magiranger vs Dekaranger, so it has a lot of important history behind it and would be perfect for the Lightning Collection's first.
#4) RITO REVOLTO (STORE EXCLUSIVE)
MMPR will always be the most popular seasons from the franchise so it is no surprise that Hasbro has a done a number of the villain cast from the show to give your Ranger figures someone to fight. Rita, Goldar, and Zedd have all seen at least one, or in some cases multiple releases in the line and one major character that has yet to see a release is the brother of Rita, Rito Revolto!
As Lightning Collection has gone on, they have now started to release a number of figures from Season 3 such as the Ninja and Metallic Armor Ranger variants of the team but they don't have a major villain to fight from that era. Rito could be very similar to the original way Goldar was released as a store exclusive to account for the extra paint applications that he should have for his camo pattern design. Plus he would be perfect to lead your army of Tenga Warriors.
RELATED: NWAY UNVEILS POWER RANGERS: BATTLE FOR THE GRID SEASON 4 DETAILS AND TRAILER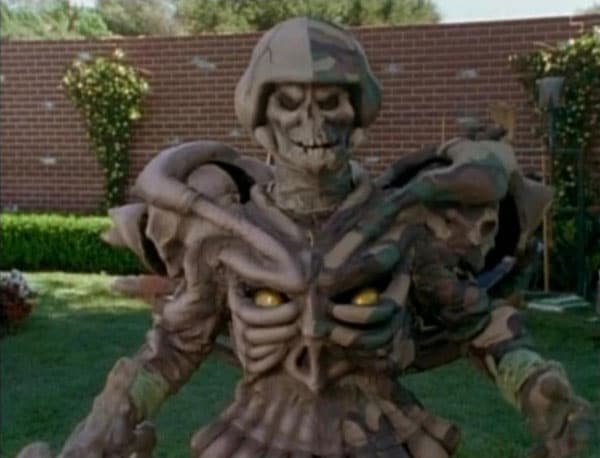 #3) TIME FORCE QUANTUM RANGER (MAIN WAVE)
Time Force is one of the least populated with figure seasons that Hasbro has already started. So far only Time Force Red has been released with an apparent leak of Time Force Green coming in 2022. A perfect member to get next would be Eric Myers, the Quantum Ranger. Not only could Hasbro reuse a good amount of the pre-existing Red Ranger mold to make this happen but when added to reports of Wild Force Red coming soon as well he would be another missing piece to completing a Forever Red display. Time Force was the first season to have 2 Red Rangers, and Quantum is to date the only Red Ranger 6th member of a team, so Eric would be a great history making fan favorite to finally get a figure.
#2) IN SPACE SILVER WITH GALACTIC ROVER (VEHICLE)
Yes, Zhane already has a figure in the Lightning Collection, while Hasbro hasn't revealed it yet nor is it out in the US In Space Silver has been spotted releasing in numerous countries around the world. That won't stop Hasbro from making him again though, as seen just yesterday with In Space Blue getting re-released with the Galaxy Glider, so why can't Zhane get his Galactic Rover?
Not only is John Warden of the Power Rangers Brand Team a big fan of the season but this is one the few vehicles that can actually be reused if they wanted to give Vypra from Lightspeed Rescue a Deluxe release some point down the line. Besides who wouldn't want a space dune buggy?
RELATED: POWER RANGERS LIGHTNING COLLECTION: THE UNRELEASED FIGURES OF 2021 (SO FAR)
#1) DINO THUNDER BLACK VS ZELTRAX (VS PACK)
A Lightning Collection list couldn't end without a Tommy release of course. One of the best options for a VS Pack release Hasbro could make would be Dino Thunder Black vs Zeltrax. Black Ranger Tommy is my personal favorite version of the character and based on previously discussed leaks he is the last member of the team that will still need a release.
Zeltrax is also a big fan favorite character and villain that would be great to not only face off against Dr. O but a whole completed team of Dino Thunder Rangers.
To stay up to date with all the news for the Power Rangers Lightning Collection fans can check out The Illuminerdi's Josh Perry on his weekly Lightning Storm YouTube series every Saturday at 9:00 am Pacific or on Twitter at @LightningFigPR. What figures do you want to see Hasbro make in the Lightning Collection? Leave your thoughts in the comments below or on our social media.
KEEP READING: HASBRO ANNOUNCES CONTROVERSIAL POWER RANGERS NFT