Pre-orders for Shout Factory's upcoming physical release of Kamen Rider Zero-One sold out in the states yesterday.
These Blu-rays were not sold out for long, however, has Shout Factory seems to already have more back in stock for hardcore fans of the show to pick up and enjoy!
Kamen Rider is a Japanese superhero program that originally aired in 1971 and ran until 1989. The show was later revived in 2000 and has been running ever since. The show was a huge hit in Japan and even spawned other shows such as Super Sentai which itself spawned into Power Rangers here in the states.
RELATED: JAMES GUNN BELIEVES THERE IS AN AMERICAN AUDIENCE FOR KAMEN RIDER
Zero One is the 30th season of the long-running franchise and it will be the first season to have a full physical release here in the states. Other seasons have been localized in the states such as Kamen Rider (1971) Kuuga, and most recently, Ryuki as a part of the TokuSHOUTsu channel on Pluto TV.
Shout Factory has also released DVDs for other popular Tokusatsu shows such as Super Sentai and Ultraman. Both shows are also a part of the programming for Pluto TV's, Tokushoutsu.
The History of Kamen Rider In The US
The Kamen Rider series has quite an interesting history here in the US. A character from the franchise first appeared in a three-part episode of the third season of Mighty Morphin Power Rangers where the Rangers team up with another hero, Dex aka the Masked Rider.
RELATED: HOW POWER RANGERS COULD IMPROVE THE NEXT SENTAI ADAPTATIONS
This later spun off into its own show called Saban's Masked Rider in 1996 being adapted from, Kamen Rider Black RX. The series was canceled after just one season presumably due to poor reception and the fact that Kamen Rider was no longer in production at the time. Saban would have had to adapt older seasons of the show which wouldn't have worked since the other Masked Riders were shown in the show.
The US got another adaptation in 2009 with Kamen Rider: Dragon Knight which was adapted from Kamen Rider Ryuki. This series was received much better from fans and even received a Daytime Emmy Award for "Outstanding Stunt Coordination". However, once again the show was canceled after just one season, likely due to poor ratings. The CW didn't even air its final episodes on television and elected to release them on their website.
Lastly, we have the aforementioned shows that have been brought over onto TokuSHOUTsu. Unlike Masked Rider and Dragon Knight, these are the original Japanese shows with English subtitles. Kamen Rider (1971) aired on March 17, 2020, and Kamen Rider Kuuga aired on May 1, 2020. Kamen Rider Ryuki is the lasted the join the bunch and aired on November 1, 2021.
Additionally, a spin-off, Amazon Riders premiered on April 19, 2018, on Prime Video. Like the shows aired on TokuSHOUTsu, this was a subbed version of the original show that was released in Japan.
Kamen Rider Zero-One Synopis
Humagears (humanoid robots), created by the leading company for AI, Hiden Intelligence, serve humanity's every convenience. But a cyber-terrorist organization begins hacking the Humagears in a conspiracy that turns them into monsters. Aruto Hiden has taken over at Hiden Intelligence, and along with the CEO's post, he also takes over the responsibility for Kamen Rider Zero-One by using his company's technology. Aruto tries to keep the peaceful world between humans and Humagears with his Humagear secretary, while A.I.M.S., a military squad, pursues the terrorists!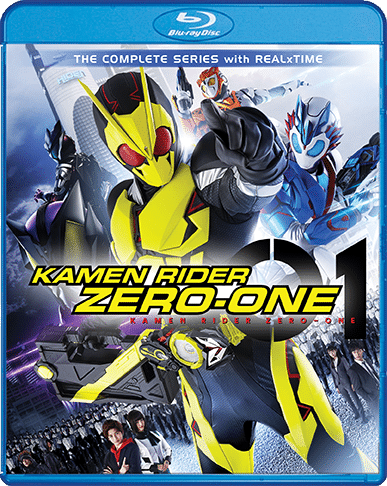 Kamen Rider Zero-One stars Fumiya Takahashi, Ryutaro Okada, Noa Tsurushima, Hiroe Igeta, Daisuke Nakagawa, Syuya Sunagawa, Nachi Sakuragi, Daichi Yamaguchi, Satsuki Nakayama, Kazuya Kojima, Asumi Narita, and Arata Saeki.
What are your thoughts on Zero-One getting a physical release here in the states? Let us know in the comments below. Also, be sure to come back to The Illuminerdi for more news and updates like this in the future!
KEEP READING: THE WEIRD HISTORY OF MIGHTY MORPHIN POWER RANGERS (2010)