John Leguizamo isn't the only Colombian cast member who was deeply touched by Encanto. Carolina Gaitán and Mauro Castillo who play Mirabel's Aunt Pepa and Uncle Félix in the film were asked how they felt about being part of a Disney animated musical film that shows the magic of Colombia.
Carolina answered, "I think Colombia deserves so much to be told in this way. Because we are all this. I mean, we are color, we are funny people, but great people."

Mauro added, "Diversity, music, more music that the people actually know from Columbia. The music from the Pacific Ocean is so, wow, it's a dream."
Carolina Gaitán also talked about how she relates to her character, Pepa. Carolina also revealed how her power, effecting the weather through her emotions, has an interesting connection to Colombia's own climate.
"I'm a little bit crazy as well. Overly dramatic, sometimes a little bit like a drama queen. But most of all, I think it's about vulnerability. Not to be in control of everything. And I really love that about Pepa. It's like, she is emotional, and she allows herself to be emotional. And I think that that's very beautiful about a person and about a character. And that's also a gift.

And I think also that being, like that part of Colombia, that is very specific, that is the climate variety that we have. And she's always, raining or thundering, and Colombia is like that, you know? Like in Bogota it's super cold, but then you go two hours from Bogota to another city and then you go to Cali for example it's super warm. So, it's everything about Pepa that I love."
RELATED: ENCANTO: LIN-MANUEL MIRANDA REVEALS HIS FATHER'S INFLUENCE ON THE FILM AND BREAKS DOWN HIS WRITING PROCESS FOR 2 NEW SONGS
Mauro Catillo shared how he relates to his character Felix and what it felt like to represent Colombia in Disney's newest animated musical film:
"Felix is the soul of the party. Yeah, yeah, he loves the music. He's a music lover. And he deeply loves his wife, Pepa, with her change of mood. And he loves everything of her. And he admires every single member of the family. He likes the food a lot. The salsa. He's very like me. Like me because I'm a salsa singer, and I love to dance, and show all of the goodness from the people in the Pacific, Columbia Pacific, and the Atlantic Pacific.

I'm from Cali, Colombia the world capital of the salsa, la capital mundial de la salsa. And this is a character that has a lot of things in common with me. For me, it's a pleasure to be here, sharing with those amazing talents, and sharing music with Lin Manuel, and, I want to hug everyone. Because, with this project in the middle of the pandemic, and it was a pretty difficult times for the entertainers like me. And I have a very special feeling with this Casa Madrigal and the Encanto family."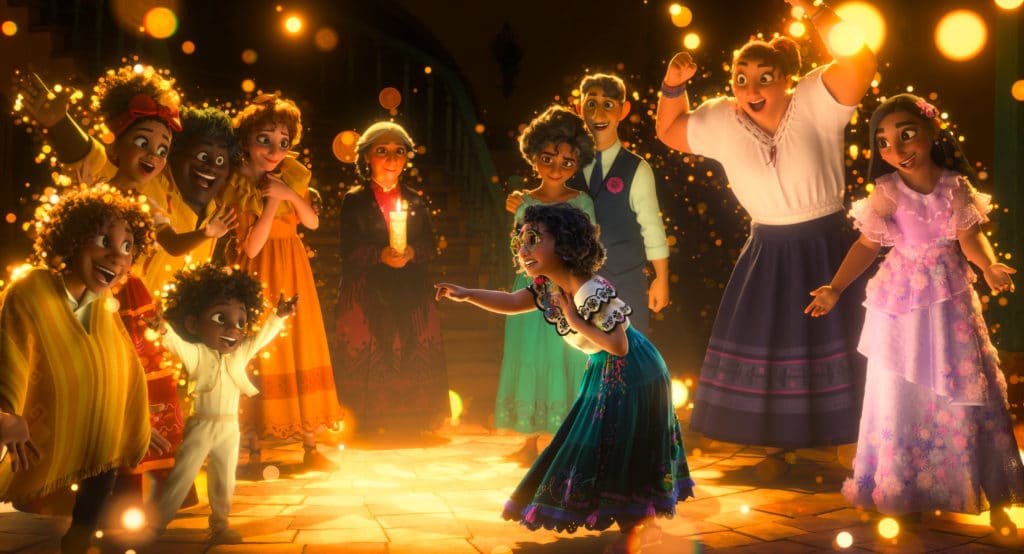 Magic is a huge part of Encanto, but the film features a specific kind of magic, magical realism. Magical realism is a major part of Latin American storytelling and the way that it seamlessly fits into the world of Disney animation makes it a perfect fit for Encanto in a number of exciting ways. Carolina Gaitán and Mauro Castillo were quick to commend Encanto's use of magical realism.
Carolina said, "There's something very particular that I can notice here in this movie, and it's the magical realism. And you can notice it in every single character."

Mauro added, "And every single frame."

Carolina continued, "You can notice it in every single frame, in every single scene, in every single song. So, it's magical to be part of finally something that could tell a little bit more and so highly about our country that we freaking love with our entire heart."
Representation is an extremely important part of media and for Disney representing Colombia through Encanto in a positive, beautiful light is an integral part of the film. The care that the filmmakers have taken in representing Colombia, the variety of musical styles that Lin-Manuel Miranda includes in the film, and the obvious excitement that the Colombian cast members have at being represented in the 60th canonical Walt Disney Animation Studio adds an extra depth of importance to Encanto.
Encanto is exclusively in theaters November 24, 2021. Are you going to see Encanto? Are you excited for Disney's Colombia based film? Leave your thoughts in the comments below or on our social media and check back with The Illuminerdi for more Disney and Encanto.
KEEP READING: ENCANTO WRITERS REVEAL THE INSPIRATION FOR THE MADRIGAL'S MAGICAL HOUSE AND EACH CHARACTER'S UNIQUE POWERS