When the sequel to 2019's Captain Marvel was announced, called The Marvels, fans were immediately anxious about the sequel given the lukewarm reception the original received. That worry was quickly debunked when Iman Vellani and Teyonah Parris were announced to reprise their roles as Kamala Khan (AKA Ms. Marvel) and Monica Rambeau (AKA Spectrum) respectively.
Despite that, since the start of production, almost no photos from the set have been taken, as has become the trend as of late. Doctor Strange in the Multiverse of Madness has not had a SINGLE photo leaked, Black Panther: Wakanda Forever and Thor: Love and Thunder have had hardly any as well. On the TV side of things, Secret Invasion hasn't had anything either, neither have The Guardians of the Galaxy Holiday Special or Guardians of the Galaxy Vol. 3. However, on one of the last days of production, new photos leaked from the set of The Marvels – and they are quite interesting.
RELATED: SPIDER-MAN PRODUCER EXPLAINS THERE ARE 3 SEPARATE SPIDEY UNIVERSES
However, on one of the last days of production, new photos leaked from the set of The Marvels – and they are quite interesting.
Iman Vellani In Costume As Ms. Marvel Showcased In New The Marvels Set Photos
The fan page @marvelsupdates on Twitter have provided some big set photos from The Marvels, and boy are they spoilery. The main one shows Kamala Khan in a brand-new costume, different than the one shown in Ms. Marvel set photos and some teaser footage.
Some other photos mainly show the set, but one shows an unknown figure in battle armor. In any case, the main focus is Vellani's new suit, and there have been mixed feelings on the costume. Some love it, some hate it. It's definitely an upgrade from the suit from Ms. Marvel season 1, though.
The set photos can be seen below:
One possible explanation for the new suit is that Kamala makes her first suit at home. When Captain Marvel supposedly appears in the series (likely in the final episode), recruits Kamala and gives her the new suit. Another possibility is that she feels she grows out of the old suit, and makes a new and upgraded suit for herself.
Both options are big possibilities, as they have happened several times before – look at Peter Parker's homemade suit evolving to a Stark industries one, or Iron Man's Mark 1 changing to Mark 2. We have yet to see any of Carol Danvers or Monica Rambeau's suits, but hopefully there will be some news soon.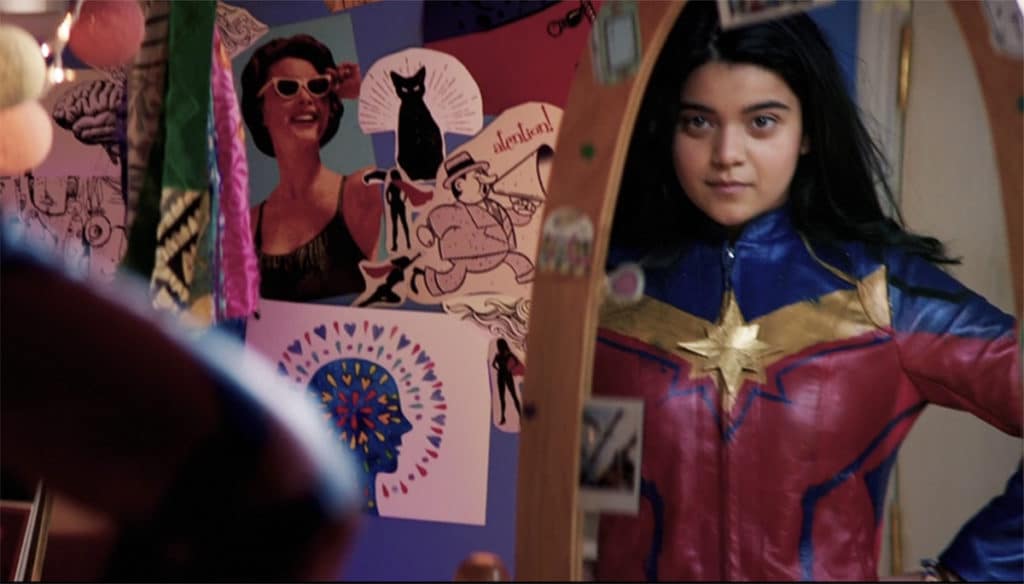 What do you think of these new set photos? What do you think of Kamala's newest suit, compared to the previous one? Let us know by mentioning us on Twitter at @The_Illuminerdi, and don't miss The Marvels when it premieres in theaters on February 17, 2023. Before then, however, you can catch Kamala Khan's first solo outing in Ms. Marvel, premiering Summer 2022 on Disney+.
KEEP READING: MAHERSHALA ALI SHARES EXCITEMENT TO PLAY BLADE AND THE CHALLENGE OF WESLEY SNIPES' SHADOW