The full list of the first wave of toys for Avataro Sentai Donbrothers has been released on social media. This includes all the items that fans can expect from The 36th Sentai series toy line. Among the items includes figures, a transformation device, role-play weapons, and even the robo and zords.
There has already been a lot of information regarding what the Donbrothers toys will include. The series will be a sequel to Zenkaiger, the first series being a sequel to another Sentai, and will be based around the Momotaro folktale.
RELATED: Power Rangers To Adapt Gosei Sentai Dairanger For New Comic-Book Series: Exclusive
 The series will also include an avatar-based theme, which includes alter forms, using CGI for the zords and will even have representation of past Sentai zords. Donbrothers, being a sequel to Zenkaiger, will have both Juran and Kaito, Zenkaizer, as part of the new series. This includes Kaito becoming Zenkaizer Black.
Avataro Sentai Donbrothers Toy Listings for 1st Quarter 2022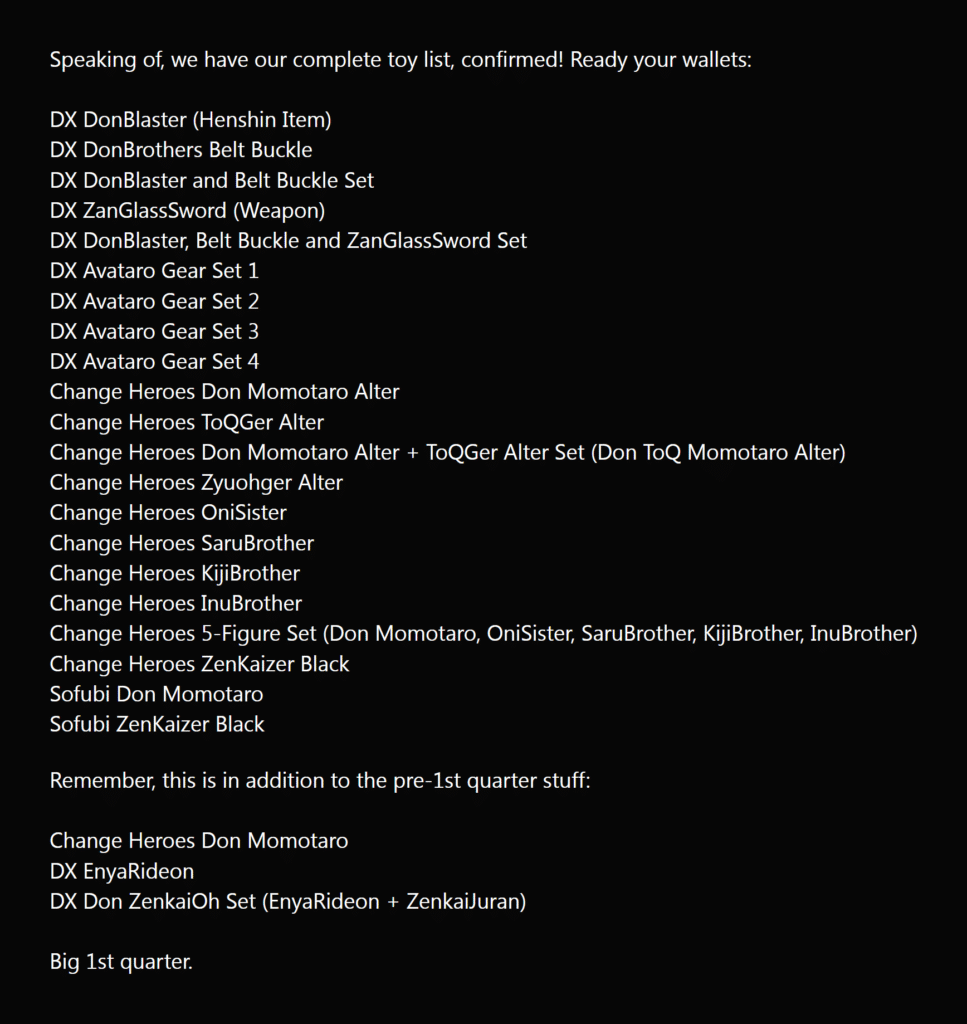 It's great that we are getting figures for every Ranger in this series immediately in the first quarter. All items are as you expect, including the wave of new Avataro Gears that should be presenting past Sentai like the Zenkai Gear. What is most fascinating out of all these is that the listing suggests that there will be two mechas already. This includes the pre-wave and the wave itself.
It's crazy that we are getting this new mecha that can combine with Zenkai Juran. It's great that they have another Zenkai Juran released in case fans have yet to collect the Zenkai-Oh Juran Gaon seen in Zenkaiger.
RELATED: JAMMINGERS THE MOVIE, AN ORIGINAL TOKU SERIES, RELEASES FIRST OFFICIAL TRAILER
The best part of these listings is finding out that we will get TokQger and ZyuOhger zords. These are previous Super Sentai teams that combine with Don Momotaro Alter, so a new mecha for the series is formed. This is what many fans originally expected to be included in Zenkaiger but at least this idea is being used now. So much is going to happen in Donbrothers but how great this is going to be is still to be seen. Hopefully, it won't be long until the first images appear but fans will need to wait.
What do you think of the first quarter listings? Which items are you most interested in? Are you going to add any of these items to your collection? Let us know on social media, or in the comments below, and keep following The Illuminerdi for more Super Sentai news.
KEEP READING: Exciting Details on The New Zord Ascension Project And Red Ecliptor For The Power Rangers Lightning Collection