The second Uncharted trailer goes all-in on the Tom Holland and gripping action iconic of the award-winning game franchise.
The iconic, witty, and adventurous treasure hunter, Nathan Drake, will be soon making his live-action film appearance this February. When it was announced that Sony Pictures was finally going to make a live-action adaptation of Uncharted, fans were excited but also nervous. As many people know, Uncharted is a very popular, and successful, video game franchise developed by Naughty Dog.
The video game franchise consists of four mainline games and two spin-offs. All of which were highly successful both critically and financially. Due to the games' amazing storylines and cinematic feel, many fans have suggested or wished, the franchise would be adapted into a live-action film. Sony heard these suggestions and started the development of an Uncharted film back in 2008. However the project went through development hell, and it took exactly seven years for the film to finally get to pre-production (2015).
RELATED: Uncharted Director Explains How Video Game Movies Go Wrong
It seems to have all worked out as the film finally got its director, producer, scriptwriter, and cast. When it was announced Spider-Man star Tom Holland was cast as Nathan Drake, fans were both excited and somewhat confused. The main reason for the confusion in Holland's casting is because the actor is very young, and has a youthful look and personality. This is a noticeable contrast to the games where Drake is depicted in his mid-30s to early 40s.
The casting has led fans to theorize this is an origin story for Nathan Drake. That theory was soon put down, as the director explained that the film does not take place in the games continuity or canon and is its own film. This had many fans worried until Sony released the first trailer of the Uncharted film. Fans across social media have generally reacted positively to Holland's first look as Drake. Now Following the hype of the first trailer, Sony just recently released another trailer for Uncharted, this time with even more action.
Uncharted Trailer #2
The new trailer has similar scenes shown as the first one, but with added or extended footage. The trailer first starts in New York City where we see Holland's Nathan Drake working as a bartender. We then see Drake serving a cocktail to Mark Wahlberg's Victor "Sully" Sullivan. We see Sullivan teasing Drake for his young age as a Bartender with Drake commenting how Sully is too old for prom. We then are shown shots of what appears to be Drake's or Sully's apartment.
In the apartment, we are shown maps and old historical textbooks with Drake commenting about how he would like to find the greatest treasure that was never found, and Sully commenting it's possible and easy by showing him a book. By the looks of the book, it seems that the plot for this film is based on Pirate Avery's treasure, which was the main focus in the fourth Uncharted game "A Thief's End."
RELATED: Sony Has Released The Official Uncharted Movie Poster Featuring the Film's 2 Huge Stars
We are then shown a pirate ship resurfacing in the ocean where the film's antagonist, Moncada played by Antonio Banderas, narrates the treasure's past. He explains to Drake that the treasure was found by his family five hundred years ago, but was lost after they were betrayed and killed.
We are then shown a beautiful church or cathedral in Valencia, Spain with Drake, Sully, and their new partner Chloe Frazer, played by Sophia Ali. We are then shown the trio in what appears a basement of the Cathedral trying to solve a puzzle, with Drake hilariously triggering a booby trap and almost getting Sully killed. We are then transported to Drake and Chloe in what appears to be an underground dungeon or cave, followed by what appears to be an antique auction house with Moncada and Sully present. There they are trying to steal, or get, a golden crucifix that seems integral to the film's plot.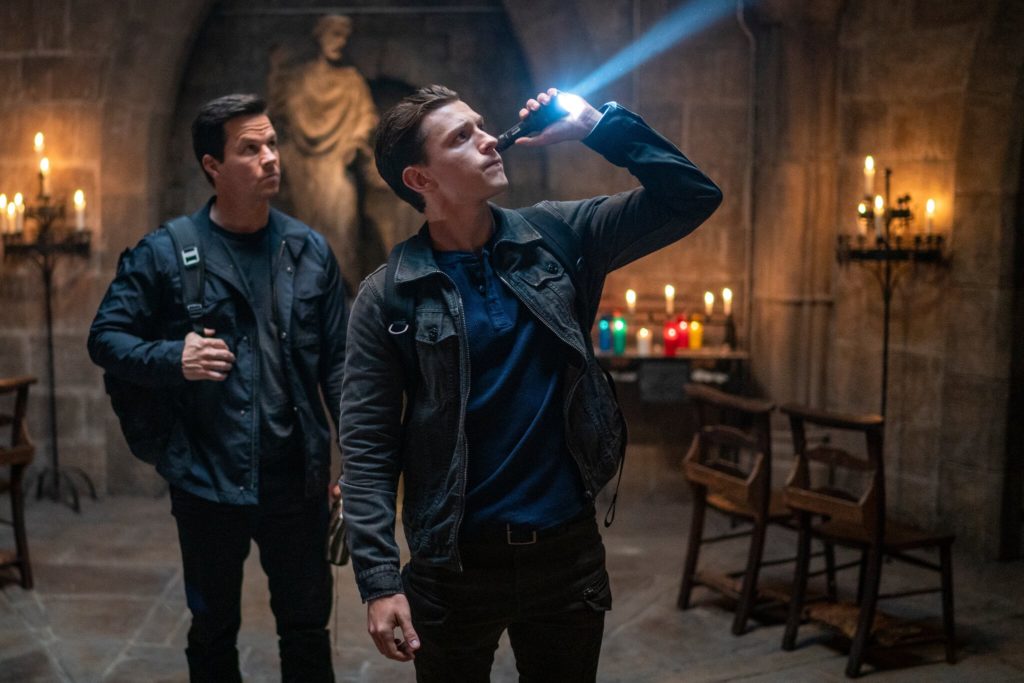 We then see Moncada's men try to take down and kill Drake at the auction house. This provides an opportunity to showcase Holland's acrobatic abilities. Sully was able to retrieve the Crucifix with Drake hilariously commenting that Sully left him there as a distraction. The next cut takes place in a plane action sequence where Drake is dangling in the air followed by a scene where Drake is sailing a boat at high speeds in the ocean.
The next scene features Drake talking about his brother Sam along with pictures of their childhood. A postcard is included that could potentially be a clue to his whereabouts to Nathan. The trailer then shows a shot of Drake's ring that was also featured in the first three Uncharted games, and also Drake learning that Sully knows Sam. This is followed by more action sequences, like Moncada's team arriving on an island, Sully going head to head with Moncada's henchwoman, and Drake finding two Pirate ships underneath a cave.
Lastly, we are shown a new scene that shows Moncada's men grappling the two pirate ships from the air with huge helicopters and pulling them to the surface. We then see Drake fighting Moncada's men on one of the ships in the air, featuring more awesome stunts performed by Holland. The final scene shows Sully breaking into a bar and finally showing off his iconic mustache with Drake hilariously commenting on it.
Overall the trailer was very exciting and had a lot more action. Even though it was just mainly reused shots of the first Uncharted trailer, we get to see more and learn more about the film's plot. But the big reveal is that we finally get to see Wahlberg's Sully in his iconic mustache.
Uncharted Synopsis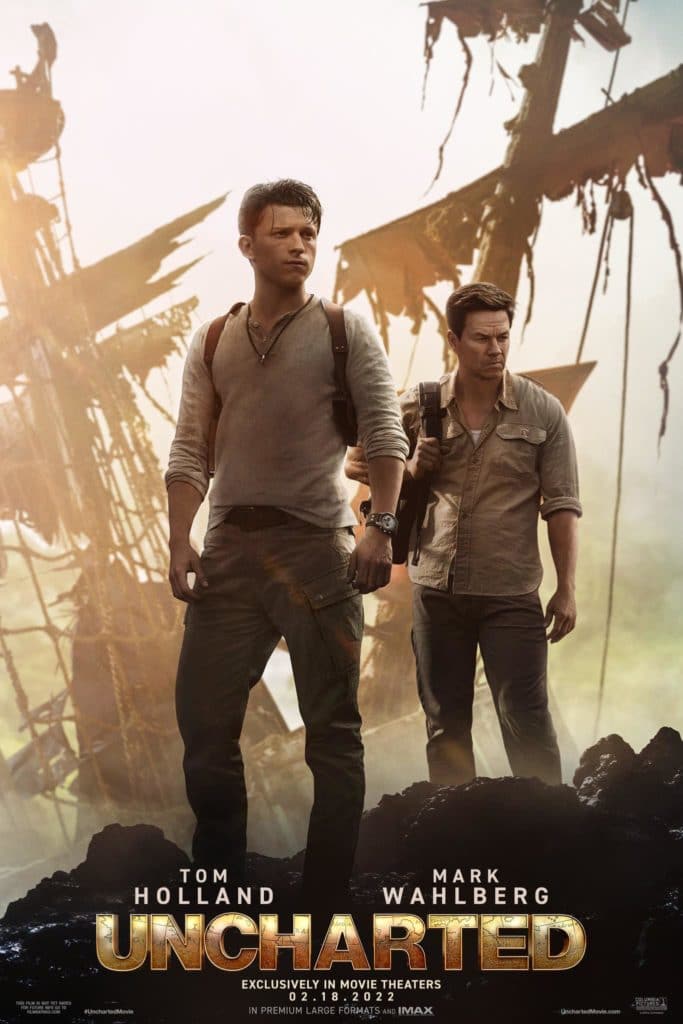 Based on one of the best-selling, most critically acclaimed video game series of all time, Uncharted introduces audiences to the young street-smart Nathan Drake (Tom Holland) and showcases his first treasure hunting adventure with wisecracking partner Victor "Sully" Sullivan (Mark Wahlberg). In an action-adventure epic that spans the globe, the two go in dangerous pursuit of "the greatest treasure never found" while also tracking clues that may lead to Nathan's long-lost brother.— Sony Pictures Releasing
Uncharted is scheduled to premiere on February 11th, 2022 in the United Kingdom and February 18th, 2022 in the United States and Worldwide. Uncharted stars Tom Holland, Mark Wahlberg, Antonio Banderas, Sophia Ali, and Tati Gabrielle. The film will be produced by Rafe Judkins, Art Marcum, and Matt Holloway. The film will be produced by Charles Roven, Avi Arad, and Alex Gartner. The screenplay will be done by Rafe Judkins, Art Marcum, and Matt Halloway. Chung-Hoon Chung will do the film's Cinematography. Richard Pearson will do the film's editing. Then finally the film will be directed by Richard Pearson. Sony Pictures will distribute the film
What did you think of the new Uncharted trailer? Which moment from the games do you hope is brought to life in the film? Does Whalberg pull off the mustache? Let us know what you think in the comments below and be sure to share all of your Uncharted theories and thoughts with us on Twitter.
KEEP READING: Rumor: Marvel Studios Eyeing Michael Giacchino To Direct Disney Plus Project