Hours will be lost as you sneak through dimmed floors with your favorite companion….well only campion. A cat.
Timelie is a wonderful balance of frustrating fun that will challenge even the most extreme puzzle lovers. Created by Urnique Studios, this game has recently launched on Nintendo Switch. The new release contains the base game, as well as 30 new levels in the Hell Loop DLC.
The game itself has a rather simple concept, work your way from one side of the maze to the other while not getting caught by the robotic guards. That's really all there is to know because plot is not really a thing in this game. The little story we do get is told through beautiful but ambiguous cutscenes with a strong cinematographic element. Which honestly is probably one of the best things about Timelie.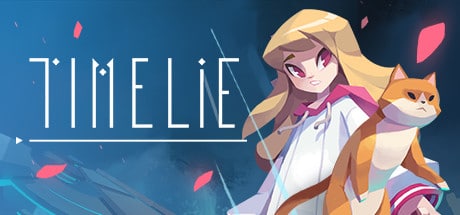 While the cutscenes are awesome to watch, the levels themselves can be very mundane with only the bright lights from certain panels to catch your eye. The neon panels are what will help you access different rooms as you try to slip by undetected. This game relies heavily on strategy, but there is also a huge part that falls towards trial and error.
RELATED: Rita Repulsa Joins Power Rangers: Battle for the Grid December 14th
The trial and error aspect isn't really a negative one when you consider the mechanics of the game. The whole premise is to use the nifty talent of bending time to help one's chance of not getting caught. This includes such controls as reversing time, which is great for when you run right smack into the guards. As well as, forwarding time to see the routes of the enemies before making moves.
Having these mechanics in the game offer, something rare. The inability of getting caught means you will never have to restart the level, unless you choose to. This is a great selling point for people who like to play games, but don't like the stress of failing at levels.
There are other abilities you get throughout the game like destroying enemies and rewinding time to restore broken walkways. However, the best ability comes in the shape of a cat. We meet the four-legged friend after passing a few levels and this is where things start to get complicated. The cat has its own abilities to help, like meowing and traveling through air vents. However, you also now must move both characters through these levels. Interchanging between the two is where the real skills and frustration come in.
Timelie Verdict
Overall Timelie is a simple yet challenging game for a wide range of players and puzzle solvers. Plus it's a great game to play if you have hours to dedicate to one sitting or just grabbing a quick game break. Check out the Timelie trailer above and buy your own copy via the Nintendo eShop for $19.99.
Are you going to check out Timelie? What would you do if you could rewind or fast forward time? Is a cat better suited for time manipulation than a dog? Let us know what you think in the comments below and share all your gaming thoughts and achievements with us on Twitter.
KEEP READING: VooDoo Detective Dev Team Discusses Love of Point & Click Adventures