Spider-Man: No Way Home brought Venom into the MCU, only to send him back to his own universe in a post-credit scene. Lucky for us, a bit of the symbiote was left behind, setting up a new Lethal Protector for the Marvel Cinematic Universe. 
When the post-credit scene of Venom: Let There Be Carnage set up a fight between Tom Holland's Spider-Man and Tom Hardy's Venom, fans were excited to see the two titans finally duke it out. Unfortunately for fans of Sony's Universe Of Spider-Man Characters, this turned out to be a misdirect. Kevin Feige and company apparently only wanted alien symbiote to crossover so that they could tell their own story with the symbiote. 
While a cinematic battle between Tom Hardy and Tom Holland is still in the cards, the question now is, "Who will become Venom in the MCU?" 
VENOM IN THE MCU: SPIDER-MAN BACK IN BLACK
The first and most obvious candidate to bond with the symbiote offshoot in the MCU is Tom Holland's Spider-Man. He was the first character to bond with Venom, his black suit is iconic and beloved by fans of Spider-Man 3, and many want to see Peter's symbiote saga redone after that same film handled it so poorly. This could also set the stage for Peter to fight Eddie, who may come back to the MCU to reunite with his lost goop. 
VENOM IN THE MCU: A DIFFERENT VERSION OF EDDIE BROCK
What if there is another version of Eddie Brock who exists in the Marvel Cinematic Universe. He could be played by Tom Hardy or a different actor. Since this would be a variant, the door is open for a new actor to give Brock a shot, or for Hardy to flex his acting muscles by playing two different Eddies. Maybe this Eddie works for The Daily Bugle and encounters the symbiote while on a reporting assignment. 
VENOM IN THE MCU: MAC GARGAN COULD BECOME VENOM INSTEAD OF SCORPION
Michael Mando plays Mac Gargan in the MCU, though fans may not remember his small role in Spider-Man: Homecoming. He has a Scorpion tattoo, teasing his evolution into the classic Spidey supervillain. After being arrested thanks to the super heroics of Spider-Man, Mac Gargan encounters Adrian Toomes in jail. He asks Toomes if he knows who Spider-Man is, teasing future conflict with the webhead. 
RELATED: 'Venom 3' Is In Development, Confirms Elated Producer
Since No Way Home means Vulture doesn't know who Peter Parker is, this tease can no longer be paid off appropriately. Considering that, another interesting route to take Michael Mando's Mac Gargan would be the path of the Lethal Protector. If he was to become Venom in the MCU, he would probably be a murderous, evil version who eats brains indiscriminately. This would also be a perfect candidate for the Dark Avengers, and he could fight alongside US Agent and Black Widow. 
VENOM IN THE MCU: WHAT IF THE GOOP IS SLEEPER AND NOT VENOM?
The logistics of Venom's return to his native reality at the end of Spider-Man: No Way Home are confusing. We have to wonder why that bit of the symbiote was left behind while Eddie and the rest of it were otherwise transported home. What if this isn't part of Venom like many assume but in fact its spawn?
If another symbiote is born like Carnage, but here in the MCU, this reality would be that alien's native reality. Venom gave birth to another (mostly) black symbiote called Sleeper in the comics a few years ago. If the Sleeper symbiote was born in the MCU, it would drastically alter the trajectory of the Symbiote/Spidey narrative, and it would introduce a bold new symbiote design to live-action. 
VENOM IN THE MCU: TOM HARDY'S EDDIE BROCK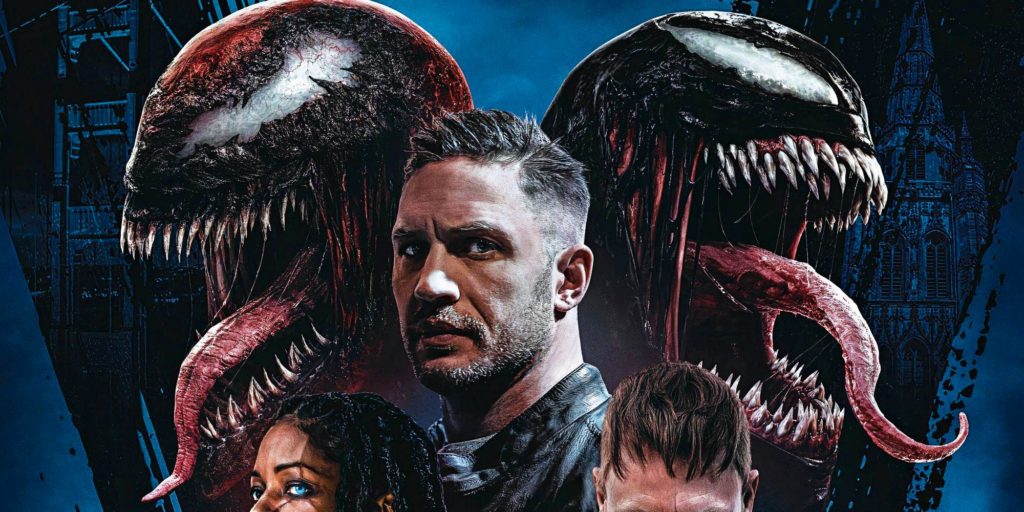 While Spider-Man: No Way Home seemingly restored the multiverse to its rightful state, we know that all is not as it seems. With The Multiverse Of Madness just months away, reality will not remain stable. On top of that, the trailer for Morbius, which is not in the MCU but in Venom's universe, features Michael Keaton's Vulture, an MCU character. So Eddie Brock may not be as far from the MCU as it seems.
RELATED: Spider-Man: No Way Home Writers Address Why Doctor Strange's Spell Drew Venom to the MCU
If Doctor Strange 2 or Morbius were to unify or at least open a bridge between the two universes, Tom Hardy could feasibly play the role in the MCU. His version is beloved by many, and the actor has some serious range, so his return could be the best option. 
VENOM IN THE MCU: FLASH THOMPSON AS AGENT VENOM
Tony Revolori is not the first actor to play Flash Thompson, but he has easily delivered the most interesting performance. He's a bully to Peter whose parents ignore him. Flash is a selfish, entitled and rude person, but he does look up to Spider-Man, so he has a moral compass in him somewhere.
In the comics, Flash Thompson lost his legs while fighting for our country as a soldier. He was recruited for a secret assignment to become Agent Venom. He bonded with the symbiote, which gave him the ability to walk and do the dirty work of the US Government. While their relationship wasn't the most long-lived, Agent Venom is a fan-favorite and it would be a blast to watch the MCU's Flash don the suit.
VENOM IN THE MCU: MILES MORALES SHOULD BE THE LETHAL PROTECTOR
This one is admittedly a bit of a long shot, but a girl can dream. Miles Morales enters the MCU in a solo project or Spider-Man sequel film, and shortly after learning to fight crime as the webhead, becomes one with thesymbiote. This would be a twist on the Symbiote Saga that fans would never see coming, and it would serve to distinguish the MCU's Miles Morales from the Into The Spider-Verse version. Can you imagine the excitement of watching a venomized Miles fight Peter Parker's Spider-Man? 
Whoever plays Venom in the MCU, fans can rest easy knowing the character is in the hands of Marvel Studios now.
Who would you like to see bond with the symbiote MCU? Let us know your thoughts in the comments below or on our social media! 
KEEP READING: Spider-Man: No Way Home Silhouettes have been Identified