The Book Of Boba Fett has proven to be an interesting character study of the infamous former bounty hunter. Notably through the Tusken Raider flashbacks that dig into Boba Fett's past and show how he transformed from the bounty hunter who fell into the Sarlacc pit into the new Daimyo of Mos Espa.
The Illuminerdi had the opportunity to sit down with Rory Ross who played one of the Tusken Raiders in the first two episodes of The Book Of Boba Fett. Ross talked about the transformation story that fans are seeing play out on screen and the importance of the Tusken Raiders in Boba's journey.
THE BOOK OF BOBA FETT ACTOR RORY ROSS BREAKS DOWN WHO THE TUSKEN RAIDERS REPRESENT TO BOBA FETT
"Obviously yes, you're seeing that crime story and you're understanding more of that. And you're seeing the Hutts. But at the same time, I think it's really a transformation journey. And I think before episode 2 came out and people were kind of like, "why are there Tuskens? Why is this such a huge thing?" And one of the things I really enjoyed and I think this was Star Wars Explained that said that, so I want to give credit to them, but exploring the idea that each Tusken that you were seeing is a representation of his journey, of Boba's journey."

– Rory Ross –
RELATED: THE BOOK OF BOBA FETT MAY BE TEASING AN INTRIGUING CONNECTION TO CRIMINAL SYNDICATE CRIMSON DAWN RUN BY DARTH MAUL AND EMILIA CLARKE'S QI'RA
Rory Ross explained how the Tusken child and warrior represent who Boba Fett was in his past. First, as a child living with his father Jango Fett on Kamino until Jango was killed on Geonosis. The warrior represents who Boba was in the original Star Wars trilogy. Boba Fett himself has shown great respect to the Tusken's due to the fact that they are warriors, like himself.
"Seeing the child and understanding that that's kind of like him when he was kind of coming to age and seeing his own father, what happened to him in Geonosis and sort of that self-exploration of it. That's the child there that he meets as the Tusken. That's why he spares him, he sees himself in that.

Then when we see the warrior, whose played by Joanna Bennett fantastic job! If you haven't seen some of her work, Gal Gadot she did the stunt double for that and then also Captain Marvel. She was awesome! But she, as her character, as the Tusken warrior she is Boba. Where we see him at the climax of Empire Strikes Back and he is a badass, he's savage, he's very powerful.

Yet even in that time when we see him in Empire Strikes Back he still has to ask permission, or not ask permission, but Vader says no disintegrations. He says, you can't do that. So even at that time Boba still has chains around him in a sense. He's still restrained. He's not that full person.So there's the warrior that's training him and that's sort of that element of his life."

– Rory Ross –
What's interesting is how Rory Ross explains the Tusken Chief as Boba Fett's future. Ross describing Boba Fett as restrained while being a warrior harkens back to the visuals of Boba's hallucination induced quest in episode 2.
RELATED: THE BOOK OF BOBA FETT FEATURED A SLY BLINK-AND-YOU'D-MISS-IT CAMEO FROM THE MANDALORIAN CHARACTER
"Then you see the Tusken Chief and that's what he's dreaming. That's what he wants, where he doesn't have to listen to anybody. He's not under any command, he is the commander. And so, then you see that playing out where now he's in Mos Espa and he's like, I am taking over Jabba's place. This is me. And so, it's seeing that journey and I think that's just really cool in that regard.

And then going into episode 2 you see almost that rebirth of Boba. Where he goes from the sarlacc pit and he has to go on this spiritual journey and sort of break the bonds in sort of maybe where he's been trying to be his dad. He's breaking apart and saying, no this is me and he comes away with his stick that becomes the gaffi."

– Rory Ross –
The way that the Tusken Raiders seem to represent the different stages of Boba Fett's journey is fascinating from his time as a child who loses his father, to one of the most infamous bounty hunters in the Empire, to his future as a leader trying to rule through respect instead of fear.
RELATED: THE BOOK OF BOBA FETT SHOULD BRING THE BRUTAL BOUNTY HUNTER DURGE INTO LIVE-ACTION
The Book Of Boba Fett is exploring who this fan favorite character is in a way that has never before been done on screen. Boba Fett's past was explored a bit in The Clone Wars, but Book Of Boba Fett is finally allowing Boba to move past who his father was and find his own path in the galaxy, largely thanks to his time with the Tusken Raiders.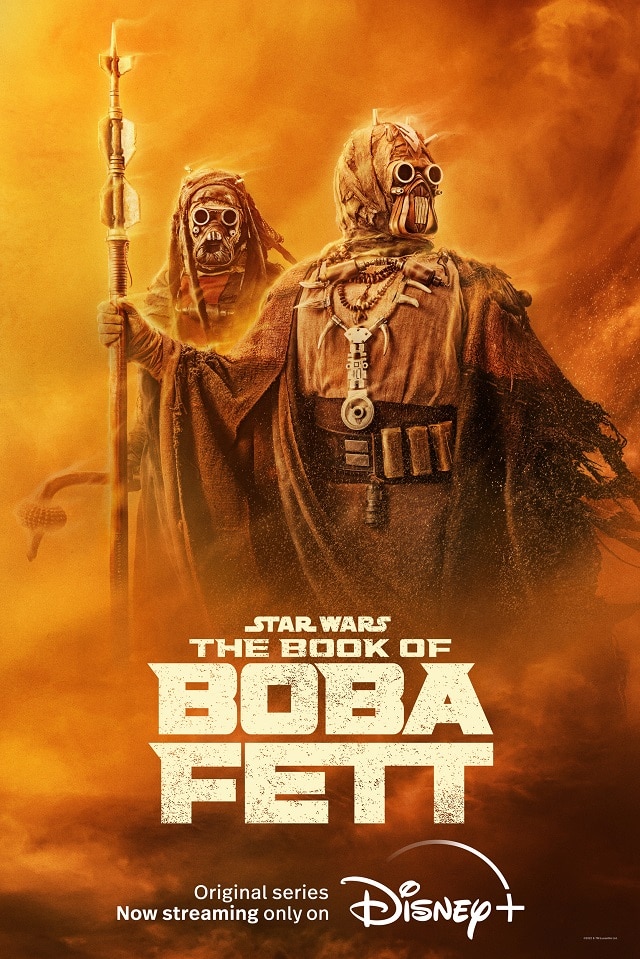 New episodes of The Book Of Boba Fett debut on Disney Plus Wednesdays. What do you think about Rory Ross' break down of the Tusken Raiders and how Boba identifies with them? Are you familiar with Rory Ross? What would you like to see Rory Ross in next? Leave your thoughts in the comments below or on our social media and check back with The Illuminerdi for more Star Wars and The Book Of Boba Fett.
KEEP READING: THE BOOK OF BOBA FETT IS RUMORED TO FEATURE ONE OF THE MOST FAMOUS STAR WARS CHARACTERS OF ALL TIME