Kirby and the Forgotten Land brings our puffy pink protagonist to an unknown land in this 3D platforming adventure.
The powerful puffable protagonist is platforming in 3D in his new game Kirby and the Forgotten Land coming to the Nintendo Switch on March 25. In this new game, Kirby will take his copy abilities to another dimension to take down the Beast Pack and explore this unknown land. But, Kirby won't be alone as players can have a co-star play as Bandana Waddle Dees to team-up and save the kidnapped Waddle Dees of this new land. See the co-op play, Kirby's new copy abilities, and learn more about the new land in the official trailer and information from Nintendo.
Kirby and the Forgotten Land Trailer
In this sweeping adventure, you'll make use of a range of Kirby's abilities to combat foes and navigate vibrant 3D environments. Progress through a world in which nature and a past civilization have fused in a series of areas packed with platforming challenges. When you set out to free the Waddle Dees being held captive at the goal point at the end of each stage, you'll want to explore every nook and cranny to rescue as many Waddle Dees along the way, too!


The Beast Pack will put up a challenge, so along with Kirby's iconic copy abilities there are new additions to Kirby's repertoire – the Drill and Ranger copy abilities! Submerge into the ground with the Drill copy ability and attack enemies from below with a massive blow. Your foes will soon be seeing stars when Kirby unleashes the Ranger copy ability, which also lets you set your sights on a faraway enemy.


Kirby can have a co-star on his adventure, too! When you'd like to invite a friend or family member along for the adventure, you can have a second player join the journey as Bandana Waddle Dee. He can launch a variety of attacks using his spear. Quickly begin two-player co-op play* on the same system by sharing a Joy-Con … especially when you feel like driving home a point!


Kirby and the Forgotten Land also introduces Waddle Dee Town, which will be the central hub of your adventure. The town will develop more and more based on the number of Waddle Dees you rescue as you progress. You will notice different shops opening and be able to enjoy some of the townsfolk's favorite games. Kirby can even help out in the Waddle Dee Café.

You'll need to quickly prepare customers' orders to keep them satisfied and aim for a high score. You'll also encounter Wise Waddle Dee in Waddle Dee Town, who will pass along helpful hints. By connecting to the internet, you can learn details based on global player data, such as the total number of Waddle Dees rescued around the world and the current most popular copy ability.

Nintendo
RELATED: Check Out The Free-To-Play My Hero Academia: Ultra Rumble Announced for PS4, Xbox One, Switch, and PC
This unknown land and the Beast Pack look to be a handful. However, the co-op aspect, which is only local co-op not online, will definitely help. The Waddle Dee Town looks to be a place where one can lose hours upon hours of their time exploring and playing mini-games. A sign of a truly great adventure game is the ability to be distracted from it by the smaller games within. If the trailer wasn't enough to get you hyped, Nintendo has also provided numerous images of the game to show off a bit more.
Kirby and the Forgotten Land Images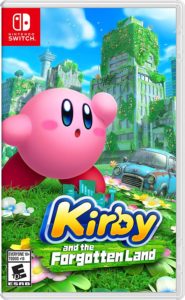 Kirby's new game looks to copy the magic of the franchise, and also bring it to new dimensions by going 3D instead of the usual 2D. It is exciting to see new abilities be added, however, nothing has ever beat the ability to combine abilities like Kirby 64: The Crystal Shards, in my opinion. But, none of the games have ever lacked in enjoyment with or without that, and Kirby and the Forgotten Land definitely does not look to be lacking in any sense. Kirby and the Forgotten Land is coming exclusively to the Nintendo Switch on March 25, 2022. Pre-orders are available now at the suggested retail price of $59.99.
What do you think of Kirby and the Forgotten Land? Which Kirby game is your favorite? Who are you going to let play was Bandana Waddle Dee? Let us know what you think in the comments below and share any of your Kirby memories with us on Twitter.
KEEP READING: Pokémon Legends: Arceus – Meet Some Exciting New Faces from the Hisui Region Ahead of 1/28 Release