Kurt Angle confirms he is returning to WWE in the near future.
On the latest episode of The Kurt Angle Show, Kurt Angle breaks some big and exciting news. He will be returning to WWE in time for the build up to WrestleMania. The last time we saw him in WWE was just this weekend with his old Team Angle factionmate, Shelton Benjamin, on Benjamin's Instagram. However, we won't have to wait much longer for Kurt Angle to return to WWE TV as he will be with the company for the "next month or so" according to the star.
RELATED: SAMI ZAYN SIGNS A NEW CONTRACT WITH WWE
Angle further explained that WWE contacted him about making a return to the company recently:
"I did [receive a call] from WWE and they want me to be involved in the show for the next month or so," Angle said. "I'm really excited about it, so we'll see what's in store for me." H/T To Wrestling Inc. For Transcription
After A Loss Angle Moved To A Backstage Role
Kurt Angle retired after his loss to Baron Corbin at WrestleMania 35 in 2019. He stayed with the company as a behind-the-scenes employee, but was released by the company in April 2020 because of budget cuts. He had not been seen with WWE since then. However, luckily it looks like they didn't part on bad terms.
Angle said he had been offered a job over at AEW multiple times and for multiple roles. He never made an appearance of any kind in AEW and it looks like it won't happen anytime soon as he makes his WWE return very soon.
RELATED: WWE AND DISNEY INK THEIR FIRST DEAL
We don't know what this role will entail. He could be working backstage again, as a GM like he had before or maybe even a manager role. However, on the previous episode of his podcast he talked about wanting to come out of retirement and wrestle again. I would love to see him in any of those roles because he is so immensely talented.
The obvious roles if he returns to TV in a manager role would be with Alpha Academy along with Chad Gable and Otis or perhaps with Brock Lesnar. Lesnar had his advocate, Paul Heyman, turn on him and side with Roman Reigns at Royal Rumble. Maybe Angle could be his new advocate/manager/enforcer and miss it up with his opponents.
The Great Lord William Regal Released And Besmirched
On his podcast Angle also talked about William Regal's release earlier this month and his thoughts on Regal's impact and his surprise by WWE's decision.
"I was surprised, he was a huge asset to the company," Angle said. "He was a great trainer and coach, one of the best technicians I have ever known. He was a big plus for the company. I was really shocked they let him go."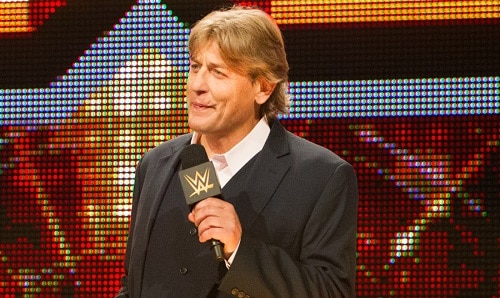 Regal besides being one of the best technical wrestlers of all time and one of the most underrated wrestlers during his time in WCW and WWE he was also a great GM. For the last eight years Regal was the GM for NXT. Regal had been with WWE for over 20 years and his release was shocking for all of the wrestling community. If he moves over to AEW or IMPACT that is a huge get because he is good at everything both inside and outside the ring.
What do you think of Regal's release? Do you think he will go to AEW or IMPACT? Are you excited to see Angle return to WWE? Would you like to see him wrestle again? Or should he be in a manager or GM role? Or do you think he will take on a backstage role again? Would you like to see Angle manage Alpha Academy or Lesnar? Leave a comment below or over on Twitter and let us know who you think Angle should wrestle if he does return to in-ring action.
KEEP READING: AEW STAR FRANKIE KAZARIAN RE-SIGNS WITH AEW AND OTHER BIG CONTRACTS EXPIRING SOON
Sources: The Kurt Angle Show, Wrestling Inc., The Kurt Angle Show