Rogue Sun, a new sci-fi adventure comic book series published by Image Comics, opens with a solid first issue.
Boom! Studios superstar Ryan Parrott, who has penned multiple projects in the Power Rangers comic book universe (Mighty Morphin, Power Rangers, Mighty Morphin Power Rangers/Teenage Mutant Ninja Turtles), has teamed up with artist Abel, colorist Chris O'Halloran and letterer Becca Carey to create this new superhero story.
ROGUE SUN #1 IS AVAILABLE FEBRUARY 23 2022
The first issue sets the stage for a new superhero saga of epic proportions. The hero of Rogue Sun is a teenage boy by the name of Dylan. Estranged from his father and prone to bullying, Dylan is rather rough around the edges. But he clearly has a strong bond with his mother, and a chip on his shoulder. So when Dylan's father is killed by a supervillain, and Dylan is presented with his father's mantle, having something to prove goes a long way.
RELATED: GUGU MBATHA-RAW CONFIRMS THE RETURN OF RENSLAYER IN LOKI SEASON 2
He accepts his duty to help his mother, and to prove that he can be a better hero, and a better person than his father ever was. The first Rogue Sun was not a true gentleman. Dylan's mother explains in a tragic bit of backstory that when he left them, she convinced herself it was because the responsibility of family and superheroics was too much, and too dangerous. Her belief that he left to protect her and Dylan was crushed when he remarried into wealth, and started a new family.
Dylan's siblings from his father's second family are set up as pompous, spoiled brats who want the power of the Sun Stone, which turns the wielder into the Rogue Sun. When, at the reading of his will, Dylan is bestowed with the Sun, and the responsibility and power that come with it, they are not exactly thrilled. While their jealousy could be just that, a simple coveting of a supersuit and their father's legacy, it could develop into something darker.
ROGUE SUN #2 ARRIVES AT YOUR LOCAL COMIC SHOP ON MARCH 30, 2022
I would not be at all surprised if Dylan's half-siblings develop into some of his primary antagonists as this superhero saga continues. Blood ties are integral to this story from issue one, in more ways than I can reveal without spoiling the issue's shocking surprises. My point is that turning Dylan against his family would be a clever, tried and true trajectory for the Rogue Sun comic.
There are two supervillains introduced in this first issue. The first is an unnamed mysterious ghoul-like figure who takes the life of the original Rogue Sun, setting the story in motion. They ominously claim to be the culmination of The Sun's failures, and "the end of his story". The second supervillain is a masked fellow named "Sauve", and they were my favorite part of Rogue Sun.
Abel and Chris O'Halloran's chemistry as illustrator and colorist is at its peak when Suave is in a panel. The world melts away into a soft pink as Suave smoothly and swiftly defeats Dylan in his first outing as Rogue Sun. Suave has a sharp tongue, a quick wit, and a history with Dylan's father. I cannot wait to see Suave return, hopefully in Rogue Sun #2, which comes out on March 30, 2022.
Rogue Sun is a stellar accomplishment from the creative team of Parrott, Abel, Carey and O'Halloran. The titular hero reminds me of Jason Todd in many ways, and as a big fan of Red Hood and any well-written superhero story, I'm hooked. I highly recommend you check out this amazing new comic book and get on board while the story is just beginning.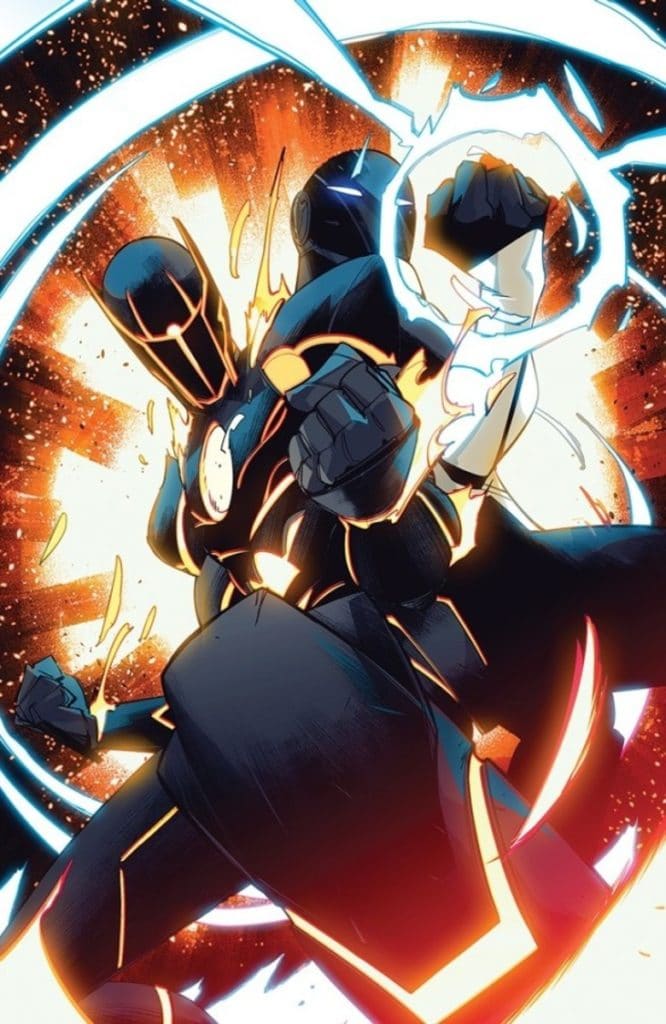 ROGUE SUN OFFICIAL SYNOPSIS
Yesterday: New Orleans' greatest hero, ROGUE SUN, was murdered. Today: rebellious teenager DYLAN SIEGEL discovers that Rogue Sun was his estranged father, Marcus—and that he's inherited his father's mantle. Tasked with protecting our world from the forces of the supernatural—and solving his father's murder—Dylan will be forced to come to terms with the man he's spent the majority of his life hating. From acclaimed writer RYAN PARROTT (Mighty Morphin, Power Rangers, Dead Day) and rising star artist ABEL (Harley Quinn, Crimes of Passion) comes A SUPERNATURAL MURDER MYSTERY that explores the complicated bond between father and son and cements itself squarely in a corner of the IMAGE COMICS SUPERHERO UNIVERSE!
The second issue of Rogue Sun will be available digitally and wherever comics are sold on March 30, 2022, with issue #3 arriving on April 27, 2022.
What did you think of Rogue Sun #1? Let us know your thoughts in the comments below or on our social media!
KEEP READING: NEW UNCHARTED SCENES NODS TO VIDEO GAME ORIGINS