Turning Red takes many of us on a walk down memory lane through the eyes of Mei Lee, a Chinese-Canadian girl on the brink of turning thirteen with all of the horrors and wonders of entering adolescence.
Embrace Your Red Panda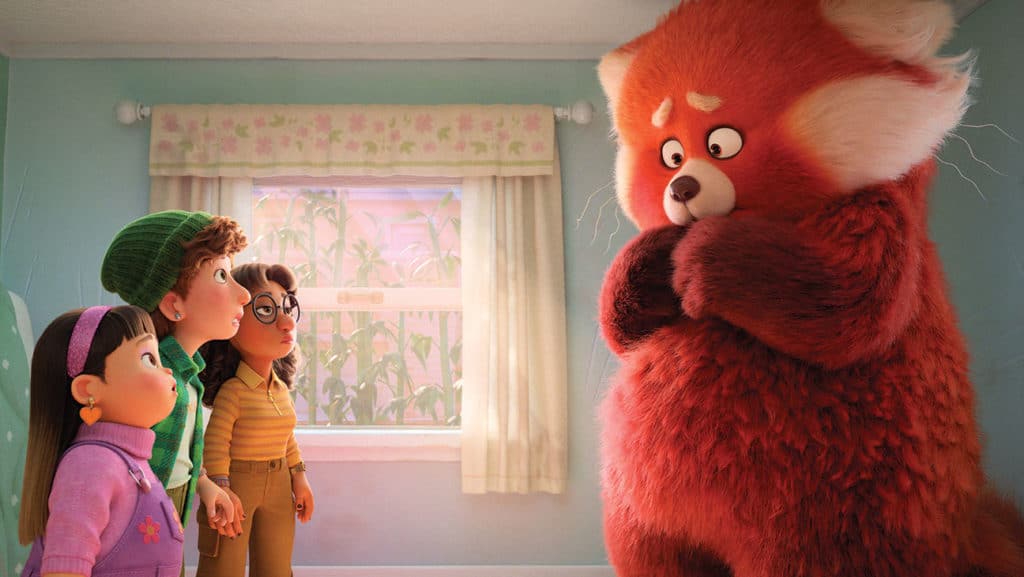 To simply say that Turning Red is about a girl who transforms into a red panda every time she gets nervous or excited wouldn't do this film justice. There's so much symbolism to uncover beneath the surface. The plot device of Mei transforming into a Red Panda whenever she doesn't want to represents interpersonal conflict. Her old self was resisting her new self. While she's excited about growing up she's uncertain about her future and fearful of not living up to her mother's expectations. Of course, a Disney/Pixar movie is not going to end with the lead living in a perpetual identity or existential crisis. Mei successfully found inner peace in beautiful cathartic moments.
Becoming a teenager can be a nightmarish process especially if you're a girl, so it's always instrumental to have friends and family you can lean on through the turbulent times ahead. Those relationships play a vital role in our lives as they do in this movie. The love among Mei, her best friends, and family, most especially her mother was a connective tissue that held the story together.
RELATED: Disney+ Original Shorts "Ice Age: Scrat Tales" Key Art Available Now
Every scene with Mei and her friends had a satisfying familiarity as they feel exactly like friends you would have grown up with. They're awkward, diverse, hilarious, loyal and in total synchronicity with one another. The sharp writing along with excellent acting for every single one of those characters made for a fun and captivating time watching them on screen.
Hats Off To Turning Red's Director
There's looming confident energy throughout the film and that's primarily because of Domee Shi. She directed this wonderful film she wrote alongside Julia Cho for Disney's Pixar Animation Studios. In less than ten minutes into the movie, Shi makes Turning Red stand out above the rest of Pixar's works while maintaining some of its signature animation style. The story wastes no time, it is straightforward to keep you invested in Mei's journey of self-discovery and induction into the messy realm known as adolescence.
A Round Of Applause For The Actors
All of the actors poured out their energy into their characters further contributing to Turning Red's charm, but Rosalie Chiang and Sandra Oh lead triumphantly as the mother-daughter duo, Mei and Ming Lee. Rosalie Chiang may only have a handful of acting credits, but she makes her talent clear to us as she grasps the psychology behind Mei's persona to deliver an animated yet lively and relatable performance. Each scene she shared with Sandra Oh was either hilarious, heartwarming, melancholic, or mortifying for teenage girls.
Sandra Oh was having the time of her life playing Ming, she was a scene-stealer and undoubtedly the funniest person in the movie. I am in stitches remembering a particular scene with her right now. I can't stress enough how much I can't wait for you to see this movie. Anyway, let's not forget that Sandra Oh was not only there to bring giggles. Oh is a veteran in the film industry and a master of her craft, she has no problems transitioning from an eccentric overbearing mother to a compassionate loving one.
RELATED: X-Men '97: Episode Count & Tentative Release Date Revealed
Turning Red is a great movie. I'm not even a big fan of animation because I generally prefer seeing how real people react and emote in front of a camera but I must say, I'm pleasantly surprised by how much I enjoyed this film. The movie is adorable, charming, hilarious, and poetic. I fully intend on watching it again when it arrives on Disney Plus on March 11th.
About Turning Red
Set in Toronto between 2002 and 2003, Turning Red centers around Meilin "Mei" Lee, a confident 13-year-old Chinese-Canadian who is torn between staying her mother's dutiful daughter and the chaos of adolescence. However, one morning after she witnesses a nightmarous dream, she is horrified to discover that she has turned into a giant red panda, later learning that her ancestors have a shared history with the species. Whenever she gets too excited or stressed, she "poofs" into the red panda time and again.

The film stars the voices of Rosalie Chiang, Sandra Oh, Ava Morse, Maitreyi Ramakrishnan, Hyein Park, Orion Lee, Wai Ching Ho, James Hong, Tristan Allerick, Addie Chandler, Jordan Fisher along with Josh Levi, Topher Ngo, Finneas O'Connell, and Grayson Villanueva.
Will you be watching Pixar's Turning Red on Disney Plus when it comes on March 11th, 2022? Let us know in the comments below. If you're a Disney/Pixar fan, you're more than welcome to follow us on Twitter or Facebook so you don't miss more reviews or other content like this in the future.
KEEP READING: American Born Chinese Announce 8 Cast Members for the Bold New Disney+ Original Series