The ultimate Transformers toy just got more tricked out, since last year saw the launch of the Flagship Transformers Optimus Prime Auto-Converting Programmable Advanced Robot from Robosen Robotics (Shenzhen) Co. Ltd.
This premium item, priced at $749.99, is the ultimate immersive, interactive Transformers toy experience. But what was it missing? Optimus Prime's trademark G1 trailer and his little buddy, Roller. Well now, Hasbro has revealed another new collaboration with Robosen Robotics that will bring an auto-converting Trailer and Roller for this premium, deluxe, auto-transforming Optimus Prime toy.
RELATED: CRUNCHYROLL CONFIRMS SIMULDUB LINEUP FOR SPRING 2022 ANIME & REVEALS SPY X FAMILY ENGLISH CAST
The Transformers Optimus Prime Auto-Converting Trailer with Roller – Collector's Edition is a companion piece for the Optimus Prime toy. It features a trailer based on the original G1 design and measures a whopping three feet in length. The trailer also comes packed with an autonomous Roller to expand Optimus Prime's arsenal against the Decepticons. With Optimus Prime, the Trailer, and Roller, Transformers fans will have the purest, auto-converting Optimus Prime experience in history.
You can check out the real trailer for the new auto-converting kit below, complete with narration by legendary Optimus Prime voice actor, Peter Cullen:
RELATED: TRANSFORMERS: EARTHSPARK ROLLS OUT ON PARAMOUNT+ THIS NOVEMBER
AUTO-CONVERTING OPTIMUS PRIME TOY NOW HAS TRANSFORMABLE TRAILER WITH ROLLER
The Trailer kit will be able to auto-convert into Battle Mode. The additional Roller piece is fully controllable from the Trailer's combat deck. The Flagship Trailer and Roller Set are also packaged with a storage case with a handle for easy transportation. That's necessary considering it is three feet long. The set also includes an individual Serialized Number, an Autobot Magnetic Car Badge, a Metal Challenge Coin, and a Sticker Pack.
The new Trailer set runs on Robosen's proprietary servo motor technology to give fans an immersive, interactive experience. Much like the Optimus Prime toy, Roller and the Trailer can be controlled via a digital app. Roller also comes with a human sidekick, Spike Witwicky. Prime's blaster can also be mounted on Roller for some extra firepower.
In terms of function and automation, the Trailer's rear door can be opened with a voice command to drive Roller up or down the ramp gate. The Trailer set can be towed to Optimus Prime while he's in his vehicle mode. The Trailer can be opened up for Battle Mode for various combat and defensive positions for Optimus Prime as well.
Speaking on the latest collaboration with Hasbro, Robosen USA Director Sean Tang commented via a press release, "We are thrilled to continue to collaborate with Hasbro and create an awe-inspiring experience with the addition of the Trailer and Roller Set for the fans of the Transformers franchise." He continued, "Transformers is one of the most iconic brands in history, and the new Trailer and Roller Set will get fans even more immersed in the action."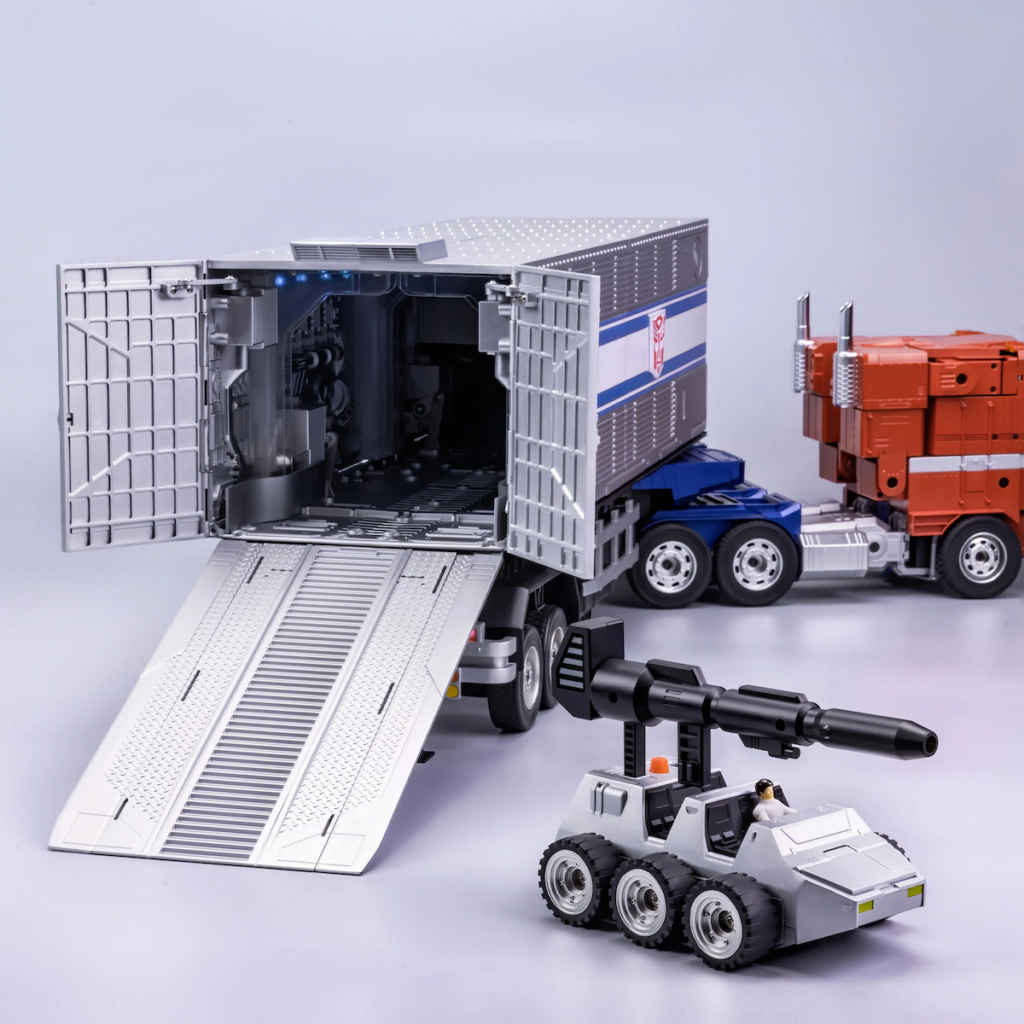 Hasbro Licensed Consumer Products & Business Development Head Casey Collins added, "Launching the Flagship Transformers Optimus Prime robot last year with Robosen was a successful moment in elevating branded play for collectors. The new Trailer and Roller Set is an ideal companion piece to further enhance our fans' Transformers experience."
WHAT'S THE PRICE AGAIN?
The Flagship Trailer and Roller Set is officially available now at HasbroPulse.com and Robosen's official website. Now, much like the Optimus Prime set, this set will not come cheap. As a premium, limited edition item, it retails for the price of $749.99. The auto-converting Trailer with Roller set is expected to ship later in December.
RELATED: HASBRO REVEALS STAR-STUDDED ROSTER OF CELEBRITY AND MUSICAL GUESTS FOR THE RETURN OF HASBRO PULSE CON
In case Transformers collectors missed the initial Flagship auto-converting set, it's back by popular demand and available to purchase again at Hasbro Pulse and Robosen. The auto-converting Flagship set also retails for $749.99, so start saving your pennies.
What do you think Robosen and Hasbro's latest product collaboration? Do you plan on pre-ordering your own Transformers Optimus Prime Auto-Converting Trailer with Roller – Collector's Edition? Let us know what you think over on Twitter.
KEEP READING: THE TITLE OF THE NEXT TRANSFORMERS FILM IS REVEALED ALONG WITH NEW SHOW DETAILS