Hasbro revealed an exciting new series of Spider-Man Marvel Legends figures this week that are due to go on sale on Wednesday, April 20. The new figures revealed this week include a variety of characters inspired by the Spider-Man MCU films, Marvel Comics stories across different eras, and even Spider-Man animation.
The Hasbro Marvel Legends team revealed the latest collection of new and upcoming Spider-Man-themed figures during this week's Fan First Tuesday Marvel Legends Livestream. Many of the new Spider-Man releases coincide with Spidey's 60th anniversary and the Beyond Amazing program with Marvel, commemorating the character's illustrious history. You can check out the complete livestream and reveal showcase presentation below:
RELATED: SPIDER-MAN: NO WAY HOME 4K BLU-RAY DVD REVIEW – THE SPECIAL FEATURES AREN'T AS SPECIAL AS THE MOVIE
SPIDER-MAN MARVEL LEGENDS REVEALED THIS WEEK
In terms of the new reveals for the livestream, fans will be able to get a new two-pack based on the hit 2017 film, Spider-Man: Homecoming. The new two-pack features the first movie-inspired Ned Leeds figures, as portrayed by Jacob Batalon, and Peter Parker, as portrayed by Tom Holland. Peter Parker is dressed is in his civilian clothes, and Ned comes with a fun bonus: an interchangeable head of him wearing the Spidey mask.
The likenesses for these figures look great, and the two-pack comes with some nice backpack accessories. Not to mention, getting two figures with civilian clothing will provide customizers with great options for kitbashes and alternative displays. Additionally, the two-pack is boxed in Hasbro's new windowless, plastic-free, closed-box packaging for the Marvel Legends line.
For fans of the animated smash-hit feature, Spider-Man: Into the Spider-Verse, the Legends team revealed a new Spider-Man Noir figure inspired by the film. This is Spider-Man Noir with his animated feature likeness based on the character from Into the Spider-Verse, as voiced by the legendary Nicolas Cage. The figure is packed with an alternate head and a redeco'ed Spider-Ham accessory, also inspired by the animated film.
The Spider-Man Noir and Spider-Ham set from Into the Spider-Verse will be available only as a Target exclusive for collectors in the U.S. Fans in Canada will be able to purchase the figure from Toys R Us.
Next up, there was also a new reveal for the Marvel Legends 20th Anniversary collection. The Marvel Legends figure line first began back in 2002 with four figures: Captain America, Iron Man, The Hulk, and X-Men villain Toad. Hasbro has recently begun releasing new Marvel Legends inspired by the very first wave for the line's 20th anniversary, and a new Toad figure was finally revealed. Toad is a bit of an obscure character, but it's cool seeing him get a new figure release to go along with the 20th-anniversary theme and new editions inspired by the first Marvel Legends wave.
For new comic book-inspired Marvel Legends figures, Spider-Man his 00s comic Iron Spider suit is also getting a new Marvel Legends figure, as is Future Foundation Spider-Man, and a new figure for Silk (aka Cindy Moon). The Silk figure will be packed with a previously revealed update for Doctor Octopus as a two-figure set.
Another impressive two-pack reveal included the evil symbiote creator, Knull, packaged with a retooled Venom figure update. The newly retooled Venom comes with some new heads with new expressions and a new giant wing set.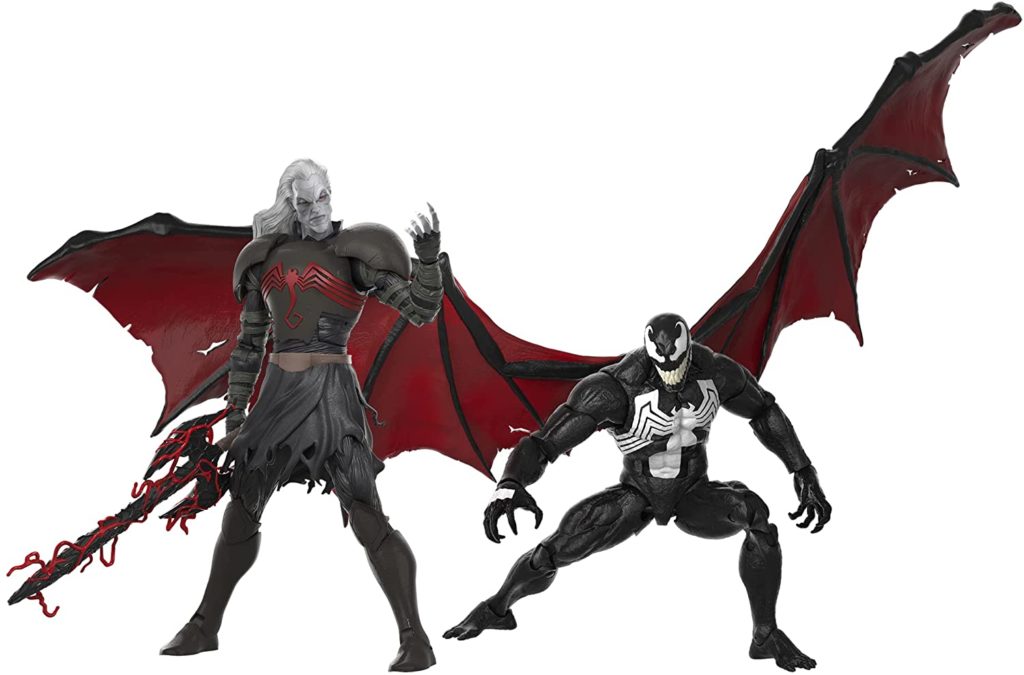 Based on the Spider-Man: Renew Your Vows comic series, there's also a new Marvel Legends two-pack for Spider-Man (Peter Parker) and his wife Mary Jane in her Spinneret costume from the series. The Peter Parker Spidey figure in this set has some pinless joints and noted toe articulation. The set comes with alternate hands and alternate maskless heads.
For fans of the classic 1990s Spider-Man: The Animated Series, there's a new Marvel Legends figure coming for The Lizard (aka Dr. Curt Connors), as inspired by the show. What's great about this figure is that it comes with two heads, one that hues closer to his first appearance in The Amazing Spider-Man #6 back in 1963, and a more modern update that looks closer to the 90s animated show. Also, this new Lizard figure features a wired, bendy tail. The Lizard release will only be available as a Walmart exclusive release.
Lastly, the Legends team revealed a deluxe release for the Webhead based on his very first appearance in Amazing Fantasy #15. This is a fantastic Spidey figure with a paint deco inspired by original artist and co-creator, Steve Ditko. The figure comes with multiple alternate handsets for display options, along with some great web effects accessories, including the webbing arm wings straight from the original comic cover in both folded and spread-out variations.
RELATED: WATCH THE FIRST 10 MINUTES OF SPIDER-MAN: NO WAY HOME RIGHT NOW FOR FREE!
HOW TO GET THE NEW SPIDER-MAN MARVEL LEGENDS
Many of the new Spidey Marvel Legends Collection figures are available to pre-order now on Hasbro Pulse. In terms of price, Future Foundation Spider-Man and the 60th Anniversary Spider-Man figures are priced the lowest at $27.99. The new Legends Iron Spider figure is $33.99. The Renew Your Vows and Homecoming two-packs are priced at $55.99.
The Knull and Venom set is priced at $77.99. Lastly, the 20th Anniversary Toad Marvel Legends figure costs $33.99. The new Spider-Man collection and Toad figures revealed this week are expected to ship starting December 1. So, it looks like they will be out just in time for the holiday shopping season.
What do you think of the latest reveals by the Hasbro Marvel Legends team? Are there any must-buys or figures you plan to preorder next? Let us know what you think over on Twitter.
SOURCE: Hasbro Pulse
KEEP READING: VIDEO: IS ANDREW GARFIELD THE SPIDER-MAN OF SONY'S MARVEL UNIVERSE?