Acclaimed auteur Robert Eggers has finally returned with his Viking revenge epic The Northman. Is the film worth the hype? Find out in our review down below:
Robert Eggers has only released 3 feature films, but has already established himself as one of the best filmmakers of his generation. The 38 years old writer and director started his career as a theatre production designer, before he dived into the filmmaker's chair with two short films in the late 2000s. He was also heavily involved as the production and costume designer until, a whole bunch of years later, he released his short film Brothers (2015) to huge acclaim.
RELATED: DARKHAWK PLANNED FOR GUARDIANS OF THE GALAXY VOL. 2
That same year, he also released his first ever feature film, The Witch, a folklore horror tale that not only made him a known name but also was the breakout role for Anya Taylor-Joy. She then returned to work with Eggers' again for The Northman. She also mentioned during this press tour that she would have loved to join his second feature film, The Lighthouse, which starred Robert Pattinson and Willem Dafoe as lighthouse keepers stranded on the shores of an island and slowly going insane.
Taylor-Joy wanted to play the Mermaid, a role which later went to model Valeriia Karaman, as Robert Egger's told the actress that "she wouldn't wanna play this particular Mermaid." The Lighthouse received even bigger acclaim and scored Egger's go-to cinematographer and friend Jarin Blaschke his first Oscar nomination for his spectacular work. Three years later, after a pandemic related delays and a difficult production, The Northman finally arrived in theatres and its Robert Egger's biggest swing yet.
The Northman Is Hamlet On Acid
When his uncle Fjölnir (Claes Bang) brutally murders the king and the father (Ethan Hawke) of young Amleth (Oscar Novak), the prince must flee to survive. Years later grown-up Amleth (Alexander Skarsgård) seeks to avenge his father and save his mother. He journeys across the land and when he gets joined by a witch of the name Olga of the Birch Forest (Anja Tayloer-Joy), his enemies will life in fear.
The Northman is Egger's biggest and you could also say his most mainstream film yet. Where The Witch was a folklore horror slow burn, The Lighthouse was a isolated descent into madness, filmed in black and white with a 4:3 aspect ratio. Now The Northman is a, on first sight, pretty simple revenge tale, injected with the writer and director's style of using sort of "supernatural" mythology and very realistic approach in terms of dialogue and screenplay in general.
The auteur assembled a spectacular cast for his third feature film. A mix of frequent collaborators such as the already mentioned Taylor-Joy, who returned to play the female lead Olga, Willem Dafoe who returns in a smaller but vital role as Heimir the Fool and newcomers such as the films lead Alexander Skarsgård, Nicole Kidman and Ethan Hawke. Fans of Eggers' previous films will also recognize to short cameos of actors the writer/director has worked with before.
Everyone in the cast brings their A-Game, but Skarsgård is definitely the standout. His transformation in the hatred fueled, revenge seeking Amleth is nothing short of mesmerizing and we don't even need to start talking about the actor's physique as he truly looks like a warrior beast. Dafoe only has a small part, but he gets to do, what he does best, playing a weird, eccentric, you could say crazy character.
I also was surprised at how layers Nicole Kidman gets to bring to her role, which I won't elaborate further as we then would walk into spoiler territory. Anja Taylor-Joy is great as ever, even though her role in the director's first feature was more showy. Truly hoping that Robert Egger's Nosferatu starring Taylor-Joy will still happen, even though Eggers recently casted doubt about the project ever coming to reality.
Another highlight of the film is Jarin Blaschke's cinematography. He worked together with Egger's since the director's second short film. Blaschke's wide shots of Iceland are magnificent, his close-ups mesmerizing and the many one-take action sequences are a thing to behold. When than the elements of viking mythology, such as Yggdrasil the tree of life show up.
To make it short, the film's visuals are spectacular. That work combined with Eggers' distinct directing makes for a truly cinematic experience, on a scale that the director has never worked on. But he absolutely delivers as he gets to do big stuff like naked sword battles on a erupting volcano, but never leaves his distinct style as an auteur behind, but rather embraces it on a much bigger scale.
But that doesn't mean that The Northman is as "hard" to grasp as The Lighthouse, which failed with general audiences, as they couldn't connect to the films style. The story structure is fairly simple and while it gets enhanced with a lot of mythological elements, it is at its core a revenge story that we've seen plenty times before, making it Egger's most accessible film yet. The film also is the most humorous of the writer/director's career. While it aren't laugh out loud moments, the film got me to chuckle here and there due to some more silly undertones/scenes.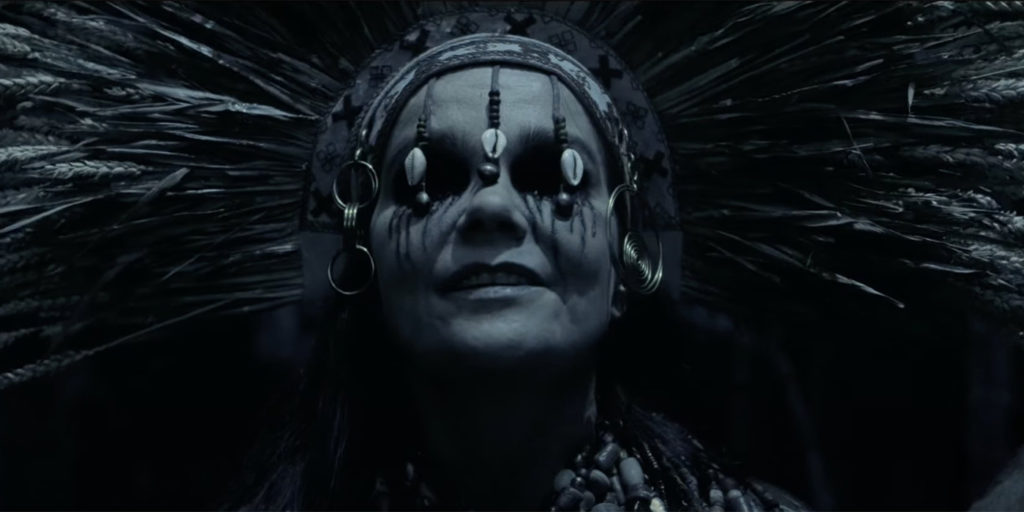 The only criticism I have about The Northman is its pacing. While it never really struggles with its balance, the film is still relatively slow with everything leading to the big climax, which then ends surprisingly slow and predictable. But the climax still features epic atmosphere and is very well shot, so it is definitely not a letdown, but rather a surprising "Already?".
The Northman is a big, epic, brutal, muddy and atmospheric revenge epic, that bursts with style and while it's substance might not be the most unique thing ever, Egger's living screenplay and gorgeous visuals make this film a theatre experience more than worth taking.
4/5
The Northman is now playing in theatres.
It is co-written and directed by Robert Eggers and stars: Alexander Skarsgård, Anya Taylor-Joy, Claes Bang, Nicole Kidman, Ethan Hawke, Björk and Willem Dafoe.
What do you guys think? Which is your favourite Robert Eggers film? How did you like The Northman? Let's discuss everything in the comments down below and on our Social Media.
KEEP READING: POLAR BEAR: NEVER BEFORE SEEN ACTIVITY BETWEEN 2 POLAR BEARS IN NEW DISNEY NATURE DOCUMENTARY