Critical Role has a new Exandria Unlimited miniseries coming this month and Critters is it epic! After Critical Role's last Exandria Unlimited adventure, in both the eight-part mini-campaign and the two-shot follow up, Critical Role's next Exandria Unlimited story will explore a time long before Bells Hells, The Mighty Nein, or even Vox Machina, venturing thousands of years into the past for the new four-part miniseries Exandria Unlimited: Calamity.
Like the first Exandria Unlimited adventure, Calamity will bring a new Game Master to the table to add their voice to the ever-expanding narrative of Critical Role. Exandria Unlimited: Calamity will be led by none other than Game Master Brennan Lee Mulligan (Dimension 20). Brennan Lee Mulligan is the creator and Game Master of Dimension 20 and this will not be his first time at the Critical Role table. Mulligan was a player in Critical Role's Elder Ring One-Shot earlier this year and now he'll be rejoining the table as the Game Master.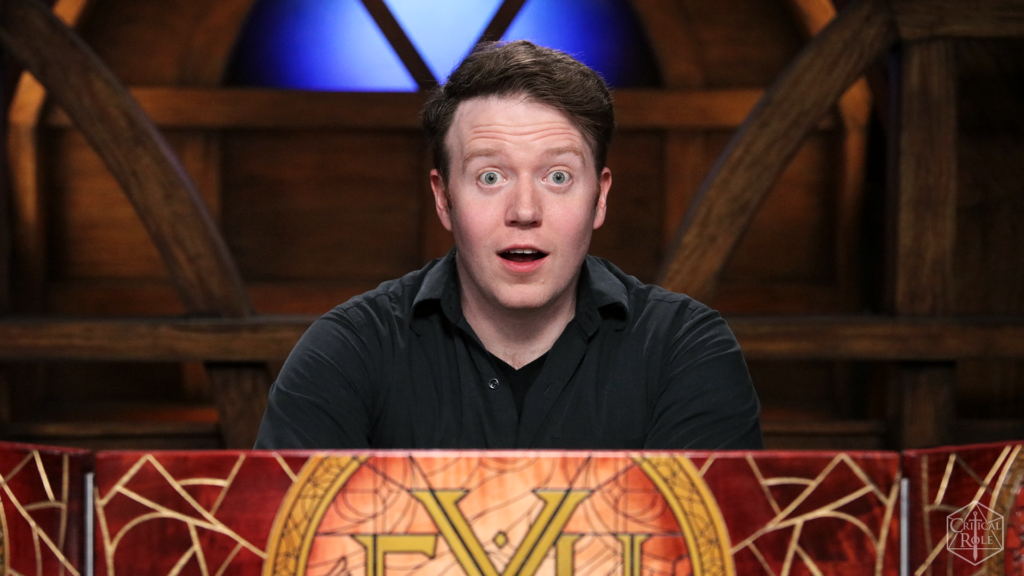 Exandria Unlimited: Calamity will also feature Critical Role cast members and founders Marisha Ray, Travis Willingham, and Sam Riegel bringing all-new characters to life for this four-part adventure. They will be joined by Aabria Iyengar, who will be at the table as a player after serving as Game Master for the previous Exandria Unlimited adventure, Lou Wilson, (Dimension 20, Jimmy Kimmel Live) and Luis Carazo (NCIS: Los Angeles, S.W.A.T.)
RELATED: EXCLUSIVE INTERVIEW: THE LEGEND OF VOX MACHINA STAR MATT MERCER BREAKS DOWN THE "LENGTHY PROCESS" OF ADAPTING THE BRIARWOOD ARC
CRITICAL ROLE'S EXANDRIA UNLIMITED: CALAMITY TEASER
Exandria Unlimited: Calamity follows six distinguished heroes from the Age of Arcanum as they uncover an insidious corruption beneath a city that they've sworn to protect. This is a story where Exandria's greatest minds could not—or would not—see the truth before it was too late. These mighty protectors will do everything in their power in an attempt to prevent the inevitable…The Calamity.

In the realm of Exandria, there are unlimited stories to be told and just as many storytellers to tell them. Each Exandria Unlimited campaign serves as a jumping on point and does not require previous knowledge of any other Critical Role campaigns to tune in! As a reminder, the Calamity takes place thousands of years prior to the events of our very first campaign, Vox Machina.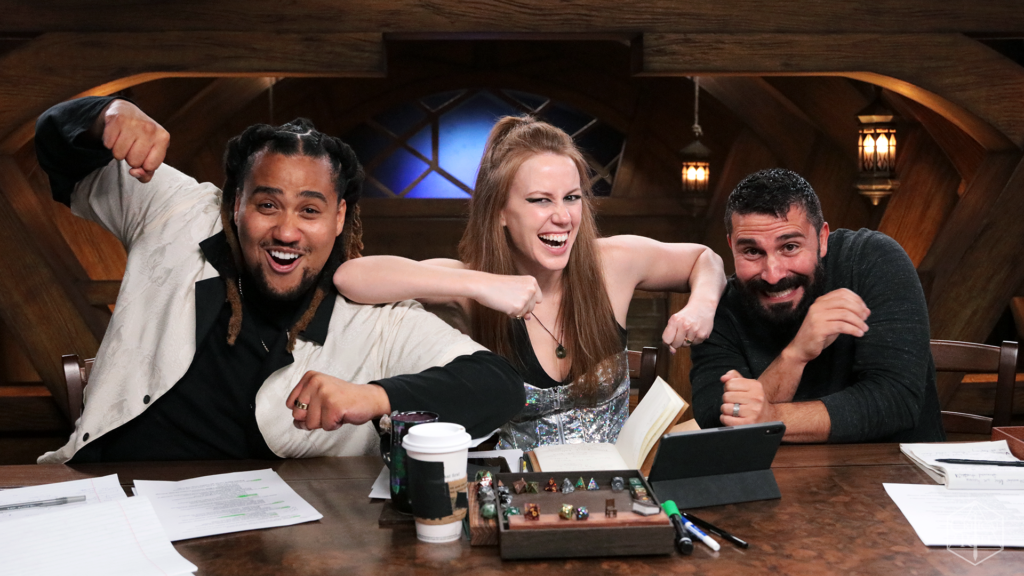 Exandria Unlimited: Calamity premieres May 26 at 7pm Pacific on Critical Role's Twitch and YouTube. VOD of Exandria Unlimited: Calamity will be available on Twitch immediately after broadcast for Twitch subscribers and on YouTube the following Monday at 12pm Pacific. Exandira Unlimited: Calamity will air each consecutive Thursday with the finale debuting on June 16.
RELATED: EXCLUSIVE INTERVIEW: THE LEGEND OF VOX MACHINA STAR MATT MERCER REVEALS WHY HE WANTED TO "SINK HIS TEETH" INTO VILLAINOUS SYLAS BRIARWOOD
 Exandria Unlimited: Calamity will also be available in a podcast format one week after its initial airing on the Critical Role podcast feed, which is available via Spotify, Apple Podcasts, and Google Podcasts.
Exandria Unlimited: Calamity will be taking place during one of the most pivotal and infamous times in Exandrian history thousands of years before Critical Role's first campaign. The Calamity and the impact of this time are often brought up during each of Critical Role's campaigns, but what exactly happened? Critical Role offers Critters a brief refresher of the lore behind this tumultuous time in Exandria's history. And if you want more details about Exandria's history check out Exandria An Intimate History narrated by Matt Mercer who created Exandria and the voluminous lore of this land.
RELATED: THE LEGEND OF VOX MACHINA STAR MARISHA RAY ON KEYLETH'S UNIQUE IMPORTANCE FOR YOUNG WOMEN IN NEW FANTASY SERIES: EXCLUSIVE INTERVIEW
Exandria was discovered by a group of gods that worked together to create life upon it and tame the world's primordial chaos. However, when elemental titans began killing their mortal creations, the gods became divided on how to proceed. The Prime Deities wanted to protect their creations from the titans and help them thrive.

In contrast, the Betrayer Gods wanted to help the titans destroy the weak mortals and abandon Exandria due to their grief. This led to a war between the gods known as the Schism where the Prime Deities proved victorious in defeating both the titans and the Betrayer Gods. As punishment, the Betrayer Gods were banished to their own prison planes where they could no longer harm Exandria.

This tumultuous time gave way to the wondrous Age of Arcanum, where the gods' gift of arcane magic allowed mortals to prosper and innovate. For thousands of years, the Age of Arcanum remained a glorious time in Exandrian history. However, everything changed when some began using their magic for the ruthless pursuit of power…

In an attempt to achieve his own divine status, a feat achieved only once before, a mortal abused his magical gifts to release the Betrayer Gods from their prison planes. This led to the most violent and tragic war of all time: The Calamity.

The Calamity echoed the founding of Exandria: once again, the Prime Deities had to stop the Betrayer Gods from killing their creations. Though the Prime Deities were eventually successful, two thirds of Exandrian life were killed in the battles…
The expansive story of Critical Role continues to grow through comics, novels, an animated series, and of course the live stream game. Exandria Unlimited gives Critters a chance to meet new inhabitants of Exandria and follow them on exciting new adventures. Now, Critters will finally get the chance to experience the Calamity, one of the most important moments in Exandrian history with Exandria Unlimited: Calamity.
Critical Role's Exandria Unlimited: Calamity will premiere on Critical Role's Twitch and YouTube on May 26 at 7pm Pacific.
Are you excited for a new Exandria Unlimited story? Are you looking forward to exploring the Calamity? Are you hyped to see Brennan Lee Mulligan take on the role of Game Master in this new Critical Role adventure? Leave your thoughts in the comments below or on our social media and check back with The Illuminerdi for more Critical Role.
Source: Critical Role
KEEP READING: CRITICAL ROLE'S NEW MIGHTY NEIN ORIGINS GRAPHIC NOVEL TO EXPLORE THE MYSTERIOUS PAST OF MOLLYMAUK TEALEAF IN FALL 2022