Ewan McGregor and Hayden Christensen are officially back as Obi-Wan Kenobi and Darth Vader, respectively, and it feels fans couldn't be more excited. Both McGregor and Christensen will be making their triumphant returns to the world of Star Wars when the latest Disney+ series Obi-Wan Kenobi officially releases on May 27th. 
It's great to know that with the brilliance and guidance of Disney+ that more stories throughout portions of Star Wars lore can finally be expanded upon and show how vast the galaxy truly is. To note, the footage previously revealed by Disney alludes to a galaxy in turmoil and a time of darkness looming from the hand of the Empire, and it's clear that these characters aren't the ones we last saw in Episode III: Revenge Of The Sith. 
RELATED: EWAN MCGREGOR ON REDISCOVERING OBI-WAN KENOBI'S LEGENDARY VOICE
Of course, we do know that Obi-Wan is in solitude, currently hiding out on Tatooine while watching and protecting Luke. And in a way, many are hoping this series will either give closure or expand on the lost ten years between Episode III and Episode IV: A New Hope. However, something unique about Disney+ is that the story, once lost, can be pieced together. For once, fans can see the Jedi Master be tested by the inquisitors hunting him. To see his greatest failure Vader stands before him and sets the stage for the rematch of the century with his former master. A moment that fans have been waiting for.
As of now, marketing has been in effect to build anticipation for the series to pull viewers and audiences back into the harsh reality of the prequels now torn asunder. The Republic is no more, and the Jedi are on the verge of extinction and are now hunted for sport, while the shadow of the Empire looms. It's pretty crazy to think that this is a point of Star Wars history that has only been referenced or shown in tiny bits through other series such as Star Wars: Rebels and Jedi Fallen Order, and Solo, but it never felt real, and brutal as it's been described.
Deborah Chow Breaks Down Fascinating Relationship Between Obi-Wan Kenobi & Darth Vader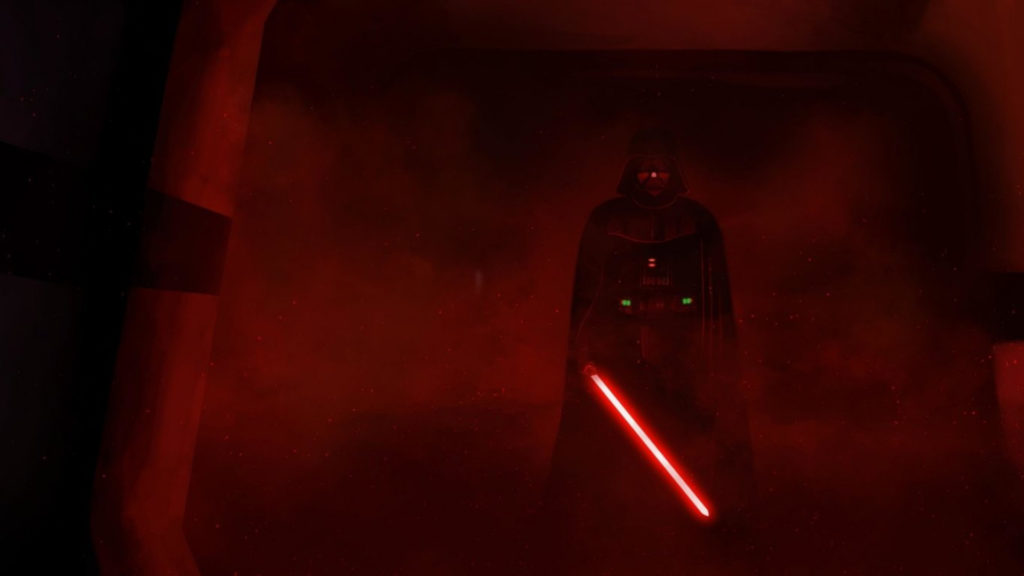 The Illuminerdi had the opportunity to attend the Obi-Wan Kenobi virtual press conference where director Deborah Chow discussed how the return of Darth Vader (Hayden Christensen) felt natural to continue this story between Kenobi and Vader: 
"I think when we started developing the material, and we were really looking at the character of Obi-Wan and looking and going, you know, what was important in his life? What are the relationships that were meaningful?

And obviously, the history coming out of Revenge of the Sith is so strong, and it's so powerful, that it really felt like for us that, you know, obviously, there'd be so much weight coming into the story that was connected to Anakin Vader. So I think it just felt natural that obviously there would be Hayden, and that, you know, we would continue this relationship in the series."

Director Deborah Chow, Via Obi-Wan Kenobi Virtual Press Conference
It sounds like the series will be a tale of hardship and pain that manifests into a sense of closure for the character of Obi-Wan Kenobi. Hearing director Deborah Chow break down that the past fear stemming from Revenge Of The Sith was genius in many ways and that guilt is chained to the character of Kenobi feels along the lines of PTSD is brilliant.  
Of course, Ewan McGregor did touch upon the feeling of being reunited with Christensen and having him on set:
Ewan McGregor Feels Good To Be Back On Set With Hayden Christensen After 17 Years
"Oh, great. I mean, we just were so close. When we made the first, we made Episodes two and three together. And we made them in Australia. So we're both away from home. And we had so much time, training for the fights together, and then being on set together. But also because we were so far from home, we spent a lot of time outside of work together as well. 

And so we were close. And then over the years, I guess we just slightly lost touch. I haven't seen Hayden for years. So when I saw him again, was able to talk about this project with him. It was very exciting. It's great. And when we were acting together, it was really like some sort of time warp. They really liked this, looking across at him on set was like the last 17 years didn't happen until you know, it was really peculiar." 

Ewan McGregor, via Obi-Wan Kenobi virtual press conference
As of now, no plot details about the series have been revealed, but it does seem that everyone involved in the project is excited for the fans to jump back into the world of Star Wars.
Obi-Wan Kenobi is slated for a two-episode premiere on May 27 on Disney+. 
Are you excited to see Obi-Wan and Vader return? Who's your favorite Star Wars character? What's your favorite Star Wars film? As always drop a like, post a comment, and follow us on all social media. 
KEEP READING: OBI-WAN KENOBI STAR EWAN MCGREGOR CREDITS THE FANS WITH DRAWING HIM BACK INTO STAR WARS