Simon Bennett went on to say that you guys use less and less footage than your predecessors before you with the Super Sentai footage. Especially with being on Netflix now, do you think we're getting into an area where we're becoming less reliant on the Super Sentai footage? With the last 30 years of creativity, can Power Rangers stand on it's own without the Super Sentai?

Russell Curry: Yeah, it's definitely the direction that we headed with season two, especially. It's really, really great to see our amazing stunt team just make everything their own, and create these amazing action sequences. We have a really cool mix because our second unit directors, we had Akihiro Yuji who's been on Power Rangers since day one. Which being on set with him and with a legend who created something that I love growing up is like, "Oh my gosh, Yuji San. So amazing." And then we have Kenji who is brand new to Power Rangers. It's his very first time. He brings this freshness. And all these crazy things that I'm just like, "How did you think of that?"

It's great to just see those guys shine, and our entire stunt team, and stunt performers shine and make it their own.

Chance Perez: If I may. Kenji on, it was during the first week of us doing the training. I remember him, he's like, "yeah, punch him as hard as you can." And I'm like, "Are you sure?" He's like, "They're stuntmen. Do it!" I'm like, "Okay." And I'm like, I hit him really hard. And he's like, "Oh, I'm okay. Again."

And he's like, I want to create a new kind of Ranger. I'm like, "What do you mean by that?" I want the intensity to be shaking your hands. I'm getting really into it. But just seeing him so passionate about what he wants these Rangers to be, and what he wants them to embody. I knew it was going to be something special from jump.
RELATED: POWER RANGERS: IS JONATHAN ENTWISTLE LEAVING THE REBOOT OR ARE WE OVERREACTING?
That's crazy. Yeah, there's this scene with Zayto, that's running on the rooftops. And I was like, "Whoa! This is something new. I haven't seen something like this in a long time in Power Rangers." So that was pretty cool. I do have a question. We'll start with you Chance on this one. And then we'll go to you, Russell. I don't know. Have you guys finished ADR yet first for season two?

Russell Curry: Yes.

Chance Perez: Yes.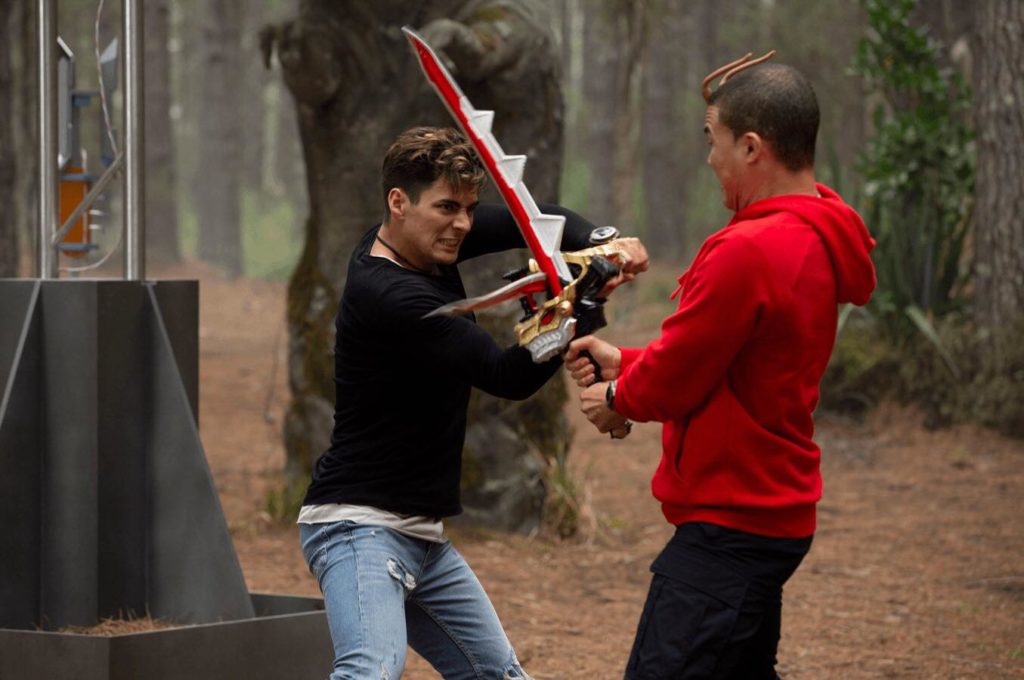 Now I know usually ADR takes place after the filming. Has there been a point yet, when you finished up your ADR from the second season, and you let it sink in that, you know what? Dino Fury's essentially done. I'm done with this for now. Has that sunk in for you yet?

Russell Curry: Yeah, it was a sad day, man. It was a tough moment to be there, and just know that it was my last time going into that booth. But it was bittersweet at the same time. And I'm so proud of what we did. That was really what came over me the most.

How about you Chance?

Chance Perez: I'm right there with Russell. It was so much fun everything about it. There was no bad moments for Power Rangers. We had just the most wonderful time.

You guys shot this before this pandemic was going on and I guess even into it in New Zealand. It's a snapshot. It's really a snapshot of what the world was going through. Especially, with your unique experience being in Power Rangers. What's the biggest thing you're going to be taking away from your experience in New Zealand, the state of the world, and doing this show that's been going on for almost 30 years now?

Russell Curry: That's a tough question to ask to answer, Joe. Oh my gosh! The main thing that sticks out to me is that I tell people all the time, we were there from September of 2020, just the height of COVID pandemic up until June of 2021, when things started to normalize a little bit back home. And New Zealand, we barely had to think about COVID out there.

I say all the time that the five of us Rangers that traveled there, because Tess already lived there. The five of us Rangers that traveled from the States to New Zealand, are five of the luckiest people on the entire face of the planet. I'm never going to forget that. That's just the craziest thing to think about.

Chance Perez: Absolutely! It's something that we never took for granted. And we would talk about every other day or every other week, just how precious those moments were to be there with the world in the state that it was in. So yeah, we're very grateful.
Russell, Simon Bennett directed the last two episodes of Power Rangers Dino Fury season two. Two questions I have for you; one, can you talk to me about working with him as a collaborator? And two, what is his directing style add to Power Rangers?

Russell Curry: Oh man! Oh, I cannot say enough amazing things about Simon Bennett. Oh my gosh! I am so grateful to him for putting this together, for bringing us all together, and just being such a visionary for this show. He wasn't originally going to direct any episode. So he's a legendary director in New Zealand. For anybody who has not seen his previous work, go look it up. He directed episodes on Power Rangers already before becoming a show runner for our show.

It was such a privilege to get to work with him at all, because he is such an incredible director. Him being on set as a director, he just has such a patience, but that vision. And he knows exactly how to communicate with actors, because he went to drama school himself. He's a very actor centric type of creator. He knew exactly how to communicate with us the best way possible. And man! It's an inspiration to be around that guy. Like I said, I can't say enough good things about him.
RELATED: POWER RANGERS 30TH ANNIVERSARY: WHAT SENSATIONAL DINO CHARGE STAR BRENNAN MEJIA WANTS TO SEE
We're on the precipice of the 30th anniversary of this iconic show, that's obviously gone on for 30 years. There's so many rumors swirling around what could be happening, what might be happening, who could be coming back, who might be coming back. But let's take all that away. What are the chances that you guys would want to reprise your roles of Zayto and Javier for the 30th anniversary? Because we've already had one giant epic Dino team up with the mighty Morphing Rangers, the Dino Charge Rangers, the Dino Thunder Rangers. It just seems to me that the Dino Fury Rangers, they should be a part of that too. Right? 30 years.

Chance Perez: I wouldn't disagree with you. That would be great.

Russell Curry: Yeah. I mean, if you're asking if we would want to do this again? I mean, no questions asked, who wouldn't want to keep being a Power Rangers? That's crazy. But yeah, I mean, there's so many rumors, there's so much out there. We have no idea. But yeah, we'll just wait and see, man.

Power Rangers Dino Fury stars, Russell Curry as Zayto the Red Dino Fury Ranger, Kai Moya as Ollie Akana the Blue Dino Fury Ranger, Hunter Deno as Amelia Jones the Pink Dino Fury Ranger, Tessa Rao as Izzy Garcia the Green Dino Fury Ranger, Chance Perez as Javi Garcia the Black Dino Fury Ranger, Jordon Fite as Aiyon the Gold Dino Fury Ranger, Jared Turner as Void Knight, and Jo Davidson as Solon.
What are your thoughts on this Ranger Nation? Would you like to see Rusell Curry and Chance Perez return to Power Rangers in the future? Let us know in the comments below. Also, be sure to follow The Illuminerdi on social media to be notified of more Power Rangers news and interviews like this in the future!
KEEP READING: HASBRO REVEALS NEW POWER RANGERS LIGHTNING COLLECTION BLUE RANGER ITEMS