The queens who have been rocking the musical world in Six are about to hold their biggest concert yet.
Six just announced that the original West End cast will return to their roles for a special performance to be filmed for release. This is great news for musical fans in general because many of us don't have the means to travel to London or even New York to see this amazing show. But also because this gives hope that we can see more and more shows getting proshots.
RELATED: TREVOR THE MUSICAL COMING EXCLUSIVELY TO DISNEY+ JUNE 24
Set up like a one night concert, Six focuses on the wives behind Henry the 8th. Finally getting a chance to share their stories, the ex-wives take turns trying to show they had it worst. Whoever is voted to have the worst story, gets to lead the new all girl band they are forming. Between the amazing music, strong female empowering messages, challenging the ideals of misogyny, and the amazing vocals, Six has become a musical anthem for women all over.
What Is Six About?
Written by Toby Marlow and Lucy Moss, Six debuted at the Edinburgh Fringe in 2017 and quickly spread across the globe to meet the high demands of fans. As someone who has seen Six in New York, this is a must see show. One of the reasons this show has gained such a fan base is similar to Hamilton. The music isn't your run of the mill musical style. In fact each queen's solo is based off a popular female artists all of us probably love.
Catherine of Aragon is Beyoncé, Ann Boleyn is Avril Lavigne, Jane Seymour is Adele, Anna of Cleves as Rihanna or Nicki Minaj, Katherine Howard is Ariana Grande and/or Britney Spears, and Catherine Parr as Alicia Keys. This connection of history with popular music really seems to draw in masses of people who otherwise might not want to see a musical.
Checkout this clip of the cast of Six performing at the Olivier Awards 2019:
The original cast includes Jarnéia Richard-Noel as Catherine of Aragon, Millie O'Connell as Anne Boleyn, Natalie Paris as Jane Seymour, Alexia McIntosh as Anna of Cleves, Aimie Atkinson as Katherine Howard, and Maiya Quansah-Breed as Catherine Parr. And you will be able to catch them all returning for the special recording with ticket details available on social media.
"We are so thrilled that we are finally going to be able to share their incredible performances of our show with the whole world! Live captures are SUCH an important part of the world of theatre accessibility today – and we are so very grateful that we get this opportunity to share the six queens' story this way" said the writing team.
Now while there are no details of where this proshot might end up when released, this musical would be a great fit for Disney Plus. Sure some of the lyrics can be a little mature, but the overall message of the show is something every women needs to hear, especially younger ones. Because at the end of the day, Six is all about giving the queens their voices back after centuries of being just footnotes in a King's story. Not to mention the show is rated for ages 10+. Disney honestly has no reason not to grab this up quickly.
While the queens get ready to complete taking over the world with girl power, Six isn't the only show to be getting a proshot. Musical fans have been delighted to hear Heathers, Waitress, and Prince of Egypt also getting the greenlight. It is a firm belief that EVERY musical should get a proshot, and it seems like we might be getting closer and closer to that.
Because at the end of the day, everyone deserves to have access to the theatre without having to worry about traveling somewhere, spending a lot of money for tickets, or the accessibility of seats for people with disabilities.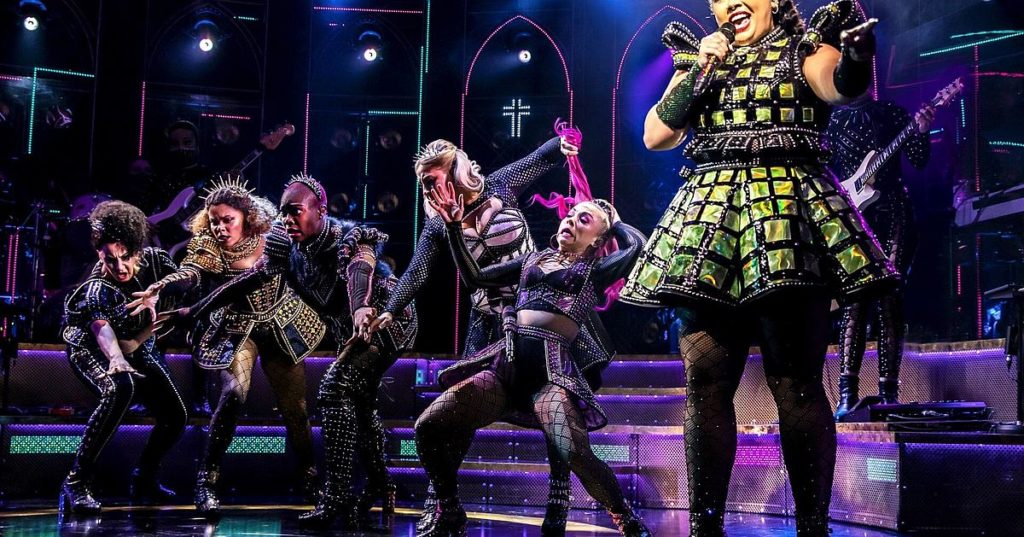 And now because of the proshot no one will have to miss out on the fabulous show that is Six making Her-story.
KEEP READING: NEW VICE REPORT GIVES SURPRISE CONFIRMATION FOR TENOCH HUERTA AS NAMOR
Source: Stagechat