Earlier this week, fans got their first look at Sabbac in the upcoming DC Extended Universe film, Black Adam. This piece of promotional art came from the Black Adam McFarlane toy line. He is joined by figures of Black Adam, Cyclone, Hawkman, Doctor Fate and Atom Smasher, the members of the Justice Society of America.
Watch The Illuminerdi break it all down here:
First Look at Sabbac!
VIDEO: Asher Freidberg
---
The Villain of Black Adam?
Releasing later this year is Black Adam, the DC Extended universe's new installment featuring the titular anti-hero. In the comics, Black Adam has arguably done more harm than good, which looks to possibly be the case in his cinematic debut. With Dwayne Johnson's Black Adam set to display his true brutality in the upcoming film, it will take a lot to concern him, and the introduction of this character to the DCEU might be enough.
RELATED: BLACK ADAM: MARWAN KENZARI EYED TO PLAY DC SUPERVILLAIN SABBAC – EXCLUSIVE
Sabbac, played by Marwan Kenzari (The Old Guard, Aladdin, What Happened To Monday), looks to be the villain of Black Adam. His design appears to be a bit of a combination of his various looks in the comics. In some appearances, he appears more human, while in others he can be a giant demon monster. Granted, these are often different versions of the character with different people taking on the title. This version of the character looks to have many demonic features, while still possessing an average sized body, although that could easily change throughout the course of the film. His final form could be the gigantic demon monster fans of DC Comics are used to.
Black Adam & The Justice Society of America Vs. Sabbac?
Sabbac appears to be the alternate form of the character Ishmael, who looks to be the villain of Black Adam. His abilities parallel Black Adam's, as he too has the ability to power up by saying a name.
RELATED: THE BOYS: WHO WILL DIE IN THE GRIPPING SEASON 3 FINALE?
As of now, we have yet to have seen Sabbac appear in any trailers for the film, so the specifics of his role and his abilities are currently unknown. Chances are, Black Adam will be faced with a threat more powerful than himself, forcing him to join the Justice Society of America to fight Sabbac. Black Adam looks to be at odds with the JSA due to his antiheroic ways. While we don't think will join the alliance of heroes, he may set aside their differences to save their world.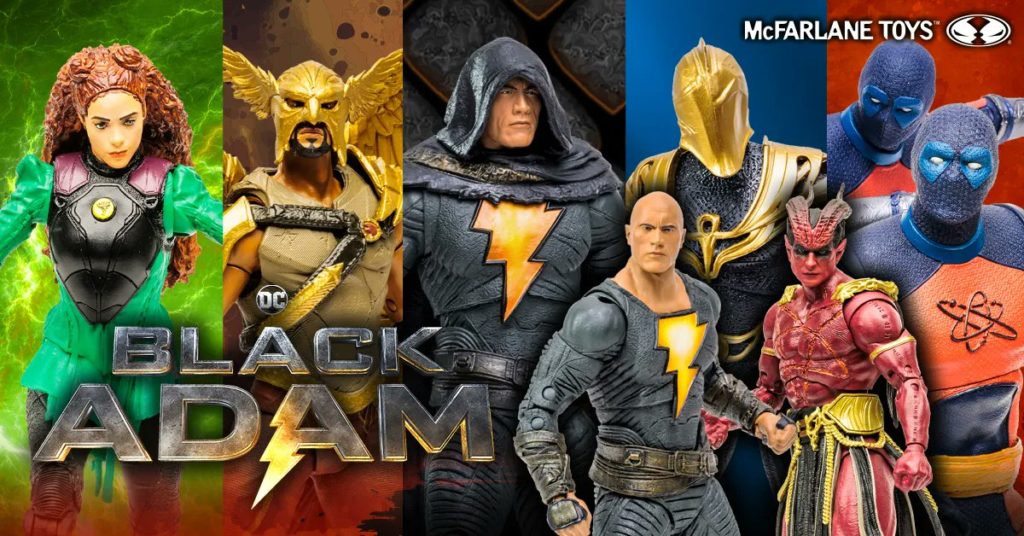 RELATED: ARROWVERSE: SHOCKING SUPERMAN & LOIS SEASON 2 FINALE CONFIRMS SHOW EXISTS ON DIFFERENT EARTH
The film stars Dwayne Johnson (Red Notice, Jungle Cruise, Skyscraper) as Black Adam, Quintessa Swindell (Voyagers, Granada Nights, Trinkets) as Cyclone, Aldis Hodge (The Invisible Man, One Night in Miami, Leverage) as Hawkman, Pierce Brosnan (Goldeneye, Die Another Day, Mama Mia) as Doctor Fate, Noah Centineo (The Perfect Date, To All The Boys I've Loved Before, The Fosters) as Atom Smasher, Bodhi Sabongui (DC's Legends of Tomorrow, The Main Event, A Million Little Things) as Amon, Sarah Shahi (Sex/Life, The Rookie, Person of Interest) and Marwan Kenzari (The Old Guard, Aladdin, What Happened To Monday) as Ishmael. Black Adam is directed by Jaume Collet-Serra and written by Adam Sztykiel, Rory Haines, and Sohrab Noshirvani.
Black Adam hits theaters October 21st, 2022. What are your thoughts on our first look at Sabbac in the DC Extended Universe? Are you a fan of this design? Let us know in the comments and on our Twitter!
CONTIINUE READING: THRILLING THUNDERBOLTS FILM OFFICIALLY IN PRODUCTION WITH JAKE SCHREIER SET TO DIRECT FOR MARVEL STUDIOS!
---
Families are reeling from an unthinkable tragedy in IL after a gunman killed seven civilians and injured thirty-eight. Here is how you can help the victims of the Highland Park July Fourth Shooting.