Mrs. Harris Goes to Paris
Mrs. Harris Goes to Paris is Focus Features' historical comedy-drama directed and produced by Anthony Fabian, from a screenplay he co-wrote with Carroll Cartwright, Keith Thompson, and Olivia Hetreed. It is the third film adaptation of the 1958 novel Mrs. 'Arris Goes to Paris by Paul Gallico.
The film stars Lesley Manville, Isabelle Huppert, Lambert Wilson, Alba Baptista, Lucas Bravo, Ellen Thomas, Rose Williams, Roxane Duran, Christian McKay, Guilaine Londez, Anna Chancellor, and Jason Isaacs.
Synopsis: In partnership with the House of Dior, MRS. HARRIS GOES TO PARIS tells the story of a widowed cleaning lady in 1950s London who falls madly in love with a couture Dior dress, and decides that she must have one of her own. After she works, starves, and gambles to raise the funds to pursue her dream, she embarks on an adventure to Paris which will change not only her own outlook but the very future of the House of Dior.
It is scheduled to have a wide theatrical release on July 15. Focus Features distributes the film in the US whereas Universal Pictures distributes it internationally. In the UK the film releases on September 30. It so far holds a 93% RT score based on 92 reviews with praise for the lead actress Lesley Manville, and the story.
Mrs. Harris Goes to Paris release date: July 15, 2022
Persuasion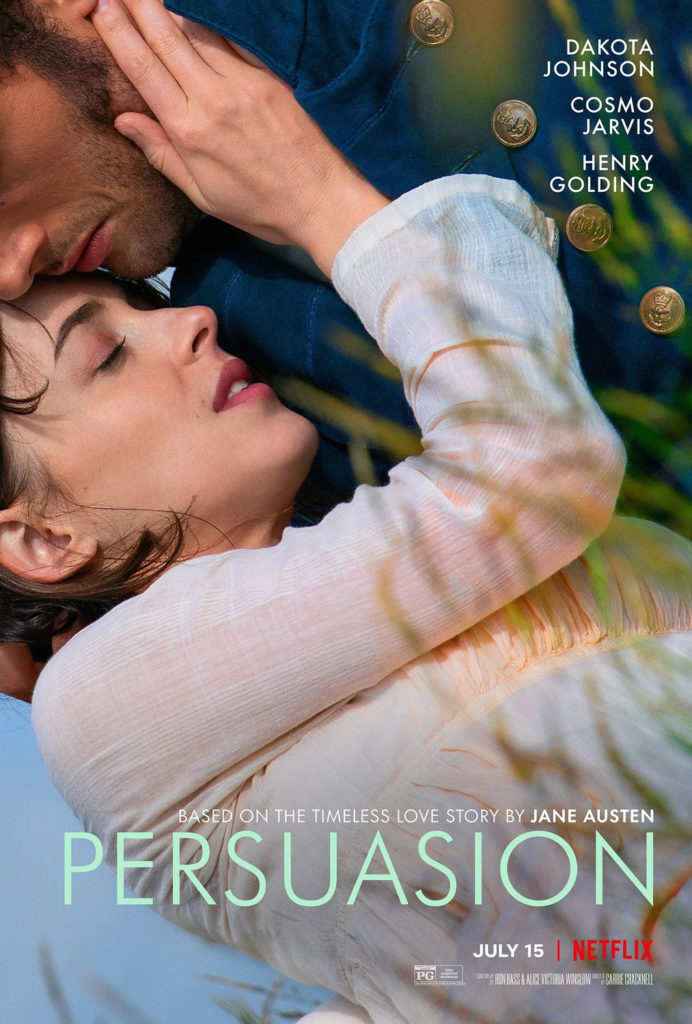 Persuasion is Netflix's original romantic drama directed by Carrie Cracknell from a screenplay by Ron Bass and Alice Victoria Winslow, based on the novel of the same name by Jane Austen.
It stars Dakota Johnson, Cosmo Jarvis, Henry Golding, Nikki Amuka-Bird, Suki Waterhouse, Ben Bailey, Izuka Hoyle, Mia McKenna-Bruce, Yolanda Kettle, Nia Towle, Edward Bluemel, Lydia Rose Bewley, and Richard E. Grant.
Synopsis: Living with her snobby family on the brink of bankruptcy, Anne Elliot (Johnson) is a nonconforming woman with modern sensibilities. When Frederick Wentworth (Jarvis)–the dashing one she let get away–crashes back into her life, Anne must choose between putting the past behind her or listening to her heart when it comes to second chances.
The film received mixed reviews but lead star Dakota Johnson was praised. It so far holds a 32% RT score based on 92 reviews but a 67% audience rating. This film can be a worthy watch for the romance genre fans or Jane Austen fans or just fans of the cast.
Read our review for Persuasion below!
RELATED: PERSUASION MOVIE REVIEW: A PASSABLE ANACHRONISTIC ADAPTATION
Persuasion Netflix release date: July 15, 2022
1Up
1Up is Amazon's original comedy film directed by Kyle Newman and written by Julia Yorks. It stars Ruby Rose, Paris Berelc, Taylor Zakhar Perez, Hari Nef, Nicholas Coombe, D.J. Mausner, Madison Baines, Lolita Milena, Aviva Mongillo, Rami Khan, Robert Levey II, and Kevin P. Farley. The R-rated comedy is set to debut on Amazon Prime Video.
Synopsis: This outrageously funny esports comedy follows Vivian "V" Lee (Berelc), a competitive gamer whose impressive skills have landed her a college scholarship and a place on the Betas, Barrett University's male-dominated team. But when the Betas' captain Dustin (Perez) tells V she'll never be a starting player, it's game on. Joined by her best friend Sloane (Nef), and under the guidance of her coach Parker (Rose), V forms a fierce all-girl team to band together with one common goal: level up to the nationals…and take down the Betas!
1Up Amazon release date: July 15, 2022
Don't Make Me Go
Don't Make Me Go is Amazon's adventure dramedy film directed by Hannah Marks and written by Vera Herbert. It premiered at the Tribeca Film Festival on June 13, 2022, and will be released on Amazon Prime Video on July 15.
It stars John Cho, Mia Isaac, Kaya Scodelario, Josh Thomson, Otis Dhanji, Stefania LaVie Owen, Mitchell Hope, Jen Van Epps, and Jemaine Clement. The R-rated dramedy so far holds a 54% RT score based on 37 reviews.
Synopsis: When single father Max (Cho) discovers he has a terminal disease, he decides to try and cram all the years of love and support he will miss with his teenage daughter Wally (Isaac) into the time he has left with her. With the promise of long-awaited driving lessons, he convinces Wally to accompany him on a road trip from California to New Orleans for his 20th college reunion, where he secretly hopes to reunite her with her mother who left them long ago. A wholly original and emotional journey, Don't Make Me Go explores the unbreakable, eternal bond between a father and daughter from both sides of the generational divide with heart and humor along for the ride.
Don't Make Me Go Amazon release date: July 15, 2022
She Will
She Will is IFC Midnight's psychological horror comedy-drama thriller. It is a directorial debut by Charlotte Colbert who is also the writer for the film. The film was produced by Jessica Malik and Bob Last with Dario Argento being an executive producer and Edward R. Pressman.
The film stars Alice Krige, John McCrea, Rupert Everett, Amy Manson, Kota Eberhardt, Jonathan Aris, Daniel Lapaine, Olwen Fouéré, Kenneth Collard, Apple Yang, Catriona McNicoll, Fiz Marcus, Stephen Kyem, Layla Burns, and Malcolm McDowell.
Synopsis: An aging film star, Veronica Ghent (Krige), retreats to the Scottish countryside with her nurse Desi Hatoum (Eberhardt) to recover from a double mastectomy. The place where she stays is the site where women were burnt as witches. Their ashes fill the land and give her the power to enact revenge in her dreams.
She Will won a Golden Leopard for Best First Film at Locarno Film Festival and was nominated by BIFA following its UK premiere in official selection at the London Film Festival. The film so far holds an 86% RT score based on 42 reviews. The film is set to be released in limited theatres and through VOD simultaneously.
She Will (VOD & in limited theatres) release date: July 15, 2022
The Gray Man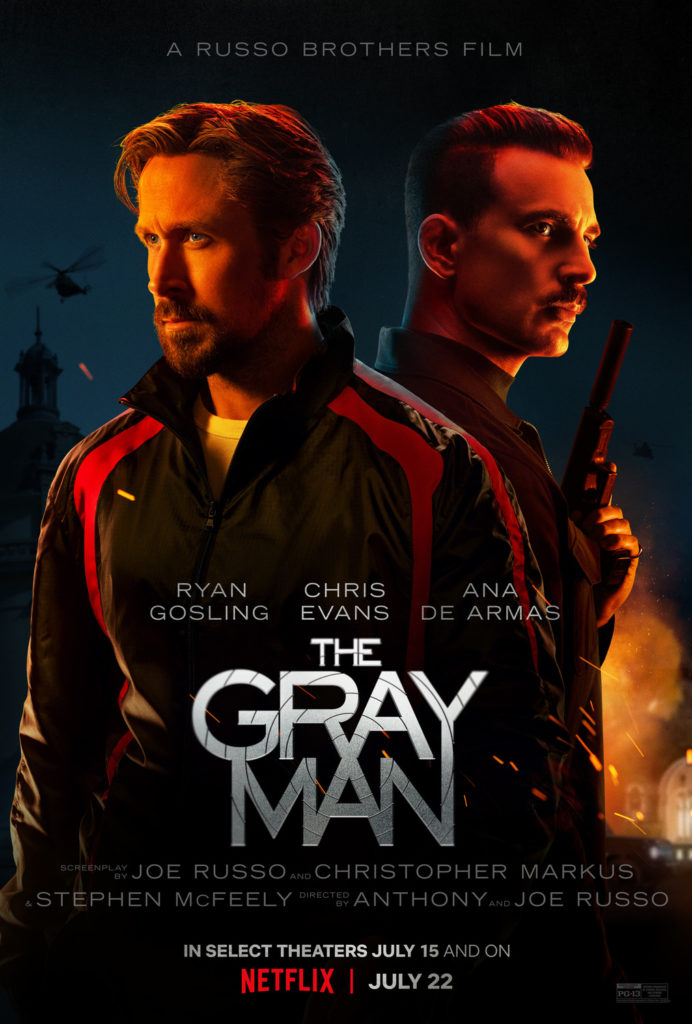 The Gray Man is Netflix's original action thriller directed by Anthony and Joe Russo, from a screenplay Joe co-wrote with Christopher Markus and Stephen McFeely, based on the 2009 novel of the same name by Mark Greaney. The film is described as a deadly duel between killers. Produced by the Russo brothers' company, AGBO, the film hopes to start a franchise based upon Mark Greaney's best-selling Gray Man novel series.
The film features a stellar ensemble including Ryan Gosling, Chris Evans, Ana de Armas, Jessica Henwick, Regé-Jean Page, Wagner Moura, Dhanush, Julia Butters, Alfre Woodard, Callan Mulvey, Eme Ikwuakor, Scott Haze, Michael Gandolfini, Sam Lerner, Robert Kazinsky, DeObia Oparei, and Billy Bob Thornton.
Synopsis: When the CIA's most skilled black ops mercenary known as Court Gentry, aka Sierra Six, accidentally uncovers dark agency secrets, he becomes a primary target and is hunted around the world by psychopathic former colleague Lloyd Hansen and international assassins.
This is a high-octane action blockbuster movie with great talent involved both front and behind the camera making it an exciting film. After Avengers: Endgame's box-office success, the brothers stepped away from blockbuster filmmaking and produced many films for their AGBO productions, they only directed one film, Cherry (2021), since Endgame. This is a return to the big budget films for the directors.
The plan is for The Gray Man to kick off a James Bond-level franchise. It is cool to see Evans teaming with the Russo's once again in a different kind of film after having done four films at MCU together. Armas previously shared the screen with Evans in Knives Out, Gosling in Blade Runner 2049, and Moura in Sergio & Wasp Network. Seeing Gosling and Evans go head to head will be fun. The action and the cast are the biggest attractions of this film.
RELATED: THE GRAY MAN CLIP HIGHLIGHTS RYAN GOSLING IN A SAVAGE ACTION SEQUENCE
The Gray Man is set for a limited release on July 15, 2022, followed by its release on Netflix on July 22. With a production budget of $200 million, it is the most expensive film ever made by Netflix. It premiered to mixed reviews. So far it holds a 52% RT score based on 96 reviews but an 89% audience rating. This film is worth a watch just cause of its action and the cast.
The Gray Man Netflix release date: July 22, 2022
Nope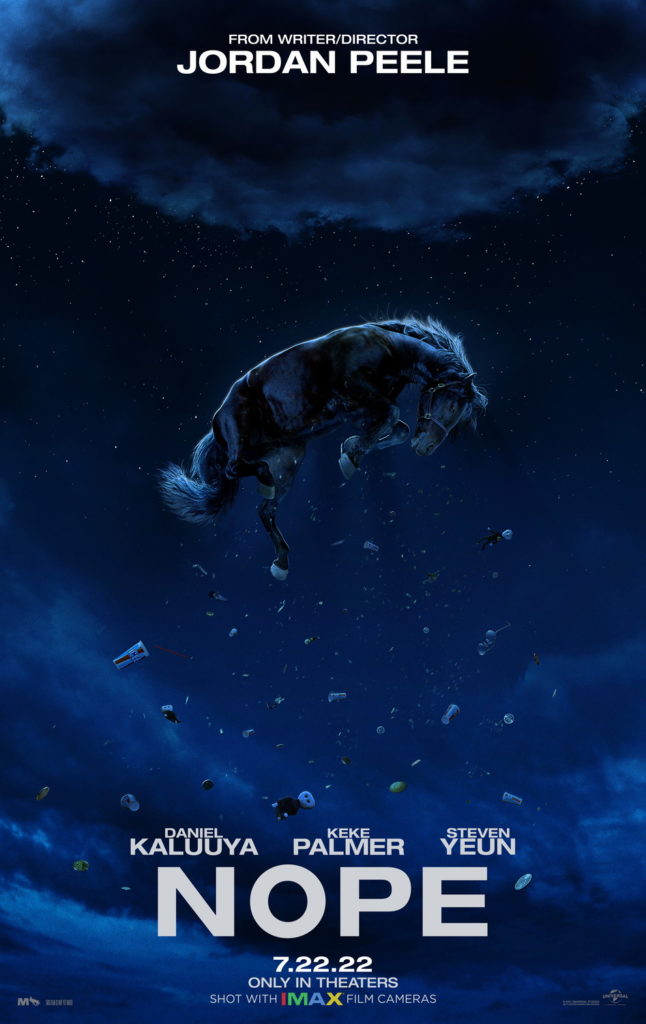 Nope is Universal Pictures' sci-fi horror film written, directed, and co-produced by Jordan Peele under his Monkeypaw Productions banner. The plot follows residents of an isolated town who witness a mysterious and abnormal event that affects human and animal behavior.
It stars Daniel Kaluuya, Keke Palmer, Steven Yeun, Brandon Perea, Michael Wincott, Wrenn Schmidt, Donna Mills, Barbie Ferreira, Devon Graye, Eddie Jemison, Oz Perkins, Terry Notary, Andrew Patrick Ralston, Jennifer Lafleur, and Keith David.
Synopsis: After random objects falling from the sky result in the death of their father, horse ranch-owning siblings OJ and Emerald Haywood, in an isolated town in California, attempt to capture video evidence of an unidentified flying object with the help of a tech salesman Angel Torres and documentarian Antlers Holst.
RELATED: NOPE: THE FINAL TRAILER FOR JORDAN PEELE'S NEW HORROR FLICK IS HERE
This is Jordan Peele's third directorial, he directed Get Out (2017) and Us (2019) before. All three films are of the same genre, horror mystery thriller, the latest one also belongs to sci-fi genre though. Peele besides his comedy work has now become a mainstream horror genre filmmaker with his cool concept thrillers. So excitement levels for his new film are high. Kaluuya is teaming up with Peele once again after the award-winning film Get Out. The R-rated film is scheduled to be released in theaters worldwide on July 22. This is a must-watch film.
Nope release date: July 22, 2022
Anything's Possible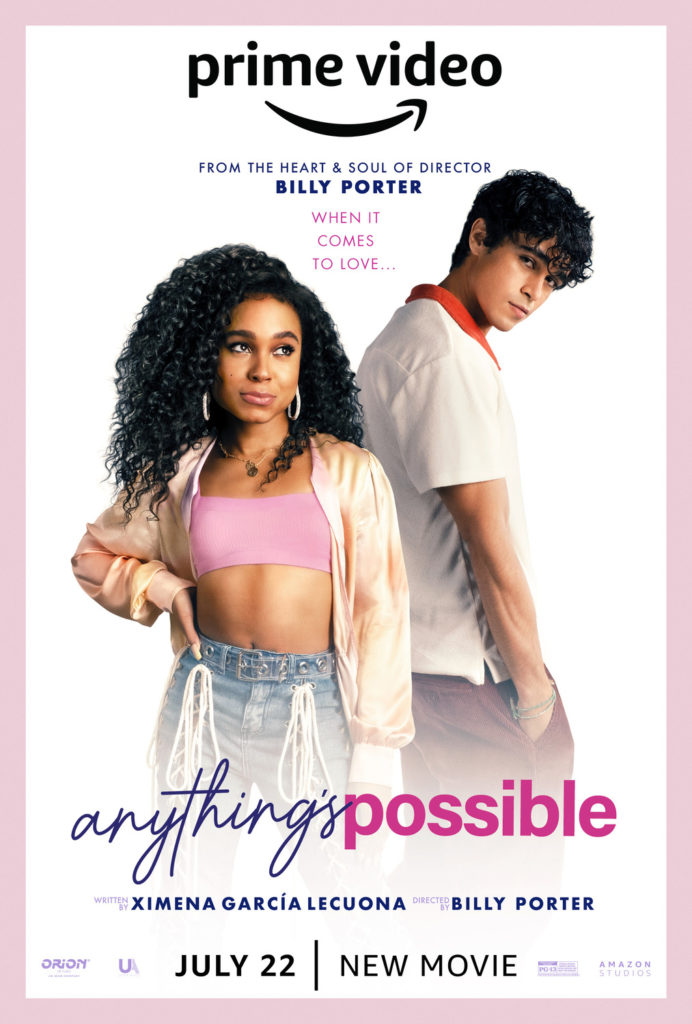 Anything's Possible is Amazon's original coming-of-age romantic comedy directed by Billy Porter and written by Ximena García Lecuona. It stars Eva Reign, Abubakr Ali, Renée Elise Goldsberry, Courtnee Carter, Kelly Lamor Wilson, Grant Reynolds, Caroline Travers, Lav Raman, and Tordy Clark.
Synopsis: Anything's Possible is a delightfully modern Gen Z coming-of-age story that follows Kelsa (Reign), a confident high school girl who is trans, as she navigates through senior year. When her classmate Khal (Ali) gets a crush on her, he musters up the courage to ask her out, despite the drama he knows it could cause. What transpires is a romance that showcases the joy, tenderness, and pain of young love.
Anything's Possible Amazon release date: July 22, 2022
Art of Love
Art of Love is Samuel Goldwyn Films' romantic drama written and directed by Betty Kaplan. The film was originally titled Simone, the name of the 2013 Eduardo Lalo novel on which it is based. It stars Esai Morales, Kunjue Li, Caterina Murino, Joanna Cassidy, Braulio Castillo, Zoribel Fonalledas, Bruno Irizarry, Eli Cay, Mélanie Ramos, and Aris Mejias.
Synopsis: A writer-professor (Morales) at a leading university in Puerto Rico falls in love with an aspiring student (Li) from the immigrant Chinese community. The plot centers on their mysterious, erotic, and haunting love story. The R-rated romance drama is scheduled to be released in limited theatres and through VOD simultaneously.
Art of Love (VOD & in limited theatres) release date: July 22, 2022
Green Lantern: Beware My Power
Green Lantern: Beware My Power is an animated direct-to-video superhero film produced by Warner Bros. Animation and DC Entertainment. It is directed by Jeff Wamester (Justice Society: World War II) from a script co-written by John Semper (Static Shock) and Ernie Altbacker (Justice League Dark: Apokolips War). The DC Universe Movie arrives on 4K Ultra HD Blu-ray Combo Pack, Blu-ray, and Digital on July 26.
It is the fifth film in the Tomorrowverse, so it will be part of the same continuity of the new Rebirth timeline in the DC Animated movie universe that began with Superman: Man of Tomorrow (2020) and was followed by Justice Society: World War II (2021), Batman: The Long Halloween – Part One and Part Two (2021).
The voice cast of the film includes Aldis Hodge as John Stewart, Jimmi Simpson as Green Arrow, Ike Amadi as Martian Manhunter, Nolan North as Hal Jordan, Brian Bloom as Adam Strange, Jamie Gray Hyder as Hawkgirl, Keesha Sharp as Vixen, Mara Junot, Jason J. Lewis, Simon Templeman, Sunil Malhotra, and Rick D. Wasserman as Sinestro.
Synopsis: In Green Lantern: Beware My Power, recently discharged Marine sniper John Stewart is at a crossroads in his life, one which is only complicated by receiving an extraterrestrial ring that grants him the powers of the Green Lantern of Earth. Unfortunately, the ring doesn't come with instructions – but it does come with baggage, like a horde of interplanetary killers bent on eliminating every Green Lantern in the universe. Now, with the aid of the light-hearted Green Arrow, Adam Strange, and Hawkgirl, this reluctant soldier must journey into the heart of a galactic Rann/Thanagar war and somehow succeed where all other Green Lanterns have failed.
Green Lantern: Beware My Power (VOD & Blu-ray) release date: July 26, 2022
DC League of Super-Pets
DC League of Super-Pets is Warner Animation Group and DC Entertainment's computer-animated superhero comedy based on the DC Comics superhero team Legion of Super-Pets. The film is directed by Jared Stern in his theatrical directorial debut, who co-wrote it with John Whittington. Dwayne Johnson serves as a producer on the film.
The film stars the voices of Dwayne Johnson as Krypto the Super-Dog, Kevin Hart as Ace/Bat-Hound, Kate McKinnon as Lulu, John Krasinski as Superman, Vanessa Bayer as PB the pig, Natasha Lyonne as Merton the turtle, Diego Luna as Chip the squirrel, Thomas Middleditch, Ben Schwartz, Marc Maron as Lex Luther, Olivia Wilde as Lois Lane, Jameela Jamil as Wonder Woman, Daveed Diggs as Cyborg, Jemaine Clement as Aquaman, John Early as The Flash, Dascha Polanco as Jessica Cruz/Green Lantern, and Keanu Reeves as Batman.
Synopsis: In "DC League of Super-Pets," Krypto the Super-Dog (Johnson), a Kryptonian Labrador Retriever, and Superman (Krasinski) are inseparable best friends, sharing the same superpowers and fighting crime in Metropolis side by side. When Superman and the rest of the Justice League are kidnapped by Lulu (McKinnon) and Lex Luthor (Maron), Krypto, who was depowered in the process, must convince a rag-tag shelter pack–Ace the hound (Hart), PB the potbellied pig (Bayer), Merton the turtle (Lyonne), and Chip the squirrel (Luna)–to master their own newfound powers and help him rescue the superheroes.
DC League of Super-Pets also marks the fifth collaboration between Johnson and Hart. This film is stacked with big-name actors. It is scheduled to be released in theatres worldwide on July 29. It will be available to stream on HBO Max 45 days after its theatrical release. This film can be a fun and entertaining ride for family audiences.
DC League of Super-Pets release date: July 29, 2022
Not Okay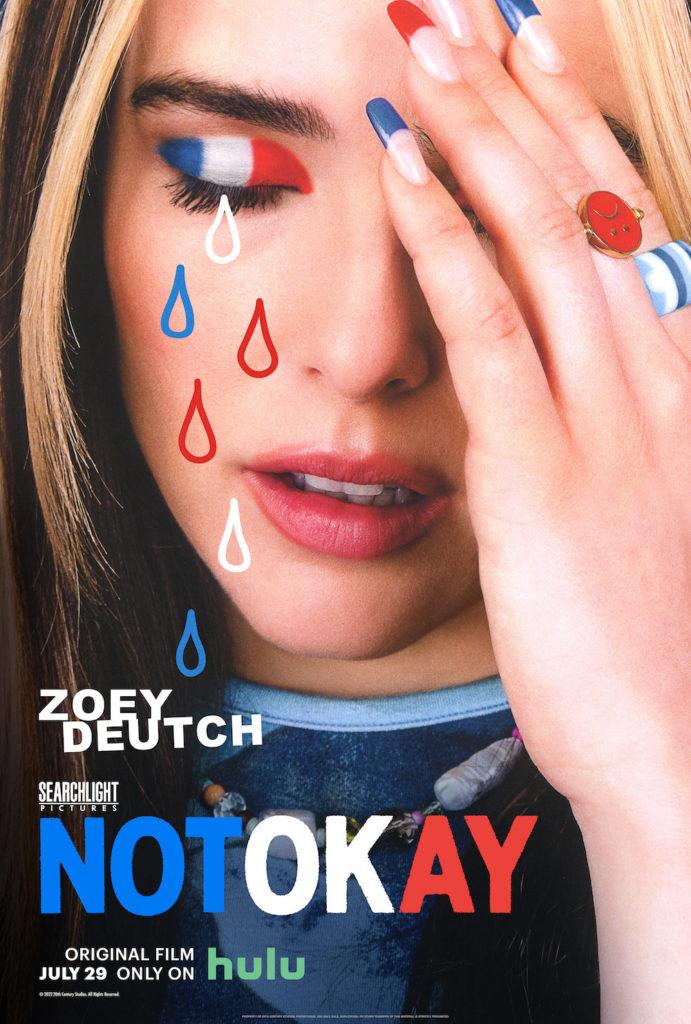 Not Okay is Hulu's original satirical black comedy drama written and directed by Quinn Shephard. It stars Zoey Deutch, Dylan O'Brien, Mia Isaac, Karan Soni, Brennan Brown, Nadia Alexander, Tia Dionne Hodge, Negin Farsad, Sarah Yarkin, Dash Perry, and Embeth Davidtz. The R-rated comedy is set to be released on July 29, by Searchlight Pictures on Hulu in the US, on Disney+ via Star internationally, and on Star+ in Latin America.
Synopsis: "Not Okay" follows Danni Sanders (Deutch), an aimless aspiring writer with no friends, no romantic prospects, and — worst of all — no followers, who fakes an Instagram-friendly trip to Paris in the hopes of boosting her social media clout. When a terrifying incident strikes the City of Lights, Danni unwittingly falls into a lie bigger than she ever imagined. She "returns" as a hero, even striking up an unlikely friendship with Rowan (Isaac), a school-shooting survivor dedicated to societal change, and scooping up the man of her dreams, Colin (O'Brien). As an influencer and advocate, Danni finally has the life and audience she always wanted. But it's only a matter of time before the façade cracks, and she learns the hard way that the Internet loves a takedown.
Not Okay Hulu release date: July 29, 2022
Purple Hearts
Purple Hearts is Netflix's original romantic musical drama directed by Elizabeth Allen Rosenbaum from a screenplay co-written by Liz W. Garcia and Kyle Jarrow. It is an adaptation of the 2017 book titled the same name by Tess Wakefield.
It stars Sofia Carson, Nicholas Galitzine, Chosen Jacobs, John Harlan Kim, Anthony Ippolito, Kat Cunning, Sarah Rich, Scott Deckert, Breana Raquel, and Linden Ashby. Justin Tranter wrote and produced the film's original songs, and Carson co-wrote and performed the Purple Hearts soundtrack.
Synopsis: In spite of their many differences, struggling singer-songwriter Cassie (Carson) and Luke (Galitzine), a marine with a troubled past, agree to marriage solely for the military benefits. When tragedy strikes, the line between what's real and what's pretending begins to blur in this romantic drama.
Purple Hearts Netflix release date: July 29, 2022
How to Please a Woman
How to Please a Woman is Brainstorm Media's comedy-drama written and directed by Renée Webster. It stars Sally Phillips, Hayley McElhinney, Caroline Brazier, Tasma Walton, Alexander England, Nina Young, Myles Pollard, Roz Hammond, Ryan Johnson, Cameron Daddo, Josh Thomson, Asher Yasbincek, Emily Rose Brennan, and Erik Thomson. It so far holds a 73% RT score based on 15 reviews with praise for Sally Phillips and the comedy.
Synopsis: Gina (Phillips) is taken by surprise when for her fiftieth birthday a male sex worker, a gift sent by her girlfriends, offers to do anything she wants. She asks him to do for her what no one else will — she has him clean her house. Only later does Gina realize he is from a removals business she was involved with liquidating. Amused and delighted, her friends wish for a sexy cleaner themselves, sparking a new career for Gina who decides to employ the entire male removals team as house cleaners.
How to Please a Woman (VOD & in limited theatres) release date: July 29, 2022
Honor Society
Honor Society is Paramount+ original comedy directed by Oran Zegman and written by David A. Goodman. It stars Angourie Rice, Gaten Matarazzo, Avery Konrad, Kerry Butler, Armani Jackson, Amy Keum, Miku Patricia Martineau, Kelcey Mawema, Zoë Christie, Jason Sakaki, Arghavan Jenati, and Christopher Mintz-Plasse.
Synopsis: The story follows Honor (Rice), an ambitious high school senior whose sole focus is getting into Harvard, assuming she can first score the coveted recommendation from her guidance counselor, Mr. Calvin (Mintz-Plasse). Willing to do whatever it takes, Honor concocts a Machiavellian plan to take down her top three student competitors, until things take a turn when she unexpectedly falls for her biggest competition, Michael (Matarazzo).
Honor Society Paramount+ release date: July 29, 2022
Which new movies in July 2022 are you most excited about? Which movies will you be seeing during July? Let us know in the comments below or on our social media and be sure to come back to The Illuminerdi for more movie news!